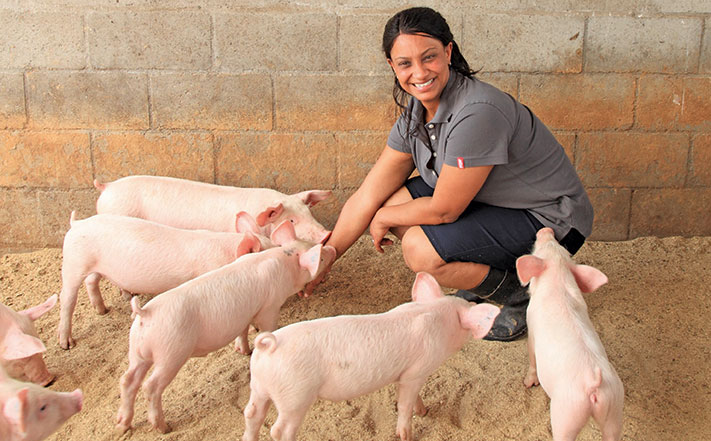 Leandre Mitchley has long been fascinated by pig production. As a little girl, she spent many hours observing the pigs raised by her father, Jim Perrang, who farmed a variety of livestock and vegetables, as well as growing rooibos, near Wupperthal in the Cederberg.
Quite a number of years were to pass, however, before she could turn her attention to pig farming.
With household income under pressure, she left school after Grade 11 to work in a plastics factory near Atlantis. She then became a security guard, first in Vredendal, where she met her husband, Sean, and later in Malmesbury.
It was here, in 2011, that she got the opportunity to rekindle her dream of having her own commercial piggery.
READ Top female entrepreneur's passion for training new farmers
She began by joining a local grouping, Malmesbury Emerging Farmers, which allocated her a plot of land between other small-scale livestock farmers. She started out with just two young sows that in time grew to 30 pigs.
Eviction
In 2015, the group suffered an enormous setback: the land was marked for development and its members were given eviction notices. Fortunately for her, Mitchley had already secured a 10-year lease contract on 22ha of land at Tierfontein, about 13km from Malmesbury.
"I'd started looking for other land because I'd reached my production limit and wanted to reduce my risks," she recalls.
"Having so many animals from different producers in one small space is a huge biosecurity hazard.
"The land I secured was great, as it had old infrastructure with the capacity to house 200 pigs. The problem was that I didn't have a car, and not even a driver's licence, so I didn't know how I would commute between Malmesbury and the farm to look after the pigs."
The Western Cape Department of Agriculture came to her aid. They upgraded the housing infrastructure by raising the walls, replacing the roof, adding animal-handling facilities and even paying for the development of electricity infrastructure. In addition, they gave her a white Ford bakkie.
Her first task, though, was to learn how to drive.
"I could get the bakkie only on condition that I had my licence!" Mitchley jokes.
Cyclical system
On the new farm, Mitchley bought in six-week-old piglets, finished them, and sold them as porkers to the abattoir company Roelcor when they were about five months old.
"Porkers weigh 55kg to 70kg and fetch better prices per kilogram than baconers, which weigh between 75kg and 95kg. With the porker market, my risks are lower as the pigs are kept on the farm for a shorter period. It also creates a good balance between my input costs and earnings. The pigs would start eating into my profits if I kept them any longer," she explains.
It makes sense, she believes, for a small-scale producer to specialise in a particular field of production.
"I decided on buying weaners at six weeks old and taking them through to slaughter weight, as it means fewer risks and requires less management than breeding, rearing and growing the herd on one farm."
Mitchley used a cyclical production system and built the herd up to 200 piglets, buying in 20 new piglets every second week to replace the sold porkers.
The pigs were kept in the same structure from the time they arrived on the farm until they were sold, which made it easy to clean the unit before new pigs arrived.
"An all-in all-out system would definitely present fewer biosecurity hazards than buying in new piglets every two weeks, but it wouldn't make market sense as selling all my pigs at once would make me more vulnerable to market fluctuations," Mitchley says.
A crushing setback
Initially all the piglets were bought from a single supplier who specialised in breeding and raising good-quality, vaccinated weaners. All went well until the breeder stopped farming at the start of 2018. Mitchley was now forced to make do with piglets from a variety of producers. The results were disastrous.
READ How to inject your livestock properly
"I lost 90 pigs in nine months due to enzootic pneumonia, all because of buying my piglets from unreliable sources. It was a terrible blow that I struggled to absorb financially," she says.
The loss almost made Mitchley give up on her dream but she then remembered the valuable life lessons her father had taught her. Firstly, make the most of what you have, and secondly, put everything into getting what you want. For her, this meant thinking out of the box and diversifying.
"I started buying in large volumes of feed, mixed it with maize and bran, and then sold the mixture to other pig farmers in the area. I also did catering on the side and raised orphan lambs to boost my income," she says.
She started her sheep enterprise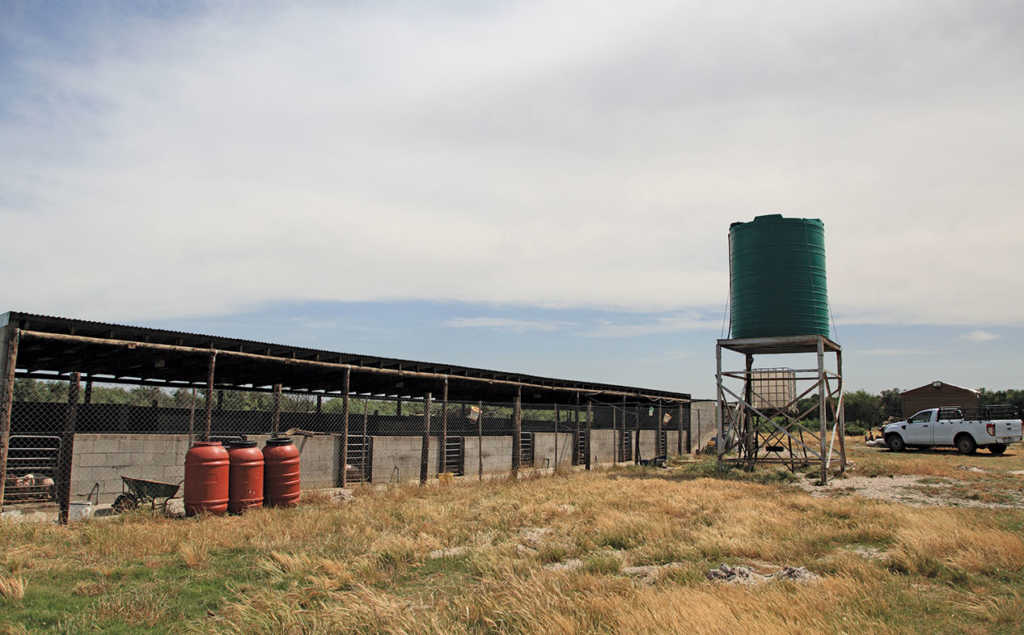 by buying two orphan lambs for about R100 each, and then feeding them an egg and cow milk mixture to boost their immunity until they were old enough to graze. Her flock has since grown to five ewes, one ram and 14 lambs.
"Most of the ewes were bought cheaply, but I invested in a good ram in an attempt to boost the quality of the herd. Besides being dewormed, they hardly receive any attention or get any additional feed. They survive on grass and Port Jackson willow," she says.
Most of the sheep are sold privately and then slaughtered at a local abattoir on behalf of the buyers.
New beginnings
Since the death of her pigs, Mitchley has managed to rebuild her herd to 110 animals; she has also secured a weaner supplier with a good track record.
She regularly consults a private veterinarian, who has worked out a vaccination and deworming programme for her pigs and helps her to "nip disease and problems before they get out of control".
The pigs receive a formulated ration of Nova to ensure optimal growth.
"I've suffered a severe setback, so I just want everything to normalise before experimenting with ways to cut costs, for example, by using other feed mixes," she says.
Mitchley has put strict biosecurity measures in place to reduce disease risk. She cleans and sanitises the piggery daily to keep pathogen numbers low and prevent disease outbreaks, and isolates sick pigs, treating them separately to ensure they do not infect others.
Winning the award for the Top Smallholder Farming Entrepreneur in this year's annual Female Entrepreneur Awards has also breathed new life into her enterprise. Mitchley is in the process of drawing up plans to expand the production area so that she can also breed and raise weaners.
Free-range pigs
"At the moment, I farm Landrace and Great White crosses, but would like to breed Kolbroek pigs as they're extremely hardy and therefore better suited for free-range production. Future demand for free-range pigs will grow significantly over the coming years because of rising concerns over animal welfare," she says.
She also sees a health advantage in raising free-range pigs.
"The free-range pigs I used to raise in Malmesbury and in Wupperthal required much less medicinal inputs than pigs that are intensively raised. This is also important because of rising pressure on farmers to decrease the use of antibiotics."
READ The indigenous Kolbroek pig – a South African success story
She has already raised the idea with Roelcor, which does not appear to have a problem with buying Kolbroek meat.
Her other dream is to start her own abattoir to add value to the meat produced on the farm and also that of other emerging farmers in the area.
More money, and extra time for the family
The piggery has enabled Mitchley to earn considerably more money than she would have been able to had she stayed in the security business.
In fact, the piggery has turned her into the main breadwinner in the house.
Importantly, it has given her far more freedom to look after her two children, Shauné (7) and Isaiah (3).
Contact Leandre Mitchley at [email protected] or on 071 444 3830.