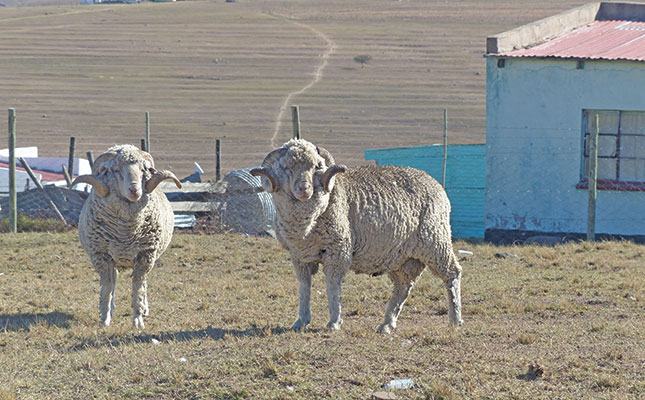 "I have between 105 and 150 sheep at any given time because I've decided not to increase numbers, but rather focus on improving wool quality," says Xolisa Bomela, a founding member of the Ntseshe Wool Growers' Association (Ntseshe WGA).
"Yes, I'd like to get bigger, but in an environment that's conducive to it. Here you find that many of the grazing lands don't have grass anymore."
High wool price
According to Bomela, the decreasing quality of communal grazing is a direct result of a spike in new entrants to sheep farming on the back of an average communal wool price that increased from R6,75/ kg in 1997/1998 to R70,75/ kg in 2017/2018.
He adds that the Ntseshe WGA has seen its membership increase from four to 106 over the past four years, resulting in a boom in sheep numbers to over 12 000. As a consequence, pressure on grazing resources has increased significantly, which in turn has demanded the purchase of expensive supplementary feed, including lucerne.
This has eroded profitability, a central reason why Bomela now focuses his efforts on a better-managed, smaller flock of sheep.
"One of our resolutions as communal farmers is that all producers with more than 300 sheep should be identified and given land through the land reform process," he says.
"These farmers can then move away so there's less pressure here."
Fortunately, his focus on improving wool quality dovetails neatly with the National Wool Growers' Association's (NWGA) successful Sheep Training and Development Programme launched in the Eastern Cape in 1997 on contract with Cape Wools SA, the executive arm of the Wool Trust.
"Having a NWGA production adviser like Lwando Gaqazele is very important," says Bomela.
"As farmers, we need somebody to guide us to breed economically viable and sustainable flocks under our conditions."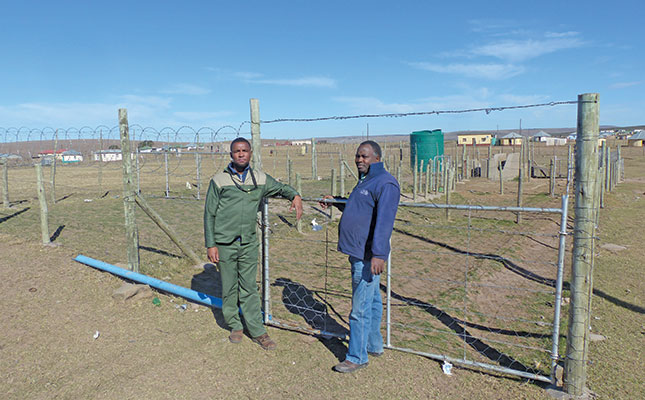 Over the years, a central lesson Bomela has learnt is the need to cushion his livestock operation with cash flows generated elsewhere.
"When you're breeding sheep, you must have something that backs you. Without cash flow, everything fails. You shear sheep only once a year, but you need cash every month," he says.
To boost income from the sale of culled ewes, hamels, goats and pigs, he has therefore opened a small spaza/liquor store.
A tough enviroment
Effective production on a largely unfenced, overstocked communal landscape can be difficult, Bomela admits. This is aggravated by the fact that livestock have to be kraaled at night as protection against stock theft.
In addition to supplying his flocks with protein licks, he buys in large quantities of feed to support the breeding females. Despite this, they achieve a lambing rate of 90%, which is fairly modest by commercial standards. Bomela says that the stressed, disorganised communal grazing system also plays havoc on his ability to implement structured breeding seasons using selected rams.
"Sometimes my ewes come back with a ram of inferior quality that doesn't belong to me. It's not possible for a shepherd to go and stand next to the flock all day long."
However, Bomela has recently attempted to counter the disadvantages of a communal production system by putting ewes (supported with supplementary feed) to selected rams in smaller enclosures near his home to lamb in May/June and August/September 2019. He plans to synchronise an additional group of ewes to lamb in February.
Another major challenge in communal areas is disease management, as the success of inoculation, dosing and especially dipping (done in a communal plunge dip after shearing) is largely dependent on communal participation.
"Not everyone takes their sheep to the dip," he says. "So sheep scab disease and red lice will always be here."
Boosting wool quality
Bomela's focus is to produce finer wool without sacrificing conformation. This is a balancing act that has seen the average fibre diameter of his clip stabilise at 22 microns, while ewes weigh on average between 35kg and 40kg.
In the past few years, Bomela has put Merino rams to Dohne Merino ewes in a bid to improve wool quality, and one of his more impressive Merino rams (20-micron wool) was bought in De Aar, Northern Cape, from respected breeder Marius Pienaar.
Bomela has also benefitted from the NWGA ram programme (funded initially by the provincial and then by national government), which has introduced tens of thousands of commercially bred rams to communal flocks.
This programme, however, now hangs in the balance, according to NWGA general manager, Leon de Beer.
Speaking to Farmer's Weekly, he said the NWGA had still not received a response to numerous applications submitted to government in 2018 and 2019 for funding to meet targets for the ram project.
"There has been no clarity and no feedback at this stage [from the state],'' says De Beer.
"It's a major problem, as rams need to be bred on contract to ensure the success of the long-term project."
Although Bomela bought 15 top Merino ewes from Barkly East and another five from Molteno in 2016, Gaqazele is trying to convince him to replace all bloodlines he inherited from his father.
"Yes, we [NWGA] do supply good-quality rams to the farmers so their flocks can improve," says Gaqazele.
"But changing your flock just with a ram takes time. A farmer should sell inferior ewes and replace them with quality ewes to see quicker returns."
The NWGA offers courses on animal health, nutrition, breeding, wool management and shearing. Ten Ntseshe locals have, for example, been trained to shear sheep, and now collectively earn tens of thousands of rand per shearing season.
The state is also being leveraged by communal farmers, via the Eastern Cape Communal Wool Growers' Association, to provide more infrastructure. For example, a communal dip funded by the Eastern Cape Department of Rural Development and Agrarian Reform was constructed recently in Ntseshe.
Communal farmers continually engage local and provincial government structures for infrastructure investments such as shearing sheds (at Ntseshe they still shear in rondavels).
Furthermore, the MEC of the Eastern Cape Department of Agrarian Reform (DRDAR), Nomakhosazana Meth, recently announced that over R30 million had been budgeted for the support of communal wool farmers in the 2019/2020 and 2020/2021 financial years.
Rogue buyers and stock theft
With the steady increase in the value of wool, informal competitors to established brokers such as CMW and BKB have arisen.
According to Gaqazele, these often exploit wool growers' need for quick cash, undermining what profit they could have generated if they had gone through more structured marketing channels.
"People want quick cash, and with the drought, this is even more the case," says Gaqazele.
The NWGA offers training to illustrate to farmers the disadvantages of marketing via the informal wool market.
However, according to both Bomela and Gaqazele, it is the loss of livestock at the hands of armed and brazen thieves that is possibly the single greatest threat to sustainable wool production in communal areas.
"There's a lot of stock theft around Transkei," says Bomela.
"My worst incident was in 2009 when I lost about 80 sheep. That was more than half my flock! They have firearms, so if you come out [of your home] they start shooting."
Bomela stresses that despite addressing the issue of stock theft every year at the highest level, farmers have not experienced any form of relief.
"At every communal congress, stock theft is a major issue," he says. "People want to farm, but they cannot do so to their fullest potential because of stock theft."
Disturbingly, the theft of wool bales has now become an increasingly severe challenge, with Ntseshe losing five bales in 2018 from a building the association hired from a local.
"Another strategy employed by thieves to get their hands on wool is to shear sheep while in isolated grazing areas," says Gaqazele. "So when the sheep return from the veld in the evening, the farmer discovers they have no wool."
Phone Xolisa Bomela on 083 208 5295.