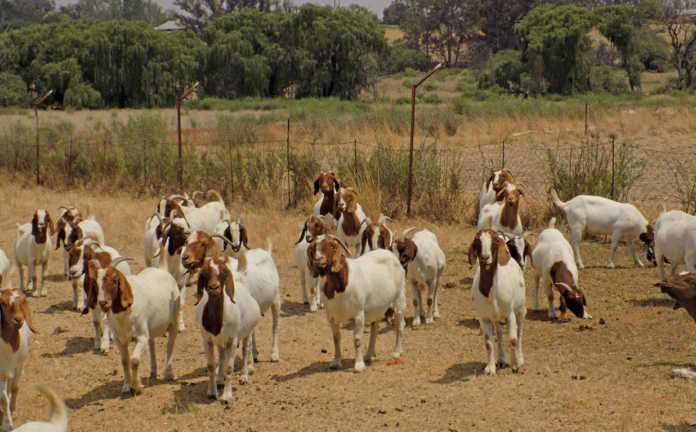 Gerald Calitz established the Sterkstroom Boer Goat Stud in 2012 with just 15 goats, and it has since grown to 150 ewes, three stud rams and 100 kids and weaners.
READ Indigenous veld goats: A family's profitable passion
Before establishing the stud, Calitz ran a commercial goat flock on his farm, which is situated near Ventersdorp in North West. Because of the property's small size (only 70ha), it was impossible for him to enlarge his commercial flock.
He therefore decided to build a stud to add value to his operation.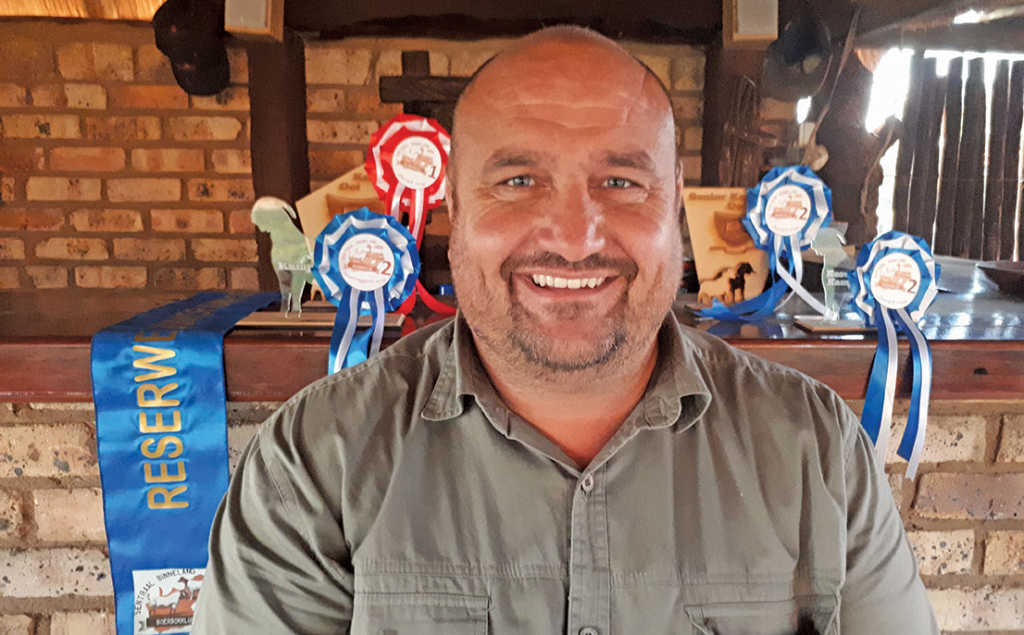 "My love for goats was also a major driving force. I started by buying good-quality breeding stock at stud auctions as well as from reputable stock breeders. However, I was new in the breeding game, and needless to say, I paid a lot of school fees. For example, I spent a great deal of money on rams that didn't take the flock in the direction I envisaged," Calitz says.
Breeding objectives
His objective is to breed animals that conform to, and even exceed, the national standards as prescribed by the Boer Goat Breeders' Association of South Africa. According to him, this is crucial in an intensive breeding operation such as his.
Every goat in the flock must add value and contribute to the ultimate sustainability and profitability of the business. The stud, he stresses, cannot afford to cater for substandard performers.
Calitz concentrates strongly on feminine ewes, believing they will produce top-performing rams. Optimal meat production is the mainstay of commercial Boer goat production and, given the economic realities of agriculture today, farmers cannot afford to keep second-rate animals, he says.
Commercial goat producers are in the business to sell meat, and therefore want fertile rams and ewes from which they can harvest the maximum kilograms of meat in the shortest space of time.
Calitz's ram selection is based on correcting traits that his stud may be lacking at the time, and he has sourced rams from a variety of breeders to achieve this. Over the years, he has acquired rams from, amongst others, Lukas Burger of Griekwastad and Karsten Boerdery in Upington.
Strict selection is the secret to rapid genetic progress in the flock over a relatively short period, he says. Rams that do not make a positive genetic impact are culled without exemption.
Calitz explains that the Boer goats constitute his main income from the farm.
"Due to the small size of my land, I'm forced to farm intensively. Each and every kid is extremely important to me. The future of the business relies on them to ensure the genetic integrity of the flock," he says.
Climate and veld
The average annual rainfall in the area is 325mm. The farm is divided into four camps, each with its own watering point supplied from two boreholes. Calitz plants 10ha to lucerne under flood irrigation every year.
This is baled in summer, and in winter the goats graze on the lucerne land.
The natural grazing is sweetveld and includes species such as red grass (Themeda triandra).
READ Climate change: it's happening faster than you think
During summer, the goats are kept on the veld. Calitz plants green feed such as ryegrass in autumn, as well as fodder radish for the ewes that have kidded. He also plants 5ha to maize in summer for winter feed.
During winter, he provides the goats with a supplementary lick to ensure that they remain in good condition. After kidding, ewes graze on fodder radish to ensure good milk production and they also receive supplementary feed in the evenings.
Only the female goats are put on the veld during the day. The rams are kept in a separate camp outside the breeding season. The ewes are kraaled at night.
Rams and ewes are specifically selected for each other and put together for the night.
Calitz prefers to avoid kidding between December and February due to the hot weather and the high parasite load.
"It's better to let the females kid during winter and autumn. The rams are separated from the ewes from the end of June until the end of September," he says.
Colostrum and creep feed
Ewes are moved to kidding pens and kept there for two weeks to ensure that newborns receive ample colostrum.
Besides nutrients, colostrum contains a wide variety of components essential for the survival of newborn kids. Thereafter, the ewes are moved to a larger camp.
The kids receive creep feed, usually grain, from two weeks. Creep feeding is especially beneficial for kids managed in an intensive production system and enables fast growth and early weaning.
READ Dealing with abortions in sheep and goats
The extra nutrition is also advantageous for flocks in which many multiple births occur. Kids have ad lib access to feed until they are weaned.
Ram kids are weaned as soon as they become a nuisance in the flock, usually at the age of two to three months.
Female kids stay with their mothers longer and are weaned at approximately three months.
The weaners are inspected and those that do not make it as stud goats are taken to auction.
Calitz constantly strives to improve kidding and weaning percentages.
"However, weather conditions can spoil things completely," he says. "In seasons of drought coupled with extreme heat, the ewes are less likely to come on heat, which obviously has a direct impact on kidding percentages," he says.
The current kidding rate on Sterkstroom is 146%, with a weaning percentage of 123%.
Excellent at shows 
The young animals are marketed at stud auctions, but demand for quality breeding
stock far exceeds supply, and Calitz sells a considerable percentage of goats out of hand.
There is a particularly healthy demand for young breeding stock from Botswana.
He regards shows as essential for the stud breeder. "It affords us the chance to compare the standard of our goats with that of other stud animals, and to compete against more established and successful breeders."
The Sterkstroom animals have already made their mark in the show ring.
Parasites and disease
Calitz follows a strict vaccination programme. Kids are inoculated directly after birth with a broad-spectrum vaccine against Pasteurella and other diseases.
Sterkstroom is situated close to the Schoonspruit River, and the parasite load is consequently very high in summer.
READ Dealing with diseases in goats
Wireworm is controlled by dosing the goats regularly with Prodose and First Drench. Pulpy kidney caused deaths in the past but the disease has been contained since Calitz started inoculating the flock with Multivax P Plus.
Calitz is the chairperson of the Central Inland Boer Goat Club and also an inspector for the Boer Goat Breeders' Association of South Africa. The club is actively involved in the promotion of Boer goat production and organises a number of shows and stud auctions every year.
"This helps our members to market themselves to the public.
"The club also presents junior and senior Boer goat courses for members of the public to learn more about goat production," he says.
Passing on knowledge and expertise
Calitz acts as a mentor to former mineworkers who are farming goats as part of a Mineworkers' Development Agency project.
In this capacity, he has been involved with farmers in the Losasaneng area in North West for two years, and is pleased with the considerable increase in quality of these goats.
"I've started mentoring a second group in Takaneng, also in North West, and foresee them following in the footsteps of the Losasaneng farmers in the near future," he says.
Phone Gerald Calitz on 083 502 0227, or email him at [email protected].