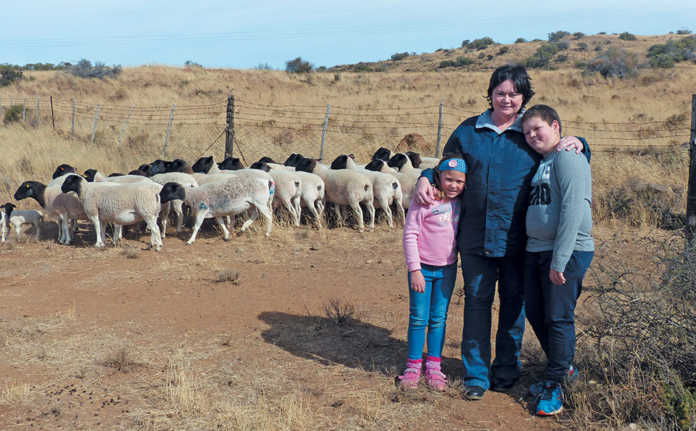 "It's no use making the Dorper something it wasn't intended to be,'' says Adél van der Merwe. "Of course, if you feed them you get incredible results, but then you can't really see which sheep would make it without feed.''
It is from this rationale that Adél has bred a flock of some 80 highly fertile ewes, which boast a 150% weaning rate on the veld, where they are supported only with a salt lick.
"I wouldn't farm with another breed,'' she says. "I do what I can for them, but I don't pamper them at all.''
Returning to Pinegrove Adél (née Van Wyk) grew up on the family farm, Pinegrove, near Burgersdorp in the Eastern Cape, and went on to obtain a BCom (Hons) at the University of the Free State. But she would never have guessed that one day, she would return to this farm with her own Dorpers.
It all started in 2002, when she met Free State farmer, Roux van der Merwe, while in a demanding human resources position in Bloemfontein.
Two years later, they married and moved to the Fauresmith region. Keen to get into farming herself, she promptly used a portion of her pension to buy 30 Dorper ewes from Roux, running the sheep on grazing hired from her husband.
Then, in 2008, she inadvertently registered her flock with SA Stud Book.
"I wanted access to BLUP [Best Linear Unbiased Prediction] figures and I misunderstood them [SA Stud Book]. I thought that to access these figures I needed to have a registered stud. So I registered the stud, Plusline, but later heard I didn't have to," she recalls.
In 2010, Adél's father, Eddie, offered Roux an opportunity to go into partnership in the farming operation on Pinegrove. After deliberating for a year or so, Adél and Roux decided to relocate to the Eastern Cape, but retained Roux's land in Fauresmith.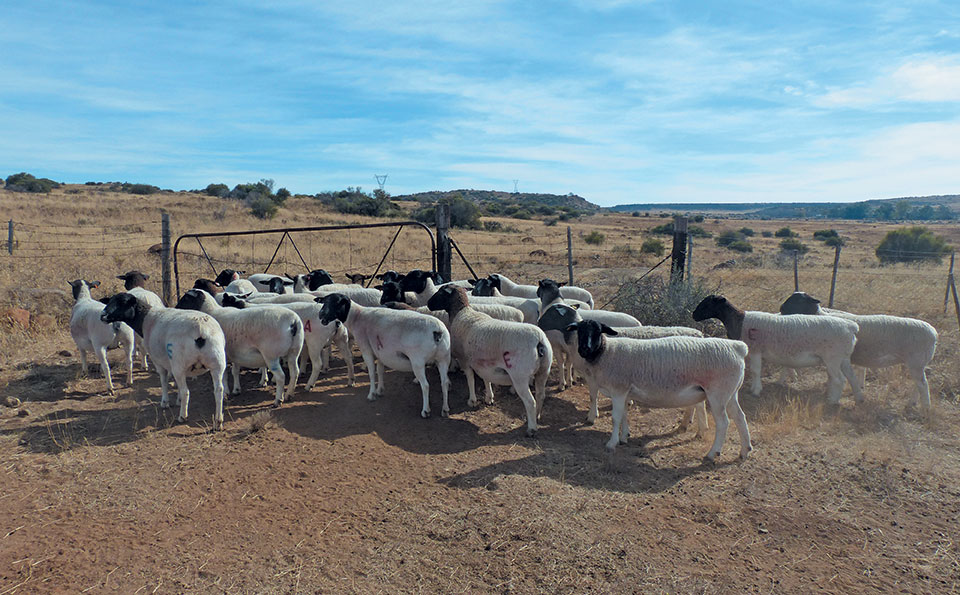 They also planned to relocate Adél's sheep to Pinegrove, where it was agreed she would be able to lease 120ha of veld. Once in the Eastern Cape, Adél began teaching at the local school.
After a number of years, however, she became a substitute teacher in order to put her energies into her family and her flock of sheep. But, even balancing these two components has proven challenging.
Although she is keen to increase the size of her flock, her responsibility towards her children, Anré (10) and Rouxlize (7), has made this commitment difficult. She has therefore, for now, opted to focus on quality, rather than quantity, with her flock.
"I'd like to go bigger, but then I'd have to hire land and spend time away from my kids, who still need their mother,'' she says. "So, because I can't go bigger, I have to breed better-producing sheep.''
Adaptability and fertility
Adaptability to veld conditions and fertility have always been central selection criteria within the Plusline flock, explains Adél. Ewes that cannot produce successfully from the veld are ruthlessly culled, resulting in a steady improvement of production.
"It's good to see how I have to do less and less to keep the sheep going,'' she says. "They get better and better, and I simply don't have problems with fertility and lambing anymore.''
Adél has introduced a strict immunisation and dosing programme adapted to the production cycles of the ewes, which lamb in February, May, August and November.
The flock has a 25% replacement rate; Adél culls all ewes when they are five years old, and young ewes are mated for the first time at 10 months. The flock's average inter-lambing period (ILP) is an impressive nine months, and any ewe that does not adhere to this is put to a ram three months after the lambing season, and then culled with her offspring.
Ewes are usually put to a ram in groups of 20 for 35 days. However, to achieve optimal genetic results, the ewes are sometimes divided into much smaller groups.
Ram lambs are weaned at three months to prevent them from mating with their mothers; ewe lambs are weaned at four months. They are then all rounded-off in a feedlot and marketed at five months, when they achieve an average weight of 45kg.
A focus on dam lines
The Plusline stud produces a handful of rams annually, most of which are sold to Roux, who uses them in his Dorper flock in the Free State, while a few are used in the Plusline flock. But Adél's chief focus is to breed exceptional ewes.
"I'm not really a ram breeder,'' she admits. "If I see a ram lamb I'm almost disappointed. I look for ewes.''
One of the central reasons for this emphasis on dam lines is the risk of using bought-in rams that may not produce the intended genetic results. Her dam lines have provided genetic stability in this regard.
"A ram is not always what you think it's going to be,'' Adél says. "For me, it's important to breed exceptional ewes to mitigate the possible negative impact a ram may have on the flock.''
Over the years, she has realised the importance of buying only hardy veld rams from breeders who farm in veld conditions similar to those on Pinegrove.
"I don't buy from people who feed their rams because I'm not looking for show rams," she explains. "I look for rams that can function and breed effectively on the veld with no extra feed.''
Adél stresses that rams introduced to the flock must have an effective balance of traits as reflected by BLUP figures to add value to the genetic progress already achieved.
"For example, if I'm going to use a ram that produces heavier lambs, his ewe lambs will probably produce less milk, which will have a major impact on their ability to raise quality lambs in the future.''
An important lesson that Adél has learnt over the past 12 years, is that it is not necessarily the best-looking sheep that produce the best offspring.
For example, she points out a commercial ewe in her stud flock that consistently produces outstanding multiple lambs, and describes a self-bred ram, that, despite an undesirable topline, produced some of her best ewes.
"I gave him a chance and it was one of the best things I've ever done,'' she recalls. "Some of my best ewes come from him.''
Phone Adél van der Merwe on 082 781 1676.