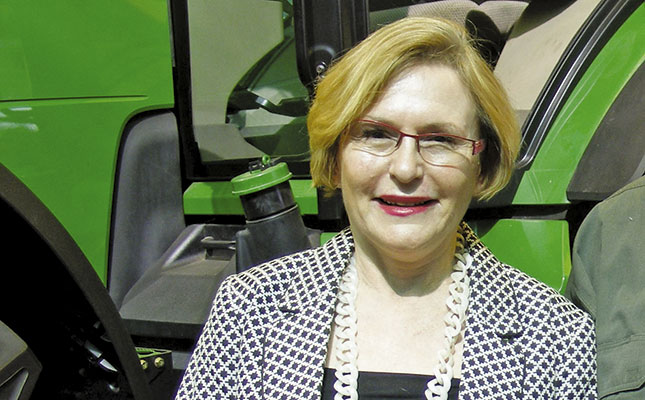 Please explain the DA's agricultural policy for both the commercial and emerging sectors.
The DA sees the agricultural sector as a strategic sector for food security, economic growth and job opportunities. Agriculture is the economic sector with the highest potential to create jobs. It is recognised as such in the National Development Plan (NDP).
The Pan-African Research and Investment Services found that each rand invested in agriculture created a value output of R1,79, the highest of any sector in our economy, with manufacturing coming second at R1,13.
READ Predicting the future of farming
Growth from the agricultural sector has been found to be twice as effective in poverty alleviation as any other.
The DA believes a prosperous agricultural sector can play a critical role in addressing poverty and unemployment in South Africa. This applies to both commercial and small-scale farmers.
We need to create an enabling environment for commercial agriculture to prosper and grow, and we need to provide the support services for new farmers to develop commercial enterprises.
How does the DA's land reform policy differ from the ANC's policy?
The DA believes that land reform does not need to be a zero sum game. It is wrong to base a policy on the confiscation of productive land from current farmers to transfer it to others.
There is plenty of fertile but unproductive land that should be brought into production and into the ownership of those who work the land. The state should begin with the land it owns across South Africa, of which a comprehensive audit has reportedly been completed, but not released.
Secondly, there are 17 million hectares of communal land, most of it highly fertile, that produces very little food and hardly any jobs. This land should be the focus of reform strategies to bring the 21 million people living in these areas into the food production process through ownership patterns that encourage production.
The DA also supports successful land reform models such as the share equity schemes that have had an 80% success rate in the Western Cape. The party rejects the ANC's model of merely transferring the ownership of productive farm land, which has resulted in a dismal 90% failure rate of land reform.
The DA would eradicate corruption in the land reform process, and ensure that emerging farmers had adequate support to make a success of their ventures.
We reject the system involving the Department of Rural Development and Land Affairs buying land and allowing farmers to use it, without transferring ownership to them.
Government should not be accumulating productive land – beneficiaries need to own it to use as collateral to borrow the money they need to develop their farms.
It is our experience in the Western Cape that the refusal to transfer ownership is the one critical stumbling block holding back otherwise successful new farmers. Each policy decision should be tested against this question: are we sustaining food security and improving livelihoods for previously disadvantaged people?
You have said that there are very few land claims in the Western Cape. What are the reasons for this trend?
Only claims pertaining to land unfairly expropriated after 1913 have so far been considered for land redistribution in South Africa. Due to our colonial history, current land ownership patterns in the Western Cape pre-date 1913.
However, there are other models of land reform that we have initiated because we believe it's the right thing to do to enable people who work the land to acquire ownership of it. Our widespread equity share schemes are the result of farmers voluntarily contributing towards this goal.
The DA has backed share schemes as opposed to land claims, and says that they have a high success rate. How many such schemes are currently operating successfully in the province, and why are they popular?
In June 2009, the national Department of Rural Development and Land Reform imposed a moratorium on share schemes. Although it was subsequently lifted, no further schemes have been financed by government.
There are currently 81 active schemes in the Western Cape and we know of five that have failed. These schemes are popular and successful for a number of reasons:
The beneficiaries are, in most cases, current employees on the farm. There is therefore trust between the original owner and the new partners. This is necessary in schemes where both risk and reward are shared between participants.
The beneficiaries are people with proven track records in the specific business enterprise. They have the expertise to add significant value.
In many cases, government's contribution was used to expand the existing business, which improves the scale and sustainability of the enterprise. It allows for the creation of new opportunities and in the process, the sector grows, instead of being fragmented into smaller and unsustainable units.
The beneficiaries have a safety net in the track record of a 'going concern' and in the business acumen of their partner. In most cases, the beneficiaries stay employed in the enterprise, so they do not have to risk current job security for a risky, unknown venture.
It is in all parties' interest for the venture to be profitable, as the original business owner has also invested his capital.
What are the reasons for some schemes failing?
There was infighting between trustees, and insufficient training to prepare the trustees for their new roles in the business. In some instances, unrealistic expectations were harboured. It's important that shareholders realise that the fruit of their work is a long-term investment that does not lead to instant wealth.

The NDP has identified agriculture as a major job and wealth creator, especially in rural areas. Do you agree with its suggestions?
Yes, to a large extent we agree with the NDP. Its basic argument is that labour-intensive, export-oriented irrigation farming should be the foundation of employment and wealth creation in rural areas. This type of agriculture is already well established in the Western Cape and we can expand through increased water use efficiency – focusing on appropriate crops and building new irrigation schemes.
Farming is one of very few viable industries in the rural areas, and taking into account the potential for job creation, it makes all the more sense to support the agricultural sector. The problem is that the NDP needs to be implemented in order to have an effect. I do not have much confidence in the ANC's ability or political will to implement it.
There is concern about the decline of South Africa's agricultural research capacity. What is your take on this?
South African farmers have to compete with heavily subsidised counterparts, yet they are doing an excellent job in this regard. It's a disgrace to see how little support the sector receives from government.
It's essential that the state supports the sector with relevant research in order to enhance our productivity and competitiveness.
We need research to compete on international markets and to help us adapt to a future with less water, less land for production, and more adverse weather conditions.
Without the necessary research, we will increasingly be subjected to animal and plant disease outbreaks, crop failures, exclusion from international markets and increased food insecurity.
Does organised agriculture contribute meaningfully towards the shaping of the sector and policies affecting it?
I think organised agriculture is trying to interact with policymakers in a positive, proactive manner. But the current national administration makes it difficult. Instead of acknowledging the important strategic role that agriculture plays, our government tries to deflect blame for its own failings onto the sector. For example:
The inability to provide basic services in our rural areas is not the responsibility of farmers.
While failing to create an enabling environment for farms to be profitable, government requires farmers to improve working conditions significantly, which requires greater growth in the sector.
Everywhere I have been, I have experienced how the state tends to spurn the goodwill and commitment in the farming sector to make reform measures work.

How can farmers contribute towards the smooth transformation of the sector?
Farmers have the same obligation towards South Africa as any other citizen – they should respect the values enshrined in our Constitution, comply with the law, and contribute to redress and reconciliation.
But it would be unfair to expect farmers to bear a disproportionate burden to compensate for the policy discrimination of the past. I know that ordinary farmers are concerned about the well-being of fellow farmers – commercial or emerging.
It's essential for them to demonstrate good neighbourliness to, and support for, their new counterparts – and in my experience this is usually the case. We cannot expect farmers to keep on stepping in for what is a government failure in implementation.
The best and worst case scenarios for South African agriculture in the next 10 years?
Worst case scenario:
A dysfunctional department of agriculture.
Policy uncertainty regarding the future role of commercial agriculture.
A department that continues to treat commercial agriculture as an adversary instead of a strategic partner.
Weakening of research and training institutions.
Weak co-operation between the departments of agriculture and land reform, together with the uncertain policy direction of land reform.
Ongoing failure of land reform, with once-productive farms becoming unproductive. These conditions will set the stage for the erosion of our export competitiveness, a reduction of investment, instability due to deteriorating labour relationships, increased food prices and reduced food security. This would lead to the sector's serious decline.
Best-case scenario:
A modern, efficient department of agriculture that creates an enabling environment for the private sector to develop and grow the sector.
Internationally competitive commercial agriculture creates opportunities for land reform beneficiaries to develop into sustainable commercial farmers, with support for government and the farming sector working together.
South Africa matches the growing demand for food locally and in export markets. The country's farmers become the bridge to agricultural (and other forms of economic) co-operation with the rest of Africa.
Rural livelihoods are created and existing ones improve. Agriculture leads the way in the effort to beat poverty.
Email [email protected].
This article was originally published in the 27 June 2014 issue of Farmer's Weekly.