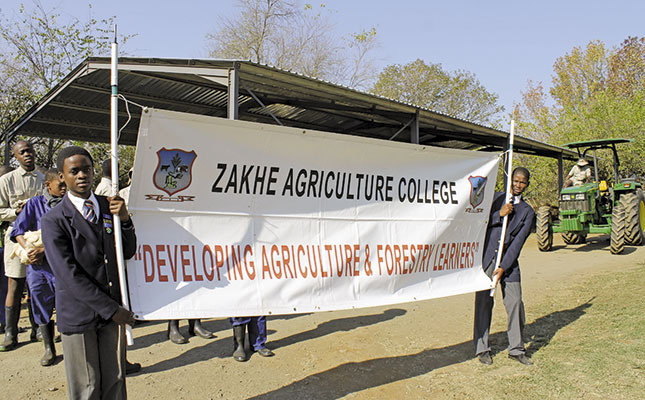 What does your job entail?
I am ultimately responsible for all the operations of  Zakhe Agricultural College, although the three divisions, namely academic, farm, and community outreach, all have individual managers. The community outreach programme is aimed at providing assistance to Zakhe learners' parents and guardians, who are often poor.
READ: North West – no easy answers
Our organisation applies for grants and sponsorships to allow learners and educators to go out into these communities to train and assist members in establishing their own subsistence and commercial agricultural projects. The farm has a manager who is developing it so that learners can receive practical training in agricultural production in addition to their theoretical lessons. The theory falls under the Department of Education's national secondary school curriculum.
Why was Zakhe Agricultural College established?
Zakhe opened in 2002 with the aim of producing young black farmers and agriculturists who, by the time they matriculate from the college, are equipped with the practical experience of having been exposed to agriculture from an early age. The idea originated when fellow graduates and I from the Owen Sithole College of Agriculture in Empangeni found that there were very few black learners at existing agricultural schools in KZN and elsewhere. This was mostly because previously disadvantaged parents and guardians could not afford the fees.
We wanted to establish a private, lower-cost agricultural school, and approached government to get backing for our idea, but we were unsuccessful. At that time I had already been running the Zakhe Training Institute (ZTI) for a number of years. It was established to provide training to developing farmers in animal and crop production, as well as agribusiness. It is now called Richdicta Agribusiness Development Services (Pty) Ltd (Rads) and is also based on Baynesfield Estate. This estate was left in trust for agricultural development by famous KZN pioneer Joseph Baynes.
I decided to take a big financial risk and use the then ZTI's resources to establish Zakhe Agricultural College. The ultimate aim of establishing Zakhe was to ensure that properly trained black farmers would be ready to take up the challenge of agricultural land reform projects. It breaks my heart that after such a long time and so much hard work and good achievements, the government has still not embraced our efforts and given its full support.
What is your background in agriculture?
After earning my diploma in agriculture, I went on to obtain a Bachelor of Agriculture degree from the University of Fort Hare in the Eastern Cape. The KZN department of agriculture offered me a post at Owen Sithole, where I spent four years as an agronomy lecturer. I then joined the newly-opened James Nxumalo Agricultural School in Ulundi as deputy principal. It is here that I developed my passion for agricultural schools.
Thereafter, I worked as a senior lecturer at the Esikhawini College of Education. At the same time I completed my honours degree in agricultural economics from the University of Pretoria. My next job was head of the agriculture division at the KwaZulu Training Trust in Pinetown. From here I took up the position as training manager for Rainbow Chicken Ltd. While there, I started ZTI.
Describe the gradual growth of Zakhe Agricultural College?
Baynesfield Estate has been a great supporter of the various operations associated with Zakhe. We lease land for the farm, school and adult training institute from the estate. The school was started in 2002 with only a Grade 8 class of 22 boys. From here it grew every year until we were able to offer all the classes from grades 8 to 12.
Our highest total intake of learners was 160 boys. We produced our first class of matriculants in 2006 and the significant thing was that most of the boys had entered the school as grade  8 learners in 2002.
Zakhe has had a 100% matric pass rate every year since then. Last year, Zakhe's matrics achieved the top academic results out of the four agricultural schools in KZN. When starting out, we had only five educators. Now we have 11 educators, five administrators, four community outreach facilitators, a farm manager and eight general farm labourers.
The boys play a major role in developing and running the farm, but because they are all boarders, the farm manager and labourers are needed when they go home for holidays. Most of Zakhe's learners come from KZN, while a few are from the Eastern Cape.
How do you select learners to attend Zakhe?
We target learners who have a passion and talent for agriculture, but come from areas where the schools don't offer the subject. Surprisingly, many of our learners come from townships and not just rural areas. These township boys have the same passion for agriculture as the pupils. This is clearly visible in the amount of joy they get from handling livestock and getting out onto the farm.
Due to financial challenges, Zakhe still does not have all the resources needed to provide learners with the best all-round agricultural education they deserve. So we are now, once again, approaching the departments of agriculture, education, and rural development and land reform to see if they can assist us to improve our resources.
We also think that these departments should establish other agricultural schools similar to Zakhe because I believe a demand exists. The cost of agricultural education at secondary school level is still far too high for many learners.
What makes Zakhe Agricultural College more affordable than most other agricultural schools?
Although I don't like to make this public knowledge, my family has contributed immensely, both financially and materially, towards the running of the school. My wife Benedicta in particular has been a great supporter. She used to work for the department of agriculture, but now does full-time administration for Zakhe.
Income from the Richdicta business also subsidises the school substantially. In addition, Baynesfield Estate leases land to the school at a subsidised rate and is a contributing founder of Zakhe. Their ongoing support is greatly appreciated.
Over the years, private companies, individuals and local commercial farmers have also supported the college generously, including providing bursaries. At present, Zakhe's total school fees per learner are about 50% of those at most other agricultural schools. Although our fee structure makes the school accessible to many previously-disadvantaged learners, it is an ongoing challenge for us to keep the school running and develop it further.
What are Zakhe Agricultural College's  future plans?
In 2009 we were approached by a neighbouring farmer who offered to sell his farm to the school. He said he believed that girls should also have the opportunity to receive an agricultural education. Although I believe this is a brilliant idea, I told him that we could not afford to buy the farm.
He suggested that we approach the Department of Rural Development and Land Reform (DRDLR) to buy the farm for the Zakhe Training Institute as part of the land redistribution programme.
Our request was approved and last year, we became the owners of the farm. We are currently using the farm for community outreach programmes, but are still making plans to utilise it as an educational facility. Our aim is to eventually have a co-educational school with separate boarding facilities for boys and girls.
Any other interesting plans?
Last year, the African Conservation Trust facilitated a R4 million grant for us from the National Lotto. We are using that to implement biological farming methods as well as training in these methods. Our original land lease with Baynesfield Estate is also coming to an end next year, so we are negotiating with them for a long-term lease. If we can do this, we will feel more secure about investing in permanent infrastructure for the school.
The negotiations are looking promising, especially since the MEC for KZN agriculture, Dr Meshack Radebe, visited here on our 10th anniversary celebrations.
He indicated that he wanted his department to partner with us to a greater extent. Dr Radebe also met with Zakhe old boys who now have degrees in agriculture and are working in his department. He stated that his department had a responsibility to support us. As a result, a partnership plan is currently being developed. Supporting the school with farming and other practical activities, are some of the points under discussion.
Which enterprises does Zakhe's farm currently have?
Due to financial pressures, our farm is not currently running at full potential. However, we are constantly looking at ways to improve. Ideally, we would like the farm to produce a big enough variety of products so that the income generated can assist in further subsidising the school's fees. At the moment, our farm has a beef herd, goats, vegetable production, broiler production and maize crops.
Unfortunately, we had to close our dairy in 2008 because we couldn't afford the irrigation equipment for the pastures, but we are aiming to revive it somehow.
We would like to appeal, not only to the department of agriculture, but also the private sector and commercial farmers, to help us develop our farming enterprises. Individual commercial farmers can help by identifying promising children among their workers and then sponsoring one or more of these children to attend Zakhe. The school can take 150 learners but, at the moment, it is not full, so there is space available for farmers to assist labourers' children who show promise.
What are some of Zahke's major achievements?
In addition to our 100% matric pass rate and being KZN's top agricultural school last year, Zakhe also produced the top agricultural matriculant in KZN for 2012, Brendon Nithianundhum, who obtained seven distinctions. We're also proud of the fact that many of our old boys have gone on to earn tertiary qualifications, particularly university degrees in agriculture.
However, the boys' education at Zakhe doesn't limit them to careers in agriculture. We have old boys who have degrees in information technology and engineering, and are now working in these sectors.
Judy Stuart of the Future Farmers Foundation facilitates the sponsorship of selected, previously-disadvantaged school-leavers to work on farms overseas. In this way, they gain international practical agricultural experience.
Some of Zakhe's matriculants have been selected and have worked on farms in Germany, Australia, New Zealand and the USA. This work experience helps them to secure good employment back in South Africa, or even start their own farming businesses.
Considering these achievements, we call on government to invest more in quality basic agricultural education. In this way, existing schools will become more affordable and accessible, and produce employable learners who can create employment for themselves and others.
Contact Richard Dladla on 033 251 0094 or 082 920 7408, or email [email protected]. Visit www.zakhe.co.za.
This article was originally published in the 16 August 2013 issue of Farmer's Weekly.