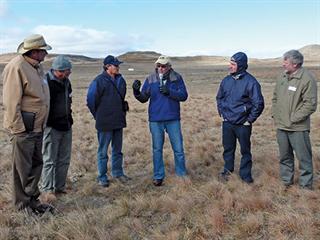 I make excellent crumpets. They're winners every time. All I have to do is follow my wife's proven recipe carefully. The only art required is in knowing how hot the non-stick pan must be and when to turn the crumpets. But after a few raw and burnt ones, I get it right. If only veld management were that easy. Most veld in South Africa is in an atrocious state because few know how it's 'made'. But there's a problem: it's virtually impossible to reduce veld management down to a simple recipe. Many have tried, and the poor results speak for themselves.
However, there's a heartening revival of interest in improving animal production on veld by increasing the quantity – and quality – of forage/unit area. This is based on Allan Savory's holistic approach of mimicking nature – that is, grazing large herds that are constantly on the move. (If you want to know more about this, Google 'TED Talks' and find Allan's talk on desertification.)
I was recently asked to speak to members of the Verkykerskop Farmers' Association about pasture. In this region of the Free State, most farms consist mostly of veld. Arable land for crops and pastures is limited. The prime focus should therefore be on veld productivity. With this in mind, I asked the association members what their source of income was.
Naturally, they said it came from livestock. They were astonished when I said that I disagreed with them; their body language told me I was on the point of losing an interested audience. They revived, though, when I pointed out that they were actually making their money out of veld and their animals were there to convert the veld into cash. As a result, their primary focus should be on producing an abundance of high-quality veld.
When I asked how much attention they were giving to improving veld productivity, they admitted it was just about zero. I then showed them a presentation I'd made after two visits to Dave and Kay Quinton in Molteno. Applying Allan Savoury's principles has enabled this couple to double the carrying capacity of their farm and greatly improved the production of their animals.
"Wows" echoed around the hall when my audience saw the photographs showing the outstanding condition of cows just after weaning. They found it hard to believe this had been achieved without production licks or hay supplementation.
After that, they wanted the recipe. What were the stocking rates? How many camps? How long do animals stay in a camp?
Better and better results
It has taken Dave and Kay more than 28 years to reach the point where they are now. During this time, their camp system has constantly been modified, and their grazing cycles and animal management programmes refined as veld productivity has improved. And according to Dave, further significant carrying-capacity increases are possible.
What next?
Here are six guidelines to help you get started:
Attend courses and visit farms where the Savory principles are applied. Don't hesitate to reveal your lack of knowledge – the only dumb question is the one you don't ask.

Gather around you like-minded farmers. Get together regularly to work on the successful implementation of the principles.

Select one of your largest camps and subdivide it into smaller camps with semi-permanent electric fencing (only one wire for cattle). This test camp will become the springboard for expansion to the rest of your farm.

Get to know the desirable and undesirable grass species on your farm.

Walk the camp, observe and think about what you're doing.

Remember: your success lies in your creative mind.
Yes, it's not easy – there really is no simple recipe. But the rewards are astounding.

John Fair is a pasture consultant. He heads up Fair's Biofarm Assist, and can be contacted on 058 622 3585 or [email protected].