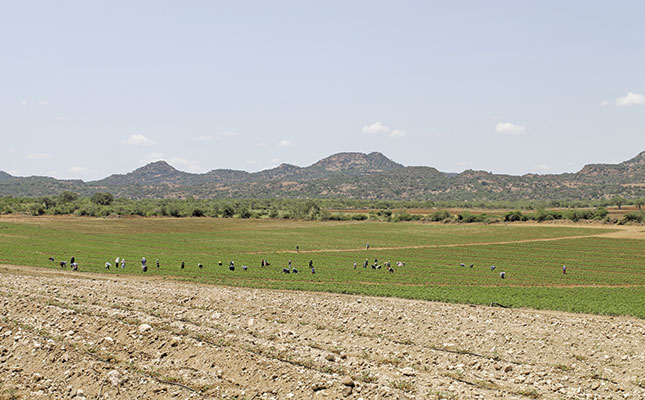 On 28 September, 2012, the University of Venda honoured Jameson Ntuseni Nesane for his outstanding work and contribution to the economic development of the country through his farming business, Tshalata Farms. The 71-year-old Limpopo-born farmer, who has no formal education, has farmed vegetables, mainly tomatoes, for more than 40 years. "I started with a donkey and a plough," says Ntuseni. He relates his journey from farm labourer to an award winning tomato producer.
READ: Commercial farming success for newcomer
He produces over 14 400t of tomatoes per season, and employs more than 200 workers. He also grows gem squash, watermelon, pumpkin, butternut and beans. A large portion of his tomato crop is exported to countries such as Mozambique, Zimbabwe and Botswana.
Award-winning tomato producer – still connected to the land
Ntuseni's connection with the land started when he was 10. He worked as a farm labourer for eight years, before he migrated to Johannesburg in search of a better life. Soon realising that the life he wanted was not to be found in an urban environment he went home in 1967. In the Sane Village of the Vhembe district municipality he was permitted to farm a 10ha plot by the local chief.

Dr Ntuseni Nesane
On this plot, he started Tshalata Farms, growing tomatoes, gem squash and watermelons. Gradually, he expanded his operation until the area under cultivation reached over 200ha. Unable to expand further on the communal land in Sane, he leased land in Nwanedi, about 60km south of Musina where he now hires 200ha of government-owned land.
"In 1986, a few farmers, me included, went to see Chief Patrick Ramaano Mphephu to ask him to let us farm the land in Nwanedi," Ntuseni recalls. This land was farmed by AgriVen, a government- owned company. "We asked him why government was farming instead of individuals. He told us it was because we would fail and become a laughing stock."
They managed to convince Mphephu to let them farm the area. Ntuseni is now the only remaining farmer from the original group of six and an award-winning tomato producer.
Producing in warm Limpopo
"Because of the warm, frost-free climate here, we produce year-round," explains Ntuseni. Winter temperatures don't drop below 15°C making it possible to have two production seasons. "We can have a crop at least six months in a year," he adds. Planting for the first season starts in January to March. The second season runs from July to September. Summer temperatures can rise to as high as 40°C.
"We start planting about 15ha at a time with 540 000 tomato seedlings," Ntuseni explains. About 36 000 seedlings are planted per hectare. He produces about 130t/ha, bringing the total production to 14 400t per season. Most of his customers, especially from outside the country, buy directly from the farm. He delivers to the Johannesburg, Tshwane, Springs and Klerksdorp fresh produce markets and to Tiger Brands in Musina.
Driven by client demand or preference, Ntuseni grows tomato varieties such as HTX 14, HMX, Quanto and Domingo. "Clients like Tiger Brands want a specific product and we try to meet the demand." Tshalata Farms tends to select varieties that last longer on the plant and give an extended shelf life.
Caring for the plants
As a tomato producer, Ntuseni says tomatoes do well in organically rich soils with a pH of between 6 and 7. Although he does not grow tomatoes organically, kraal manure is often used to give the soil a boost. He explains that because tomatoes are heavy feeders, the operation uses chemical fertiliser to optimise the crop.
"During land preparation we use 2:3:4. Then we use urea, ammonium sulphate, calcium nitrate, potassium nitrate," he explains. The quantity used depends on the soil and on the season. The farm in Nwanedi has clay, loam and sandy soils.
"One needs to have a doctor/patient relationship with plants to get good results," he says.
Visiting lands and inspecting plants is a critical part of the daily routine, says Ntuseni. "Plants let you know what the problem is so that you know what to do depending on the symptoms." He points out that a grower needs to understand the various functions of different chemicals. "Urea plays a critical role in the process of photosynthesis as it is a good source of nitrogen," he explains.

Irrigation pumps run up to 24 hours a day, five days a week.
"By visiting the lands frequently one would see when the leaves become yellow, then immediately know that there is nitrogen deficiency." He explains that nitrogen promotes growth and flower and fruit set. For good fruit colour, taste and firmness, potassium is needed.
"This will also help strengthen the plants," he adds. Crop rotation is a standard practice. "Not rotating crops degrades the soil, and increases the risk of disease and pest build-up." He says crops such as potato, chilli, eggplant and sweet pepper decrease risk as these crops attract the pests and diseases that attack tomatoes.
Challenges
Expensive electricity is one of the biggest challenges for the business. Ntuseni says there is very little they can do to reduce usage without compromising production.
"We have pumps here that run for 30 days nonstop. So it would be very hard to try and reduce the use." To meet economic challenges, he must increase production. He says this can be done by optimal land use and an increased planting area.
"Apart from high electricity bills, we pay about R1,5 million a year for chemicals and about R1,2 million for diesel. Even though market prices fluctuate, they are more or less what we've been getting for the past four years. But when we look at input costs four years ago, well, it's a different story. That's why economies of scale count."
Labour costs have become almost unaffordable with the new minimum wage increases. His labour bill is more than R3 million a year. "The problem with this is that government is not making it easy for entrepreneurs to create jobs. In order to please the masses, government makes it difficult for entrepreneurs to prosper." He says he feels it would be fair for government to dictate workers' pay if it assisted farmers. "Perhaps it should subsidise us," he suggests.
Succession
As he grows older, Ntuseni says he worries less about who will continue with his work. His two sons, Ntuseni Jnr (general manager) and Khathutshelo (farm manager) are involved in the running of the farm. Ntuseni says the Sesotho saying, "Bagolo rutang ditaola le seye le tsona badimong", has great significance in business. (A loose translation of this would be that parents should pass on their wisdom before they die.)
"During our youth there were traditional healers who excelled in what they were doing," says Ntuseni. "We don't have those healers anymore because they did not pass on that skill to the generations that came after them.
"I don't want that to happen to my farm. By not involving the children in their businesses, farmers are doing future generations a huge injustice," he says. "My sons are taking more responsibility in the day-to-day running of the farm."
But he is quick to point out that this does not mean he will retire soon. "I can't just sit and do nothing," he says. "I need to eat, and to eat, I have to work for that food." He says he still has a lot to teach his sons. According to him, as an award-winning tomato producer, a succession plan is very important to make sure that the business continues to do well and stays in the family.
"Many people depend on this farm for their livelihoods. These are people who have stuck with me through difficult times. Where would they go if the business collapses?" Ntuseni says that the many commercial farms in his area that are run by third and fourth generations have good succession plans.
Contact Dr Ntuseni Nesane on 072 365 8597.
This article was originally published in the 12 April 2013 issue of Farmers Weekly.