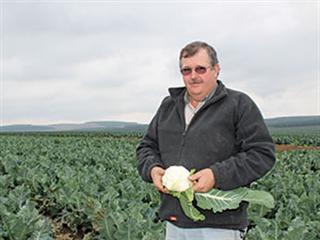 Since taking over the family farm eleven years ago, mixed vegetable farmer Carl Gathmann has pursued three goals: improving soil fertility, modernising farm equipment and expanding infrastructure. The strategy required considerable financial investment, and family holidays, new motor cars and home renovations were put on hold. Now the Gathmann family team are reaping the rewards of their sacrifice.
Carl's father, Gunther, started farming in the Greytown area 50 years ago and built Aussicht farm to an 800ha holding. From this solid foundation Carl launched his expansion programme.
Business and expansion
His strategy focused on investment in modern machinery and in soil health, and Carl spent the first few years generating the cash flow needed to put the plan into action. "I started growing seed maize for Capstone seeds and summer cabbage," he recalls. "The income from that enabled me to buy a Case Harvester, in 2005. From there, thanks to my father and with the help of my family and the rest of the team, we've been able to expand the farm and purchase modern equipment," says Carl. His wife Naomi, sons Mark and Philip, and daughter Carmen all help in different ways on the farm.
The holding has expanded to 1 700ha, encompassing four divisions: 650ha of yellow maize, 135ha of broccoli, cauliflower and cabbages, 500ha of wattle, and 300 beef animals. At the heart of Carl's soil fertility programme are crop rotation and green manuring. Maize is planted in October or November after the brassicas, and saia oats are planted before or after the brassicas at other times of the year.
"Our approach is to incorporate material left on the lands into the soil for in-field composting," he explains. "In this way we've built the organic carbon up to 5%."The soil is also limed and phosphorus (P)) and potassium (K), as well as micro-nutrients, are added as needed. "We use the minimum amount of nitrogen (N) because if there is anything that messes up the soil, it's too much N," says Carl.
Aussicht farm is thought to be the biggest brassica producer in KwaZulu-Natal, with broccoli, cauliflower and cabbage planted year-round. "We plant 1ha broccoli, 0,5ha cauliflower and 1ha cabbage every week. They are winter crops but because we have a moderate climate, we can plant year-round. If it's very hot, we irrigate up to 20ml/week to keep the soil moist."
The farm yields 25t of broccoli and cauliflower and up to 100t of cabbage a week. The produce is processed in the farm packhouse and the Gathmanns' trucks take broccoli and cauliflower to municipal markets in Johannesburg, Pretoria, Durban and Pietermaritzburg, while the cabbages are bought by hawkers. Timber is marketed by a co-op but beef, maize and vegetables are marketed by the family themselves.
"We've developed our own Vegworx brand as we do far better marketing through municipal agents than to retailers," explains Carl. "Sometimes we get crazily high prices and sometimes the prices are low, but the average is better than doing it the other way." After harvest, a certain amount of maize is sold to cover costs and the rest is held until the prices improve. "We have maintained control of the destiny of our produce," says Carl.
It's taken seven years to build the Vegworx brand and develop a loyal customer base. "We're proud of our product. We take ownership of whatever we do. Quality and continuity both sell. We have a good relationship with our market agents and try to surround ourselves with successful, decent auxiliary businesses, from seed, fertiliser, chemical and tractor suppliers to market agents. They are all partners in my business."
Precision maize
Mark and Philip run the dryland maize operation, using GPS to streamline their operation. They plan to move their maize operation into precision farming this year and to prepare for this they have bought a 12-row John Deere planter with satellite guidance systems, variable rate seeding and fertilisation. Other heavy machinery includes a John Deere 8335 and a Claas 780 Lexion harvester.
"The technology today is mind-boggling," says Carl. "The equipment we've bought makes our work easier and more enjoyable and these machines are more fuel-efficient than the smaller, older machinery. A 12-row planter can do the job in half the time and use less fuel than the smaller eight-row planter we previously had."
Maize yields average between 12t/ha and 17t/ ha. Part of the crop is pre-packed and sold to the informal sector, the AAA feedlot and poultry farmers. Maize is currently stored in silos 30km away, although the family is in the process of building a 3 200t silo complex near their packhouse.
"This will save on transport costs as well as exorbitant storage costs," explains Carl. Diversification has improved the resilience of the business. At the beginning of the year a hailstorm wiped out 40ha of vegetables. "Five months down the line, it was as if it had never happened, although cash flow went haywire for three months," says Carl. "But one cannot dwell on the negative. Put your hand to the plough and don't turn back."
Carl attributes the growth of the business to a strong management team and a stable workforce. "I'm blessed to have my two boys working with me. Our motto is 'Progress through innovation'.
Contact Carl Gathmann on 082 495 0052.