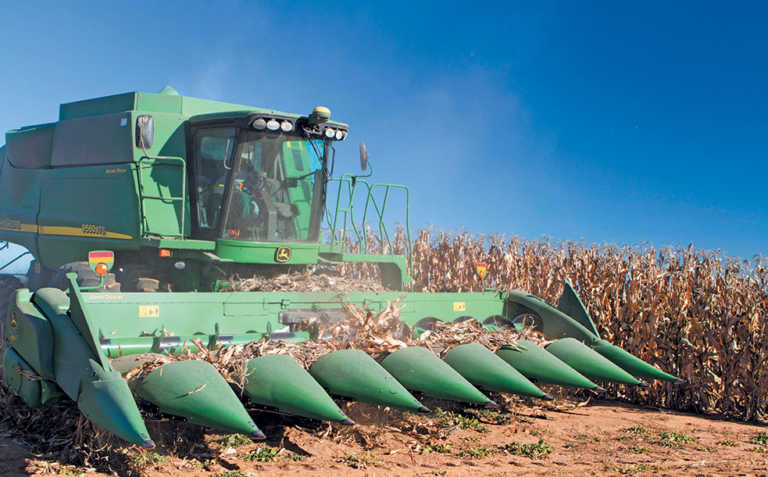 It is harvest time on the farm, Bloekom, near Virginia in the Free State when Farmer's Weekly visits.
The Free State Agriculture (FSA) Young Farmer of the Year 2017, Johan van Huyssteen (36), is out on his lands, checking loads and handing out silo slips, and walking the lands to ensure there is no spillage. When his operator takes a lunch break, Johan gets into the cab of the harvester.
The John Deere Bullet Rotor 9650 STS combine provides detailed readouts, informing Johan at any given time of the yield, which sometimes hits more than 13t/ha, as well as the moisture content, current load, diesel consumption and other relevant data.
It's important to spend time operating the harvester, says Johan, because it keeps you abreast of what's happening. For one, it allows you to pick up any mechanical issues before they escalate into a major problem.
Everything on the farm is precision-based, which results in more efficient water, fertiliser, chemical and equipment use.
And everything on Bloekom is done with a plan in mind; not just for the current harvest or the year ahead, but to ensure the farm, which has been in the Van Huyssteen family for five generations, will be even more productive by the time the next generation takes over.
These are amongst the reasons why Johan was named the FSA Young Farmer of the Year.
He farms in close collaboration with his father, Johan Sr, and the focus is strictly on dryland maize production.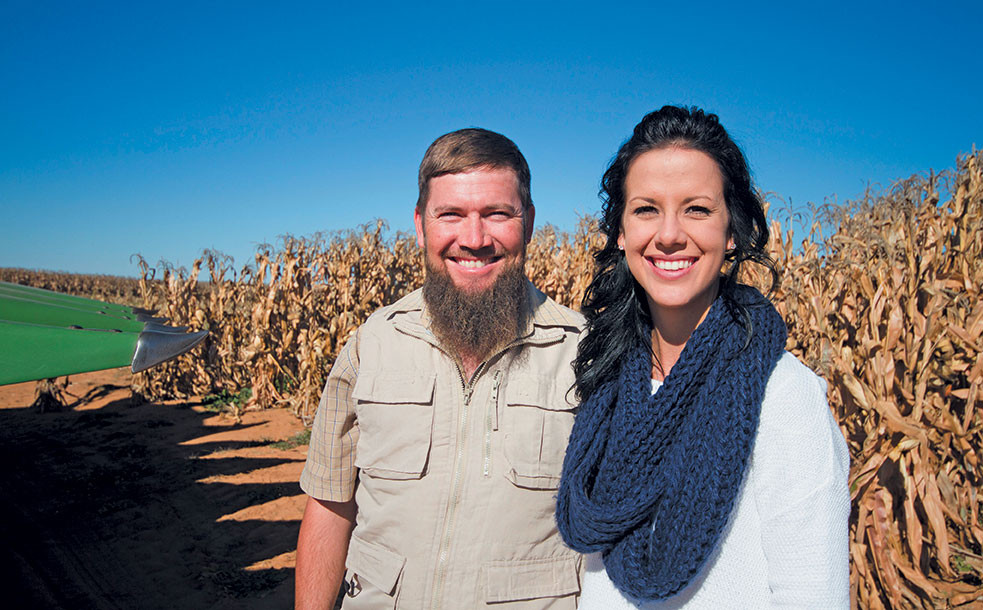 The Van Huyssteens have about 2 500ha of croplands, half of which is left fallow every year. (Another 500ha is used as grazing for a small beef cattle herd.) By specialising in maize, they can optimise equipment use, says Johan. Maintenance is easier, and they don't need additional implements for alternate grains such as sunflower or wheat.
Yields and production potential are, of course, well within their control, says Johan, but maize price fluctuations mean that even in a year where they could average 8t/ha, innovative marketing is necessary to make enough profit to enable them to plant again the next season.
The family has spent years building up the condition of their lands through conservation agriculture practices such as minimum tillage.
"You need to ensure you protect your resources and build them up so that you can continue to farm for the next 20, 30, 40 years, and that your children can continue after you," says Johan.
Definite improvement
Conservation agriculture has resulted in a definite improvement in the micro-organism content of the soil. This is tested through regular trials conducted on small plots on the farm.
Johan's approach was further validated after the family purchased a neighbouring farm in 2013.
The previous owner employed conventional production management practices and it soon became apparent that the soil on Bloekom was in a much better state.
The higher micro-organism content improves the soil structure and, in turn, soil moisture preservation, explains Johan.
Precision Technology
He has also heavily invested in precision technology. Differential fertilisation, for example, doesn't necessarily mean he uses less fertiliser at the end of the day, but it does ensure he puts the right amount of fertiliser in the right place, says Johan.
His land is only expected to give an average yield of 3t/ha, he explains. "In a wet year it will give me, say, 5t/ha, but in a dry year less. So if I fertilise everything for 6t/ha, I might put the brakes on a spot that could have yielded 8t/ha and waste the fertiliser in a less productive spot.
"Now I just take the right amount of fertiliser and put it down in the right spot."
Technology is unavoidable for the young farmer, adds Johan. "Technology makes farming sustainable in the first place," he says.
With margins so tight, every piece of technology you can implement helps improve profitability.
Another important lesson Johan has learnt is that you can't do everything yourself!
Given the changing trends in agriculture, it's important to draw on outside partnerships and expertise, says Johan.
For example, employing the latest technology is expensive; it therefore makes sense to make use of experts when deciding on which technology will best suit your purpose.
However, it's also important to ensure you have a good general knowledge.
Johan says he attends many courses along with his father, and he also tries to keep up to date by attending information days, conducting trials and keeping an eye on what's happening in the markets.
Johan Sr, he adds, is very open to new ideas, and gives him space to implement changes.
"There are very few young farmers who, first of all, have the privilege of being able to work with their fathers, and then to get on so well with each other."
The biggest challenge
Johan says the political situation remains one of the biggest challenges a young farmer has to deal with nowadays.
"A drought or other natural disasters have a massive impact on a farmer, but these challenges we can accept," he explains.
"Nature will always play a role in farming, and you can implement certain measures to manage the impact of adverse weather conditions, such as ensuring you're not overgrazing, for example."
But, Johan adds, the uncertainty that comes with farm attacks and the threat of land expropriation is something you have no control over.
"Those are the things that make people wonder whether they are in the right place. And it's not just affecting young farmers, it affects established farmers in the prime of their farming lifetime," according to Johan.
This, he says, is also why farmers have to be passionate about what they do.
"This is not an eight to five job; it's a constant job. Sometimes you work all day, and that night you're already making plans for the next day.
"It's long hours and a lot of challenges, but if you enjoy what you do you'll make a success of it," says Johan.
When all is said and done, he adds, there is definitely a future for young people in agriculture in South Africa.
Young farmers who might have doubts that they are doing the right thing, must remember that "there will always be a future in agriculture because people need to eat," says Johan.
His faith, he adds, also plays a very important role in his farming and the life of his family.
"I believe if you don't stand firm in your faith, you won't make it," he says.
Email Johan van Huyssteen at [email protected].