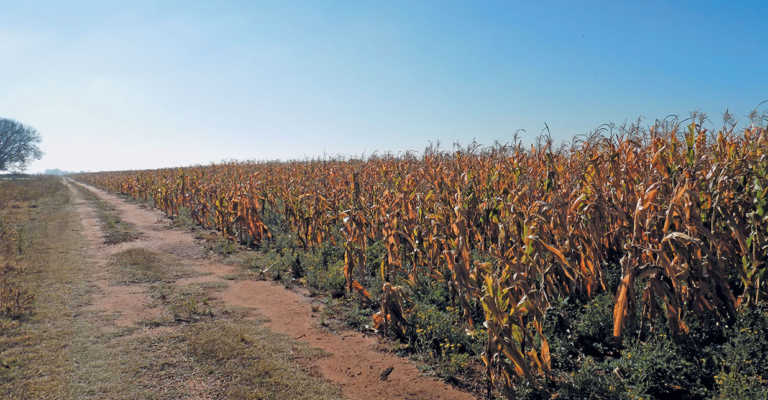 "I'm a great believer in positivity. It's contagious. If I'm positive, everybody around me becomes positive and this is what has carried my business through difficult times, such as the devastating drought of the past few years'," DJ van der Linde, 2016 Free State Young Farmer of the Year, explains.
DJ, who is 31, is the sixth-generation Van der Linde to farm on St Helena. He follows in the footsteps of his father, Dawie, and grandfather, Toppie, who was voted Grain SA's Maize Producer of the Year in 1984. DJ's ambition is to follow in his footsteps.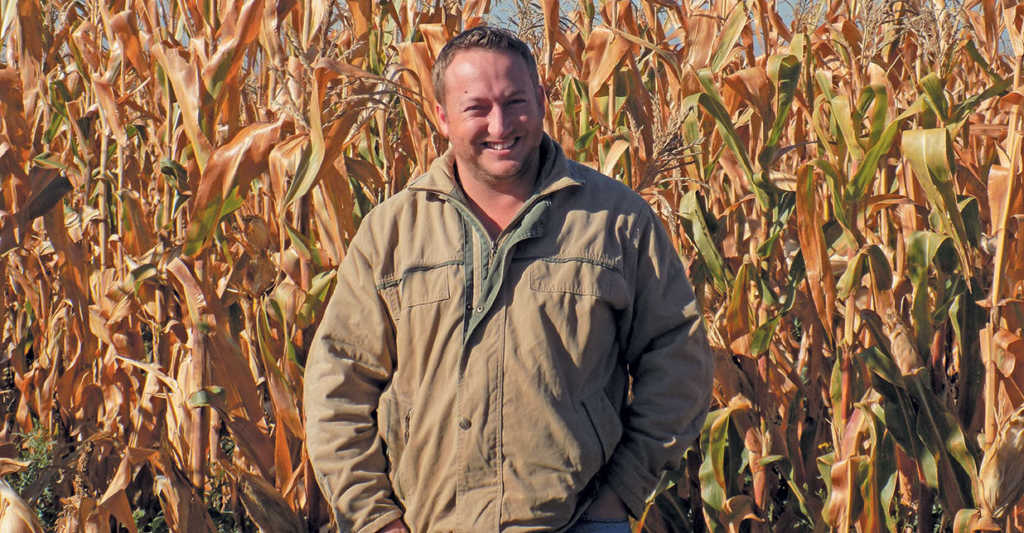 "I never thought I'd do so well in the Free State Young Farmer competition, but my Oupa and my Dad inspired me to do all I could to continue and expand the farming business. There are many grain-producing businesses much bigger than mine, but my mission is to make the best of what I have to continue farming sustainably and profitably in the long term," he says.
READ Growing opportunities with maize
DJ lives on St Helena with his wife Rianette and their two children, Divan (6) and Suhandré (4). The farm consists of 750ha grain lands and 150ha grazing. White maize production constitutes 60% of the farm income, yellow maize 10%, sunflower 25%, and commercial cattle 5%.
DJ's motto, "Do it right the first time", was the most important lesson he learned from his father and grandfather, according to him.
"They taught me to be very precise in what I do. This attention to detail has made it possible for me to improve grain-planting techniques to suit the conditions on my farm and keep track of the profitability of all the components of my business," he says.
Technical prowess
DJ completed a BEd (Technical) from North-West University and his majors, Fitting and Turning and Motor Vehicle Technology, have stood him in good stead since he started farming. He has built or modified nearly all the farming equipment in use on the farm.
His fleet consists of nine John Deere tractors, including models ranging from 1970 to 1995. "I don't own the latest implements or technology, but my training allows me to adapt the equipment to meet my needs," he says.
"I also use relatively old tractors, but why replace machinery that works perfectly well? I did, however, purchase a second-hand combine harvester in very good condition three years ago. I also recently modified a John Deere 7000 planter from the 1970s by adding Cerealis precision equipment."
Soil composition
The soil on St Helena consists of a mix of Avalon (40%), Hutton (40%), Clovelly (5%) and clay (5%). DJ has started implementing certain precision farming practices on the grain lands; adopting the principles in full would be too expensive.
"I prefer to go about it step-by-step, as my finances allow." But, says DJ, precision farming does save money and improve production.
READ Managing no-till soil acidity and fertiliser requirements
He has systematically grid- mapped the grain lands since 2014 as his finances have allowed, and applied lime. Having divided the lands into plots between 15ha and 100ha each, he applies fertiliser to each plot according to the results of a soil analysis.
He takes soil samples of all grain lands every three years and determines a fertilisation programme accordingly. During the past production season, he applied 80kg ammonia gas/ha on all the lands, as well as 100kg potassium chloride/ ha, among other additives. During planting, he applied 300kg/ ha nitrogen (4.2.1).
The latest soil analysis revealed a lack of boron; DJ plans to address the problem next season by applying micro-elements containing boron.
Pesticide application
Eelworm and gerbils are two serious threats to the maize. To control the former, DJ applies a granular soil- applied contact and systemic insecticide and nematicide.
Gerbils are managed by mixing zinc phosphate with grain before planting. They move into the planted areas directly after seed has been planted and start digging them up, but cause most damage when seeds are germinating.
"They destroyed about 140ha of maize in 2009. It cost me R90 000 to replant the affected areas. They are a real problem," he says.
Rainfall pattern
According to DJ, rainfall patterns have changed over the past decade. Average annual rainfall fluctuates between 500mm and 750mm, but the past decade has been characterised by weather extremes such as floods followed by droughts. St Helena's high water table soils fare much better with less than more rain, he says.
DJ, who took over the business in 2008, said the preceding years had been marked by extremely high rainfall, while severe droughts have occurred since he took over the operation.
"The drought hit us hard this past season. We ripped the lands and applied pre-planting fertiliser after the first 60mm fell in September 2015. We planted 200ha after the first follow-up rain of 26mm in December.
In the second half of the same month, we received another 34mm, which enabled me to continue planting. But the excessive heat inhibited germination terribly. In January, another 76mm of rain meant I could complete planting," he says. DJ first discs the lands to chop up the stover before planting.
This is followed by ripping and preparation of the seedbed. Maize is planted in 1,52m rows at a density of between 19 000 (Hutton soils) and 24 000 (sandy soils) plants/ha at a depth of 6cm. The planting density for sunflower is 45 000 plants/ha, planted at a depth of 5cm.
"I try to rest at least 1/7th of the lands each season," he explains. "The grains are rotated to prevent stem rot (Sclerotinia sclerotiorum). One season of sunflower is followed by two seasons of maize. I use mainly Pannar cultivars, with the varieties depending on each season's planting conditions. I also use Monsanto cultivars, but to a lesser degree.
"During the past season, I used Pan BG 5785BR and BG 5685R, as well as Monsanto 77-77BR white maize cultivars, Pan 6R-680R yellow maize, and Pannar's 7057 sunflower cultivar."
The average grain yields are 4,2t/ha for maize and 1, 8 t/ ha for sunflower. The break-even yield "completely depends on price". Input costs for maize was R8 000/ ha for maize and R7 000/ ha for sunflower in the 2015/2016 season.
"Marketing could potentially be a grain farmer's downfall," he cautions. "Probably the biggest mistake that I've made so far was to enter into a formal agreement at a low price. I signed a contract for R1 700/t for maize and the price went up to R2 800/t. I now hedge against minimum prices as a safeguard.
"I foresee a bright future for commercial grain production in South Africa. I gain tremendous satisfaction from the fact that every ton of grain produced on St Helena ends up feeding the people of South Africa in some way. That makes all my hard work as a young commercial farmer worthwhile."

Phone DJ van der Linde on 082 219 6281 or email[email protected].