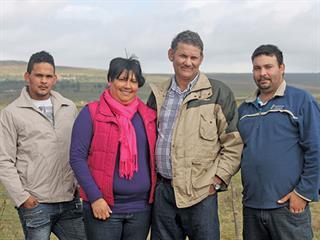 Spread the risk
Ralph grows a mix of grain crops, but to spread risk and make full use of non-arable veld, the farm also includes a livestock component – a Dohne Merino flock of about 1 800 ewes as well as 42 rams and 125 primarily Bonsmara cattle.
Conservation farming
Ralph started to switch to conservation farming in 2000 after a visit to Europe "to see how some of those farmers operate."
Practices include using zero or minimum tillage planters to plant directly into residue from previous years, instead of ploughing and sowing.
READ MORE: Ant Muirhead talks no-till farming
It took some time, but Ralph has now switched over to conservation farming methods entirely.
No-till
Since starting to use no-till planters, Ralph has decreased the amount of seed planted for wheat from about 125kg/ha to 75kg/ha.
"We were used to a wheat yield of around 1,5t/ha. But because of advice we received on implementing better production management practices, we achieved our best-ever harvest in 2012, with a yield of about 3,2t/ha," he says.
Crop rotation
A four-year crop rotation cycle is employed. First comes wheat, then barley, and triticale. During the fourth year livestock graze volunteer crop.
Stubble & residue
Although his livestock graze stubble and crop residue after harvesting, Ralph says this is not an ideal practice in a conservation farming setup. If possible, as much of the crop residue should be retained on the surface after harvest to protect it from wind and water erosion, and to return nutrients to the soil.
"I try to restrict grazing to 60% and I'm planning to reduce this in future," says Ralph.
Fertiliser & sprays
About a week before planting, Ralph sprays a glyphosate- based, broad-spectrum systemic herbicide to control annual broadleaf weeds and grasses.
At planting, he sprays a selective pre-emergence herbicide such as Trifluralin, for annual grasses and broadleaf weeds.

READ MORE: Conservation tillage works!
This is followed later in the season by a post-emergence spray for broadleaf weeds and grasses. For this, Ralph uses a mixture of Revenge (sulfonylurea) for broadleaf weeds and Hoelon (diclofop-methyl) for grasses.
The farm's pest and disease management strategy consists of one-to-three fungicide applications, alternating between Abacus, Duette and Prosaro. The final fungicide application is usually combined with an insecticide to control bollworm.
Final words
"I plant only two wheat cultivars, SS88 and SS056. We usually need to spray SS056 only once or twice, but the SS88 sometimes requires a third fungicide spray," says Ralph.
Soil samples are taken to determine fertiliser needs. This year, at planting, Ralph applied NPK at a rate of 200kg/ha, using Profert's 2.1.0 (30). This was followed by a nitrogen top dressing at a rate of 100kg/ha KaN.
Extracted from 'From 2ha to commercial success' by Denene Erasmus (FW, 22 August, 2014).