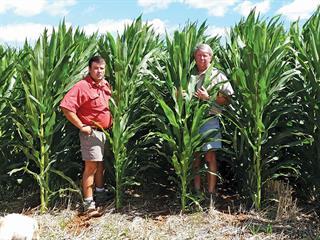 Driving through the stark countryside around Orania near Hopetown, Northern Cape, one is suddenly greeted by lush, green irrigation farms on the banks of the Orange River. One of these is Dissie Kruger's farm Attiesdraai, which features an elegant Cape Dutch homestead, verdant lawn and huge, shady trees.
It was not always this way. In 1986, Dissie bought the initial 168ha block – with water rights for 60ha – with borrowed money.
"It was a barren, desolate piece of land with no infrastructure. It took blood, sweat and tears to get where we are now," he says. "My wife Esmien, the children and I lived in a converted shed for 10 years before we could afford to build our home."
Today, Dissie and his son Derius run the Krugers' farming enterprise, Kambro Boerdery, which consists of the original 168ha and an additional 456ha, with water rights for 250ha. They produce maize, wheat and soya beans in rotation under irrigation, as well as lucerne on the more marginal land.
Water from the Orange River is pumped into two irrigation storage dams with a combined capacity of 50 000m³. The first, situated some 1,3km from the river, gravity-feeds water through a 500mm pipeline to the second, 1,1km away. The average annual rainfall is between 300mm and 350mm. Temperatures regularly top 35°C in January and February.
The nine centre pivot systems on the farm, which irrigate grain lands of between 13ha and 85ha, are designed to deliver 12mm/day. "The most important irrigation time is before planting," says Dissie. "The irrigation rate depends on the crop and the evaporation rate. An evaporation rate of 60% of the water supplied through irrigation isn't uncommon, given the extreme temperatures we have to deal with."
Electricity is the highest input cost, and load shedding has added an extra management burden. The Krugers have to plan irrigation schedules meticulously for effective water use and to keep the soil moisture level constant. "The fact that we
have sandy, sandy loam and clay soils makes scheduling a challenge," says Dissie. "Efficient water use is the foundation of our operation.
We manage the soil moisture level so that the lands needing most water – those on sandy soil, for example – get 30mm per pivot rotation. Lands on clay soil receive 20mm to prevent run-off."

On-farm grain storage
Dissie and Derius have invested in a 4 000t grain storage facility on Attiesdraai. Silos accommodate 2 500t, while the balance is stored in storage sheds. As the farm is situated 3km from the nearest commercial silo, storing grain on-farm makes sense. "We store grain until the price is favourable," says Dissie. "A local agribusiness markets the grain, loading it on the farm. We're favourably situated in relation to Eastern Cape and Western Cape markets, particularly for maize and lucerne. We can deliver directly to clients."
The Krugers pump irrigation water from the Orange River. (Photo Annelie Coleman)
Maize
The maize planting season starts after the wheat harvest, usually from early December to 20 December. Dissie converted to minimum-till four years ago. A straw chopper linked to the wheat harvester broadcasts the wheat stover onto the land. This plays an important role in wind protection, erosion prevention and moisture conservation.
The planting row orientation is changed annually by 30° to the previous year's row to improve stubble flow. Fertiliser on the maize lands is applied in granular form. Pre-planting fertilisation includes 200kg/ ha monoammonium phosphate (MAP) and 44kg/ha phosphorous applied by an Orthman strip tiller at a depth of 250mm. Both of these nutrients are important for sustaining healthy plant growth and optimum production.
Only 250mm to 300mm of the wheat stover cover on the land is lost through the use of the strip tiller, and this allows for an excellent ground cover. At planting, 200kg/ha PSN (phosphorus) and 60kg/ha nitrogen (N) are applied, the PSN underneath the seed and the nitrogen alongside the seed. Trace elements in liquid form are applied on the seed at planting, while the MAP application serves as the first top dressing.
A second top dressing of 150kg/ha urea and 50kg/ ha potassium chloride is administered via the irrigation system when the maize is about a month old, and a third approximately three weeks later. The total nitrogen (N), phosphorous (P) and potassium (K) application on maize is 300kg/ha N, 44kg/ha P and 50 kg/ha K.
A John Deere Promax 40 flat seed disc planter is used to plant the seed between 70mm and 80mm deep, spacing it uniformly without double-seeding for a density of 90 000 plants/ha. The average long-term yield is 15t/ha, with the break-even yield 8,7t/ha. Last year, the Krugers planted DKC 64/78.
"Seed companies run cultivar trials on Attiesdraai," notes Dissie. "This is an opportunity to see the performance of each cultivar on our land. We favour the most stable and adapted cultivars, not necessarily the highest-yielding ones. But we change regularly for long term sustainability." Pesticides and herbicides are only used when needed, keeping agrochemical use to a minimum.

Wheat
Wheat is planted between 15 June and 20 July at a seeding rate of 100kg/ha. The average yield is 9t/ha, while the break-even yield is 4,2t/ha. To prevent early rust, the seed is treated with Galmano from Bayer CropScience XSeed's micro herbicides. The wheat fertilisation programme provides a total 240kg N/ha, 44kg P/ha and 50kg K/ha, as well as 5kg/ha Zn (Zinc) and 2kg/ha B (Boron).
The Krugers prefer a cultivar with short stalks and good standing ability, so plant Sensako's SST 884. "We work the previous crop's residue into the soil, using a chisel plough," explains Dissie. "This is followed by a Super 18-tine implement to work the grain stover into the ground, aerate the soil and prevent compaction. "It's important to plant wheat on clean lands to prevent Fusarium outbreaks."

Soya beans
The optimum planting time for this legume crop is from 10 November to 20 November. Dissie and Derius plant the Don Mario cultivar from Brazil at a seeding rate of 300 000 seeds/ha to 320 000 seeds/ha at a row spacing of 0,76m, yielding 4,8t/ha to 5,2t/ha.
A seed treatment containing Rhizobuim bacteria stimulates nodulation in the roots, boosting the soil's nitrogen level for improved plant growth. At planting, the Ortman strip tiller places 100kg/ ha MAP under the seed at a depth of 250mm. At flowering, the Krugers apply a treatment of 150kg/ ha potassium chloride, 100kg/ha ammonium sulphate, 2kg/ha B and 3kg/ha Zn via the irrigation water.
Zn and B are essential micronutrients that stimulate plant growth and disease resistance. Ammonium sulphate plays an important role in maintaining the correct soil pH, among its other benefits. Roundup and appropriate pesticides are used when required to eliminate weeds and insect pests.
Farming philosophy
"There's only one way to achieve anything in life and that's to simply start doing it," says Dissie. "I had to take calculated risks to realise my dream of farming. I am the second-youngest of 13 children and we lost our father when I was nine. "I'm eternally thankful to all my brothers and sisters who virtually reared me. They taught me the value of hard work.
"Esmien and I started out with all the odds stacked against us, but by the grace of God and extremely hard word and perseverance, we carved out a life and business for ourselves here in the Northern Cape. "This isn't our land. We're placed here as stewards to take care of it for the generations to come. That alone is reason enough for us to continue."
Phone Dissie Kruger at 082 773 2605 or [email protected].