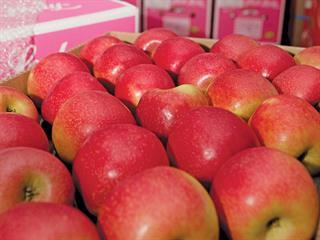 Maluti Fruit, an apple packhouse based in Bethlehem in the eastern Free State, is working in cooperation with 13 producers and marketing company Fruitways to supply choice-grade apples to the local market and niche markets overseas.

Apple-growing advantages
South Africa currently has about 21 000ha of apple orchards. Although the Western Cape produces 95% and the eastern Free State only 2,7% of the country's total crop, the latter region has certain advantages that are being used to producers' benefit. These eastern Free State apples are the first to be harvested during the southern hemisphere growing season and also have better colour development.
"We can supply a specific variety two to three weeks before Grabouw or Ceres can," says Maluti packhouse manager, Hein Punt.
Traditional production methods developed by Western Cape producers did not produce the same results in the Free State, which falls in the summer rainfall area and has better soil. On the other hand, farmers have to protect their trees from hail using hail netting, and therefore require smaller, more compact trees, says Hein.
Farming in the eastern Free State has traditionally been mixed. In the early 1990s, progressive farmers were looking at alternative crops to augment their income, and apples were identified as a good option. Although apples have been grown in the area for 100 years, Hein says "they were the type you'd find in your grandmother's garden".
The first commercial-scale apples were planted in 1991, but most of the current producers planted their trees in 1997. The Bethlehem Farmers Trust (BFT), a 115ha BEE project, was also started in 1997 and is one of the longest-running BEE projects in South Africa. Maluti Fruit was established in 2000 as a co-operative. Hein says co-operation kept it going through difficult years. None of the producers sign any contracts and can leave Maluti Fruit for another packhouse or distributor at any time. Some have done so and have since returned.
Alternative thinking
Maluti Fruit management is open to alternative ways of thinking, says Hein. "We cost producers money. They pay to pack with us. We have to perform to make it worth their while. We have to think differently, improvise and stay ahead of the game."
A producer can either produce at low cost and sell to municipal markets, or produce a top-quality product of a specific size, weight and colour for the international market, he explains. "First Class apples receive a premium [price]." In the UK market, First Class Pink Lady sells for up to R20/kg, while the price in the local market is about R11/kg. However, the premium export market presents higher risks as consumers are finicky about everything – from quality to pesticides – meeting certain criteria.
A view of the Maluti Packhouse. Maluti is currently thinking of mechanising more of their systems.
Fresh from the Free State
Maluti Fruit only supply early season apples from January to May. The co-op is currently considering branding these apples 'Fresh Free State' to emphasise their early nature. This is in contrast to other suppliers who store apples for longer periods to make them available out of season. Starting earlier ensures that the apples are fresh, while the shorter storage period reduces cold storage costs.
Marketing
Maluti Fruit has appointed Fruitways to market its apples. "We have to be well focused. We need to empower specialists and cannot be generalists. We give specialist attention to production and packing for high-end customers, but let the specialist marketers do the selling," says Hein.
Maluti accepts producers of any size. Some have only 2ha under apples while others have up to 60ha. All these farmers' apples are delivered to the same select markets overseas.

Hard years
Farmer Franco Maree, who started farming in 1996, today specialises in bi-colour apples. "The initial years when the first orchards were established were hard. The learning curve was steep and we had to learn a lot. During the early years we made losses as we did not know how to cope with the cold," he says. "We initially also planted the wrong cultivars, such as Braeburn, and some producers opted out.
Then we started planting the correct cultivars and five years ago the situation turned around," Franco says. "The owners of Maluti invested a lot of money to upgrade the packhouse and cold storage facility," he adds. Now producers are benchmarking best practice and produce apples at prices comparable to those in the Western Cape.
Risk and reward
The cost of establishing an apple orchard and bringing it to break-even point within eight years is high, at approximately R500 000/ ha. Operational costs amount to approximately R100 000/ha per year. But the rewards are great. In 2014, Pink Lady earned R571 500/ ha, Sundowner R320 000/ ha, Red Apples R300 000/ ha and Royal Gala  R199 000/ha.

The right cultivar
"The largest determining factor in the longevity of a cultivar is the consumer," says Franco. Here are some of the questions producers should answer for themselves:
Will the consumer like the apple; does it taste good?Is there a storage option?
Does the tree carry enough fruit?
Is the product marketable?
Can the root system accommodate the plant?
Will it make money?
Only once these questions have been answered can a farmer decide what to plant. "As an apple producer I can only do so much. Then the packhouse has to take it further," says Franco. Producers rely on Maluti Fruit to build a relationship with marketers, exporters and clients to ensure that apples are delivered to the market in top condition.
Solid relationships
Fruitways has a focused approach to marketing and has built solid relationships with retail supermarkets. Maluti Fruit currently sells 35% of its apples to supermarkets, exports 45% and delivers 20% to the wholesale market. Africa has opened up as a very attractive market, especially countries such as Zambia, Tanzania and Angola, with year-on year growth of about 10%.
Maluti Fruit packs a total of about 400 000 boxes annually, and has to comply with stringent quality standards. It was also the first packhouse in the Free State to be accredited by Sustainable Agriculture in South Africa (SIZA).
Transfomation driver
Hein explains that Maluti Fruit's producers are committed to transformation and advancing BEE in agriculture. The eastern Free State already has a 25% BEE farmer representation in the apple production sector. In cooperation with BFT, Maluti Fruit is launching Remmoho, a BEE project that aims to expand the eastern Free State's apple production to 10% of
South Africa's total production.
Remmoho will drive transformation in the apple industry in the eastern Free State. It plans to plant 2 000ha of apple orchards, creating 4 000 direct jobs and 12 000 indirect jobs, by 2030. "We have a mixed farming culture and excellent knowledge of apple production. We can now advance to the next phase of development," says Hein.
Phone Hein Punt on 058 304 3367 or email [email protected].