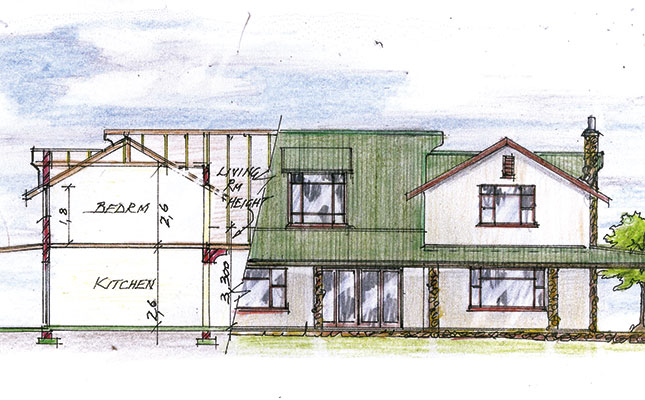 Dear Jonno
I am writing to you from the beautiful KwaZulu-Natal Midlands. My family and I are considering building a home on a piece of land and would like some assistance with a basic sketch and dimensions, so we can get a builder's quote to assess viability.
We have an idea to erect a simple shed-shaped structure on concrete foundations. We would like it to be double volume so that the open-plan living room/entrance area has high, exposed beams, and so that we could also put the bedrooms upstairs for security reasons. We would need four decent-sized bedrooms and at least two bathrooms.
I would love a wrap-around veranda with a classic Midlands farmhouse feel to it. There is a lot of natural stone around and we wonder if this would be a feasible material to use for the outer walls. Also, with another Eskom hike looming, we would like to be mostly off the grid, with solar panels and gas as far as possible.
Would you please draw up a sketch for us?
Thanks and kind regards
Caryn and Richard

Roof and Attic Floor Plan 144m2 (4 bedrooms)

Ground Floor Plan 193m2 and verandas
Greetings Caryn and Richard
Herewith a quick but comprehensive sketch for your proposed new home. There should be enough here for the builder to give you an idea of costs. While you asked for a double-storey home with four fair-sized bedrooms upstairs, this does require the equivalent supporting room area below.
The bedrooms are therefore an average size. Bedrooms one and two are mirror images of the rooms on the opposite side. With the area below (kitchen, pantry and so on), being quite large, I've tried to locate usages in order to fill the space. If need be, the width and length of the two side wings can be reduced by a metre or so. The wide front veranda is an ideal outside living area.
The 'off-grid' appliances and applications will be detailed in the final drawings. The roof design is shown in part to give the builder an idea of what's involved. Simple but stylish, and not overly expensive. Let me know what your preferred roof cover material is. Give me a call to discuss any options.
Best regards
Jonno
This article was originally published in the 26 June 2015 issue of Farmer's Weekly.