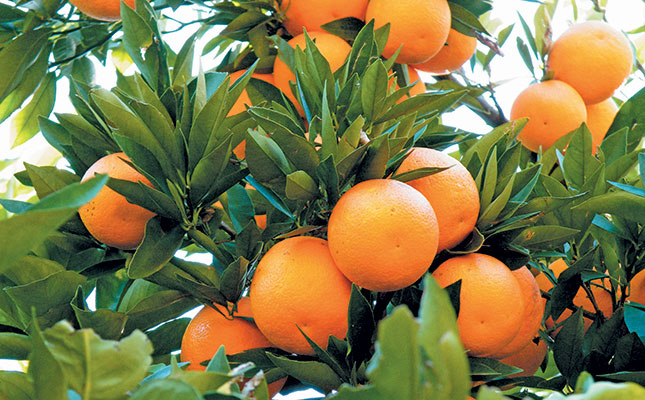 Stefan and Anné Pretorius established Katlego Sitrus (Katlego), a citrus farming and exporting business, 11 years ago.
To improve their competitive advantage, they gradually introduced new technologies into their operation, and have since seen improvements in fertiliser application efficiency, pest control and water utilisation.
While Stefan studied mechanical engineering, he is not a newcomer to agriculture, as he spent his childhood on his father's citrus farm. His engineering background has also been particularly useful as it helps him identify areas where technology can be applied to upgrade processes.
For example, he designed and constructed a tipper, which tips bins and performs the first fruit wash, for less than R100 000. These machines can cost up to R700 000 each.
Katlego Sitrus is one of three farms situated near Marble Hall in Limpopo.
"After studying, I worked on mining projects, but in 2003 I became more involved in the [family] farm on a part-time basis. Then in 2005, I bought my first farm," recalls Stefan.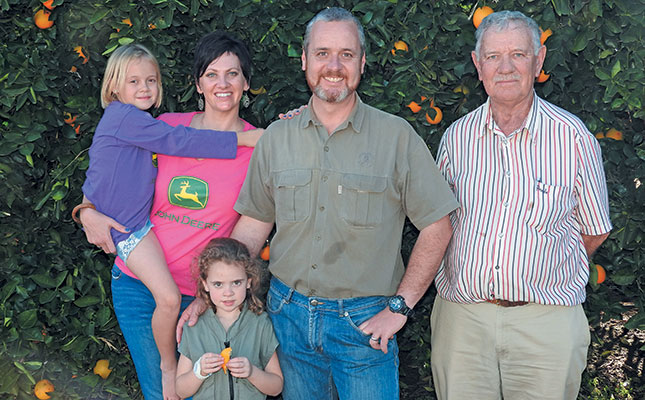 Katlego Sitrus has 188ha of established citrus and 54ha of new plantations, and exports 80% of its crop (about 250 000 cartons) to India, Ireland, Taiwan, China, Hong Kong and the United Arab Emirates. Produce is exported from May to September, and Katlego's packhouse has the capacity to process up to 170t/day.
Traditional Valencia, as well as other Valencia varieties – Delta, Midknight, and Turkey – are cultivated. Navel varieties, namely Bahianinha, Cara Cara and Palmer, are also produced, while an orchard of Eureka lemons was recently established.
Pest control
Katlego Sitrus recently developed a scouting smartphone app to speed up response time to pests and diseases. Using the app, a scout can take a photograph of the pest or disease on the tree or plant, then upload the image to a database in real time for immediate identification.
A relevant chemical treatment can then be selected and quickly applied where necessary. The app can also be used to track trends in disease outbreaks, and Stefan hopes to use this data to customise chemical interventions, instead of relying on blanket treatments.
The app makes scouting more effective and traceable, as it plots the GPS location and the paths taken by scouts, as well as recording the position of each photograph. Images can also be directly uploaded to growers' chemical consultants.
Katlego hopes to make the app available to other growers before the end of the year.
"Once the app is proven [to work] on our farm, we'll try to commercialise it and get various citrus bodies and organisations involved," he explains.
Katlego has also experimented with biological pest control, and have used Trichogramma parasitic wasps, which are effective against false codling moth (FCM) eggs. While the wasps were indeed effective, the programme was too expensive for use on a commercial scale.
"We believe farmers should first focus on chemical solutions and use biological methods as support," he says.
Stefan says that good agricultural practices will always be effective in reducing pest incidences.
He adds that experience has taught him that it is more cost-effective to invest in high-quality sprayers that administer chemicals with greater precision, as this reduces the need for additional pest control strategies.
A focus on orchard hygiene has also reduced Katlego's reliance on chemical programmes to control FCM.
"We remove fruit that has fallen from trees three times a week as it's the hosts for the larvae. This has helped us save thousands of rands each year on chemicals."
Irrigation improvements
Katlego no longer uses centre pivots, and every season more micro sprayers are replaced with drip irrigation. This has reduced water usage and improved fertiliser application, as well as efficacy.
"Efficient and effective irrigation is the basis of good production, and farmers should always get this right first. If a tree is getting the correct amount of water, the fertiliser will also work as it should."
While dripper lines in most drip irrigation systems can become blocked, thereby affecting water supply, the lines in Katlego's system have been designed in such a way that they can be flushed to eliminate build-up and dislodge blockages before irrigating.
Exports and strong branding
In 2010, Stefan began selling directly to export markets, instead of through exporting companies. This approach is more cost-effective, as he does not have to pay a portion of his profits to an agency. Katlego is thus also better able to retain control over pricing and brand.
Stefan explains it is important to understand the product being exported, regardless of the export method. "To export fruit successfully, you need to produce and pack efficiently and to a sustainably high standard."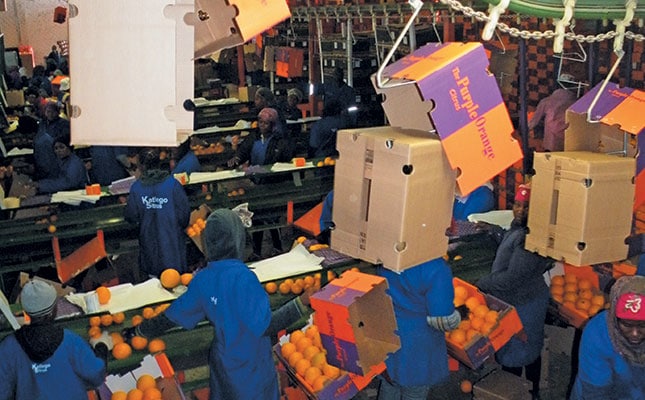 "To export fruit successfully, you need to produce and pack efficiently and to a sustainably high standard."
While Stefan is in charge of production, Anné has played a central role in establishing good relationships with buyers – essential when exporting directly as customers deal with the producer.
Creating a strong brand identity is also important in overseas supermarkets. Katlego has three brands: the Purple Orange, the Pink Orange and the Purple Lemon.
Anné stresses that it is essential to be informed about changing consumer demands. A major trend is the move towards experiential purchasing; consumers increasingly use their smartphones to guide their shopping decisions by comparing prices and product reviews.
All Katlego's fruit therefore have stickers with a quick-response barcode. Consumers can scan the barcode with their smartphones, then access video clips about Katlego's production and packaging processes.
"This brings the consumer closer to the fruit they're buying, and educates people about the production process," she says.
While the drought resulted in less available fruit for export, Stefan and Anné expect that yield will improve again as normal rainfall patterns return.
"Our story proves that new producers can enter the sector. We gradually built our business, and we're now at the point where we have to increase the capacity of our packhouse again," says Anné.
Stefan says that he always questions conventional citrus farming processes, and likes to teach himself new things.
"Advice is available, which you need to listen to, but always make your own, educated decisions."
Email Anné Pretorius on [email protected].