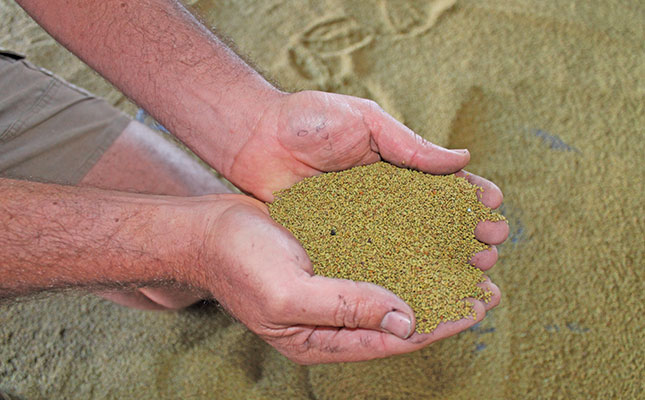 Boeboe Louw, owner of the farm Bloudrif on the banks of the Vaal River in the Wesselsbron district, has been producing lucerne under irrigation from the river for the past 15 years.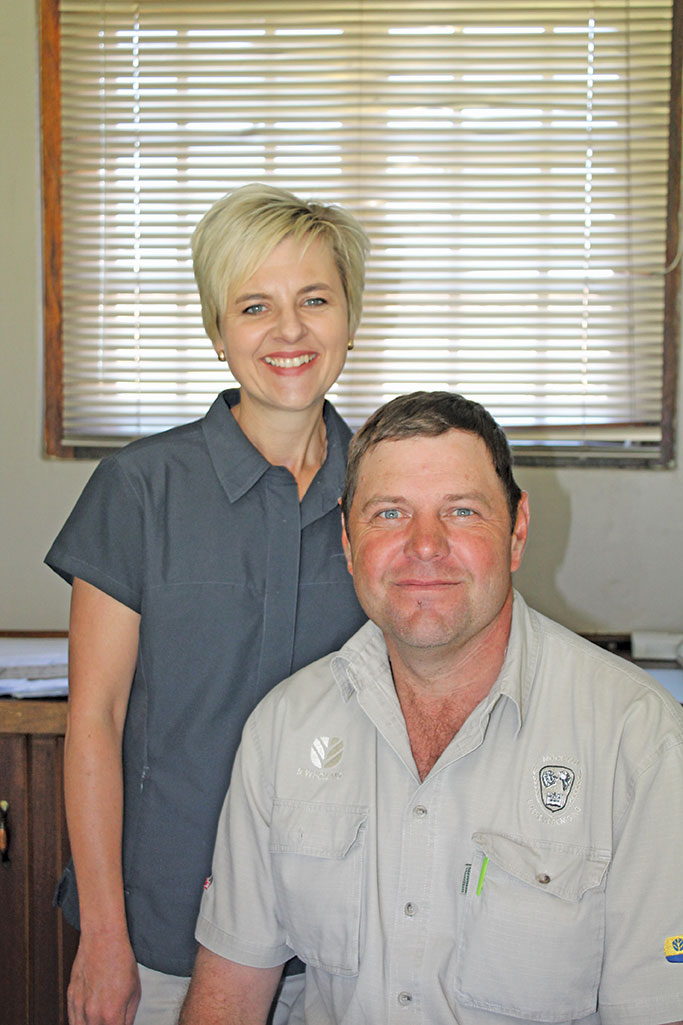 Initially, he planted the crop to provide feed for his dairy herd. But after he stopped milking a few years later, he decided to continue with lucerne, and even increase production. With access to ample water and good soil, he was keen to take advantage of the ever-increasing demand for the crop.
"Despite the fact that I have to spend a relatively large sum to re-establish the lands every five years, lucerne production remains decidedly more profitable for me than crops such as maize and sunflower. The only prerequisite is enough water," he says.
Lucerne, a perennial summer legume, is well adapted to almost all areas of South Africa, but prefers deep, well-drained soils with a neutral to high pH.
Irrigation requirements
On Bloudrif, approximately 180ha are planted to lucerne, irrigated by 10 pivots that each cover between 10ha and 35ha.
"A neighbour of mine recently had the water quality tested and I'm glad to say that it was good," says Louw.
The lucerne receives about 40mm a week (four days of irrigation followed by a three-
day break) for four weeks. Irrigation is then withheld for a week before the lucerne is harvested. Louw harvests seven times a season, resulting in an annual water requirement of between 800mm and 1 200mm, which averages about R7 700/ha/year at present.
Irrigation is adjusted according to the weather. Louw explains that lucerne struggles with extremes: dry weather or an excess of water.
"The plants don't like to stand with their feet in water," he says. This makes heavy clay soils and a shallow water table unsuitable for lucerne production.
Another problem with excess moisture is that it can result in a rust outbreak. Rust, caused by the fungus Uromyces striatus var. medicaginis, can cause defoliation and a loss of nutritional value. It can also reduce the nitrogen-fixing capacity of the affected plant.
Soil and seed
The sandy loam soil on Bloudrif, which is between 1,2m and 1,5m deep, is ideal for lucerne production, according to Louw. Lucerne seed is sown in well-prepared soil at a density of 25kg/ ha to 30kg/ ha under irrigation. Seeds are inoculated with Rhizobium bacteria before planting.
Lucerne's success as a cultivated crop is due in large part to the plant's efficient root system and its symbiosis with the nitrogen-fixing Rhizobium, which reduce the plant's dependence on soil nitrogen.
High-quality grading
Louw uses the SA Standard cultivar, which has an underground crown that forms 4cm to 7cm underground, and side shoots. It produces excellent dry matter with a high grading due to its improved stalk-to-leaf ratio.
South Africa is a global leader in lucerne grading, says Louw, and the National Lucerne Trust's (NLT) lucerne hay grading system is the most sophisticated available. It has played a crucial role in maintaining consistent and sustainable production of top-quality lucerne.
Most of the lucerne produced on Bloudrif is prime grade.
The grading process starts before the hay is baled. According to NLT requirements, the first step is to verify the origin of the crop. Once the hay is baled, a sample is collected from the
bales to determine the grade. If any bale shows signs of water damage, contains harmful plants, has a mouldy odour, or has a moisture of over 16%, it is rejected.
The average yield on Bloudrif is about 20t/ha per season, and the average lifespan of each land is between four and six years.
Establishing the crop
The optimal planting window for lucerne in the western Free State ranges from March to June. Soil preparation starts with ploughing, and fertilisation at this stage consists of potassium chloride (KCl) at 150kg/ha and monoammonium phosphate (MAP) (32) at 150kg/ha For a well-established lucerne field, it is important to maintain optimal potassium, phosphate and nitrogen levels.
To that end, Louw applies liquid nitrogen at 300ℓ/ha/year and gypsum at 2t/ha twice a year.
After ploughing, the top soil is compacted as firmly as possible, the seed is sown on the surface, and the soil is compacted again. The seed is watered well until it begins to germinate.
At the time of Farmer's Weekly's visit to Bloudrif, lucerne destined for Namibia was being loaded. The price fetched by prime grade lucerne was R3 300/t at that stage. Prices fluctuate between about R2 200/t in summer and R3 300/t in winter. Calculated at an average input cost of R27 000/ha and an average yield of 20t/ha, the break-even point on Bloudrif is 13t/ha.
Haymaking
Louw stresses that the haymaking process must be planned meticulously. A delay of just a few days can compromise quality significantly. It could also have an impact on following harvests by inhibiting growth.
The crop is cut early in the morning. Dew keeps the plants relatively moist, preventing leaf losses. The lucerne is turned two days later, also early in the morning to prevent further leaf loss. The cut crop is left for a further two days to dry off properly. Baling takes place in the late afternoon or in the evening when the temperature starts to drop.
Fanie Brunette, general manager of AlphaAlfa, a division of the agribusiness BKB, says lucerne production is expanding from traditional areas such as Vaalharts to areas such as the western Free State.
Local lucerne is sought after worldwide and is exported mainly to the Middle and Far East. South Africa exports about 200 000t a year.
"To accommodate the increase in production on Bloudrif and neighbouring farms, we erected a 6 500t storage facility," he says.
According to Dirk Stolz, a technical trader at AlphaAlfa, 1 070ha are planted in a 100km radius of Bloudrif and average yield is between 18t/ha and 20t/ha.
"Lucerne is gaining popularity not just due to its sustainability and profitability, but because it's ideal for rotation with crops such as maize and sunflower," he says.
Email Boeboe Louw [email protected].