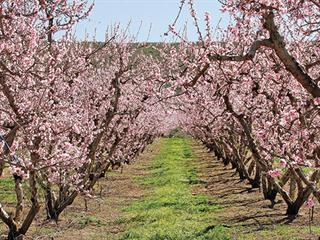 When Farmer's Weekly visited Rossouw Cillié of Laastedrif Farming last September, it was to look at his impressive vegetable farming and processing operation. A year later, Rossouw was named the Agricultural Writers of South Africa's Farmer of the Year. Following this nomination, Farmer's Weekly again visited him, this time to examine his orchard renewal strategy.
Growth and diversification
Rossouw established Laastedrif Farming, a diversified agri-business based in Ceres in the Western Cape, in 1993. Since then, he has expanded from two farms, 120ha apples and pears, and 1 000 Dorper ewes to a diverse enterprise that includes 830ha irrigated land under vegetables and pome and stone fruit on six blocks of land, and 260 stud and 3 000 flock Dohne Merino ewes.
The six blocks, all within a 100km radius of Ceres, cover approximately 17 000ha and extend from Gouda in the Cape Winelands to the slopes of the Matroosberg and the plains of the Little Karoo. Situated at various altitudes and each with a different climate, the farms allow for year-round vegetable cultivation. During the 2013/2014 production year, Laastedrif will produce 23 000t vegetables on 540ha, packaged and processed in its three low- to high- care packhouses.
A focus on fruit
"Over the past ten years, our growth has focused on vegetable production and value-adding, but with the vegetable business now well-developed, the focus has now shifted to fruit," explains Rossouw. "We're establishing new orchards and expect production to increase from 700t stone fruit and 6 380t apples and pears in 2013 to 2 670t stone fruit and about 12 000t apples and pears by 2017."
In 2010, Rossouw contracted Dr Nigel Cook of Prophyta (Pty) Ltd to assist Laastedrif in upgrading the orchards. "We realised that turning an old fruit farm around was going to be a slow process," admits Rossouw. "So, after extensive research, and with the help of Dr Cook, we developed a three-pronged strategy. "The first goal was to increase the productivity of established blocks, focusing primarily on yield. We then changed our winter pruning to the 'Solaxe' style: a very strong central leader and 18 to 22 lateral-bearing branches spread around the leader on which the fruit will grow."
The central leader is kept clear of all growth apart from the bearing branches. The first 40cm (measured from the central leader) of each bearing branch is also kept free of growth. This creates a central 'window' for light to penetrate. Thirdly, the Laastedrif team adopted 'softer' thinning strategies to leave more fruit on the trees.
"The focus was on increasing tonnage first, with some small compromises on fruit size," Rossouw explains.Being in an exceptional apple growing area where fruit quality comes naturally, they could push the limits. Rossouw acknowledges that this strategy could hasten the demise of some of the older blocks, but these will be replaced by new trees. "We're following an aggressive replanting plan to develop an additional 150ha of apple orchards in the next five years," he says.

Rossouw and Anelia Cillié with their children, from left: Daniel, MJ and Carle.

Greater efficiency
To save costs and secure access to the good planting material, Laastedrif has established its own nursery to produce trees to its own specifications. These young trees will be planted into the orchards when they are three years old. "This will save on costs because it's cheaper to train and nurture young trees in the nursery than manipulate them in the orchard," Rossouw points out. The Laastedrif team uses semi-dwarfing M7 rootstock for all new apple orchards. Trees are planted at a density of 2 000 trees/ ha in a modern spindle system to reduce the need for manipulation and boost picking efficiency.
According to Rossouw, even the pollinator trees are planned to be strip-picked straight into second-grade bins when there is a gap in the picking schedule.
Stone fruit
"We're involved in an exciting programme to further develop our stone fruit operation. In the late 1990s, a client of Dr Cook's asked him to identify the best potential areas for stone fruit in the Western Cape. He identified the area near the Karoo Poort as one of the best for growing good quality, late-season stone fruit. It combines the highest winter chilling with the highest number of heat units in summer – in other words, the best winter and the best summer," Rossouw explains. It is in this area that he has planted 75ha to stone fruit: 50ha plums, 10ha apricots and 15ha peaches.
The future
This year, 41% of all fruit trees at Laastedrif were younger than three years and considered as non-producing. "Our aggressive replanting strategy has affected our nett profit over the medium term, but this is a sacrifice we're willing to make," says Rossouw. He is confident that, over the long-term, the strategy will prove correct due to modern, high-yielding orchards.
"When the new orchards are five to six years old they'll come into full bearing and have a productive lifespan of 25 year. All our orchards will thus be in a productive cycle in which only 4% of the trees will have to be replaced annually – the industry norm. So the business will eventually always have more than 85% of its orchards in full production."
Phone Laastedrif Farming on 023 316 1330 or email [email protected].