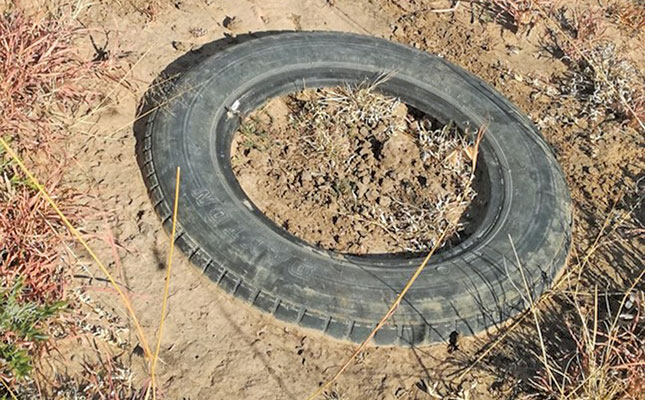 Land degradation is set to have a major impact on global food demand if its rate is not urgently attended to. Recent statistics indicate that 33% of high-potential soils in the world have been lost over the past 40 years.
It is therefore crucial to utilise agricultural land more sustainably to ensure long-term productivity.
READ Better veld management a boon for livestock farmers
South Africa is not exempt from this global phenomenon, as many of the country's land
users, particularly emerging farmers, have inadequate knowledge of the causes and prevention of erosion.
It is against this background that Sannaspos farm near Bloemfontein was used as a demonstration site for implementing certain soil conservation techniques to reduce physical land degradation.
Soil's production capability reduced
Soil degradation can be defined as a change in the soil's health status resulting in a diminished capacity to provide services such as crop production (Hatfield, 2017) and livestock production.
Degradation involves loss of soil due to water or wind; depletion of nutrients or toxicity due to acidity or alkalinity; waterlogging; and reduction in microbial activity.
As already mentioned, two factors, namely erosion (physical degradation) and pollution (chemical degradation), have resulted in the worldwide loss of a third of arable land.
This is predicted to have a negative impact on global food demand in future (Pimentel & Burgess, 2013).
According to Holmes et al (2008), wind erosion is predominant in the western Free State, and research indicates that this type of land degradation has reached alarming levels.
READ Always manage grazing with drought in mind
The factors that contribute most to this problem have been identified as inappropriate land use and agricultural practices. Other parts of the province are also vulnerable to land degradation.
Mangaung Metro Municipality, where the study was conducted, falls within the Dc17 land type, which can be defined as semi-arid areas dominated by duplex soils. These are prone to run-off, leading to water erosion.
Materials and methods
The study area is located 28km east of Bloemfontein. Sannaspos farm is 227ha in size and consists of 203ha veld and 24ha arable land. The dominant soil form on the farm is Valsrivier, which accords with soils found within the Dc17 land type.
The project tested a conservation technique to control gully erosion by promoting siltation and vegetative growth.
READ Getting more mileage out of old tyres
On 26 August 2016, three points in a 240m-long gully, measuring 70cm, 45cm and 35cm in depth, were identified. These will be referred to as points 1, 2 and 3 respectively.
On 16 February 2017, the researchers placed soil-filled tyres in the eroded gully 10m apart. Soil-filled bags were then placed in between the tyres. The function of the bags and tyres was to stop run-off by decreasing the velocity of running water in the gully, and thereby ensuring that soil accumulated there.
Depth measurements of the gully were taken a year later, on 10 January 2018, as well as on 1 August 2018. Woonhuis weather station, which is approximately 1km from the study area, was used to collect rainfall data.
Results
The second set of measurements taken in January indicated that the gully depth had decreased from 70cm to 34cm, 45cm to 20cm, and 35cm to 19cm at points 1, 2 and 3 respectively. This indicated a reduction of 51%, 56% and 46%.
This result was achieved after precipitation of 203mm in the study area between 17 February 2017 and 9 January 2018.
The measurements taken on 1 August showed that the gully depth had decreased further, from 34cm to 27cm, 20cm to 14cm, and 19cm to 10cm at points 1, 2 and 3 respectively.
This represented a further reduction of 21%, 30% and 47%. The improvement was achieved after rainfall of 400mm in the study area between 11 January and 31 July.
The technique not only controlled erosion in the gully, but resulted in a striking change in the composition of plant species at the bottom and on the banks of the gully.
Before soil conservation was implemented, the gully was mainly bare, with very little plant material. After implemention, seedlings of Chloris virgata (annual feathertop chloris) and pioneer grasses such as Aristida adscensionis (annual bristle grass) and Cynodon hirsutus (hairy couch) appeared. Subclimax grasses such as Eragrostis chloromelas (curly leaf) and E. lehmanniana (Lehmann's lovegrass) also germinated.
The palatable shrubs Felicia muricata and Rosenia humilis also increased. Panicum stapfianum (small buffalo grass) and Themeda triandra (red grass), which are highly palatable species, were also established.
The importance of T. trianda as a key vegetation species is continually emphasised as it is a good indicator of rangeland condition (Van der Westhuizen et al, 1999).
Summary and recommendation
Since the placement of sand-filled tyres and bags at the study area, there has been a quantified decrease in gully depth. There has also been an increase in grass species in the gully.
As gully erosion is expensive to counter, it is recommended that this very cheap method of controlling gully erosion be followed under similar conditions.
Hatfield, JL, Sauer, TJ & Cruse, RM. 2017. 'Soil: The forgotten piece of the water, food and energy nexus.' Advances in Agronomy. 143:1-46.
Holmes, PJ, Bateman, MD, Thomas, DSG, Telfer, MW, Barker, CH, Lawson, M.P. 2008. 'A Holocene late Pleistocene aeolian record from lunette dunes of the western Free State panfield.' The Holocene 18: 1193-1205.
Pimentel, D & Burgess, M.2013. 'Soil erosion threatens food production.' Agriculture. 3(3):443-463.
Van der Westhuizen, HC, Van Rensburg, WLJ & Snyman, HA. 1999. 'The quantification of rangeland condition in a semi-arid grassland of Southern Africa.' African Journal of Range and Forage Science. 16: 49-61.
Email Frans Joseph at [email protected].