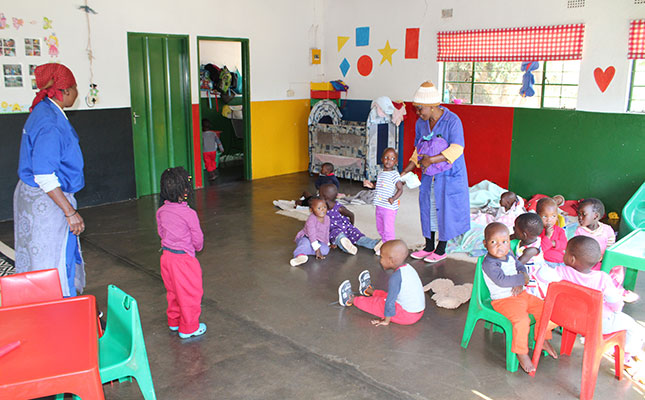 Springfield Farm, in the lush Levubu valley of Limpopo, was one of the first in the area to have macadamia nuts planted to its orchards.
Coupled with decades of knowledge of avocado and pecan nut production, the farm is an ideal training ground for new farmers wanting to capitalise on crops for which demand appears to be insatiable.
Recognising the opportunity to share their knowledge, the farming operation started taking in agricultural students to do their practical training some 20 years ago. Each year they host three or four students, who are rotated between the different sections on the farm.
"This gives them a full understanding of how the whole operation comes together," says Dave Pope, Springfield's general manager.
"When the students arrive, they are very theoretical, so having the opportunity to experience a working farm is crucial.
"They spend time in the packhouses, nursery, orchards and macadamia cracking facility at Green Farms Nut Company, and they really learn a lot while they are here.
"This is where the employability comes in later, because they get a broad understanding of farming avocados, macadamias and pecans," says Pope.
Students who show potential are offered a full-time position after they have completed their studies. If there are no positions on the farm, Pope sends their CVs out to the surrounding farms, with an introduction letter.
"We really try to keep them in the area because young people in agriculture are hard to come by. It is important to build up a new community of young farmers."
Daphney Mufamadi was one of the first students to do her practical at Springfield while completing her diploma in agriculture 20 years ago.
She was employed full-time and has since progressed to farm manager. She also completed a degree in agricultural management over the past few years.
Her interest in farming was piqued when she realised at a young age that without farmers, there would be no food.
"Farming is an important job, and working here has provided me with a good working environment; we are appreciated here.
"My family is proud of the position I hold, and my qualifications. I have also shown my community that one can obtain a degree at any age."
Assistant farm manager Mildred Manganye also progressed through the ranks after completing one of the learnerships offered to Springfield workers.
They are assisted by Quintin Motebele, an orchard manager who was offered a full-time position in 2016 after completing his practical training on the farm as part of his agricultural degree.
Alan Whyte, the owner of Springfield Farms, says it's important to not only give students an opportunity to experience a working farm, but also to offer the same opportunities to emerging farmers. He started hosting annual information days for emerging farmers, where the staff at Springfield share knowledge and experience.
"We make our resources available, and our farm managers, including Daphney and Mildred, do presentations on farming practices. It is also vital to get the farmers into operating orchards so they can see first-hand what should be done."
Green Farms Nut Company, also owned by the Whyte family, donated macadamia trees and irrigation pipes to Venda farmers to kick-start their macadamia farms.
Manganye, along with Whyte's son, Graeme, visits the farms every two months to offer advice, and ensure everything is on track.
"New farmers need support to get them on their feet. Since macadamia and avocado farming is a long-term game, it is crucial to have the basic knowledge of tree selection, cultivars and soil preparation. If you don't get these right from day one, it's a non-starter.
This is something everyone needs assistance with.
"If we are going to get more black farmers to the commercial stage, we have to give them the information they need to succeed, and the mentorship to assist them through the process."
Learnerships
Springfield employs 165 workers on a full-time basis, adding an additional 45 seasonal labourers during peak harvesting periods. To help manage a workforce of this size productively, Whyte says the training they receive helps ensure they perform their tasks well.
The farm therefore offers learnerships to its workers, spending on average R750 000 a year. In the past six years, about 120 workers have been on the courses.
Springfield has set up a permanent classroom on the farm, and has a full-time lecturer from AgriSeta-accredited training company Siyafundisa. Each year, about 20 students are selected for courses ranging from life skills to basic agricultural skills, and growing crops.
"The courses go a long way in giving the workers an understanding of what they are doing on the farm and why. Understanding these principles ensures that they are more effective in their jobs," says Whyte.
He notes that while the benefits of offering such programmes are not always measurable, there is a general improvement in the labour relations and attitude of the workers.
"From the workers' point of view, they then at least have a piece of paper that can show they have completed training and have farming experience, which adds to their employability."
Pope says as a result of the training they provide, their labour force is very approachable, which makes communication easier.
"There have been vast improvements in literacy and their ability to speak English. Having an approachable labour force means the people they select to represent them are people you can sit down and have a good conversation with, without there being immediate conflict. We are able to sit around the table together and draw up a decent committee for equity and safety representatives," says Pope.
"When we have meetings, everyone is approachable and amicable in making decisions."
Whyte says the learnerships take much commitment and resources, and often means that the best workers on the farm are tied up in training rather than carrying out duties, but that creating a new generation of educated workers is important.
"We are so pleased that there are people who have stayed behind in the rural areas to work on farms rather than migrating to the cities, so it is important to look after them."
Pope notes that anyone who is hard-working, shows potential and has a good service record, is a good candidate to receive further training.
"We were short on tractor drivers at one stage, so we put a notice up asking for those interested in tractor training to come forward. We had three ladies and three men show initiative, and all of them have been trained and are now tractor drivers on the farm.
"Our female tractor drivers don't seem to have that cowboy approach like the men do; they drive so carefully," laughs Pope. "They don't have years and years of experience, but you can trust them with the tractors."
Investing in children
One of the first employee benefits programmes launched on the farm was the introduction of a crèche for the workers' children. Pope explains that many women were bringing their children with them to work and leaving them in the adjacent lands, as they could not afford crèches.
"It is not an option having children in an orchard or a packhouse, where machinery and chemicals may be in use. If there is a safe crèche for babies, mothers can return to work sooner after having a baby and start earning again.
"So we decided to erect a crèche on the farm where the children can be dropped off in the morning and collected at the end of the shift. The children, aged from newborn to Grade RR, also get three balanced meals a day. There is a teacher for the older children, and a nurse who does inspections every week."
The crèche is also open to the surrounding farms' children, and parents pay only R120/month.
Springfield, initially Fairtrade-accredited before moving over to SIZA accreditation, had an opportunity to receive funding through Fairtrade to subsidise community projects.
Committees were established to identify the needs of the farmworkers and community. Workshops were then set up accordingly.
Through this initiative, sewing and cooking classes were offered so that women could learn to make their own clothes, cook nutritious meals for their families, and even earn an extra income after hours with their skills.
Since the workshops were mostly aimed at women, the men on the farm requested funds for the Valdezia community soccer team.
Springfield makes funds available for shirts, boots, goal posts and the registration fees required by the South African Football Association, as well as transport for away fixtures and end-of-year socials. They also send a tractor to mow their field when required.
Asked why the farm invests so much effort into worker and community training, Whyte says: "It's just the right thing to do. And we are delighted if we can make any difference in our community, and improve people's livelihoods."
Email Alan Whyte at [email protected].