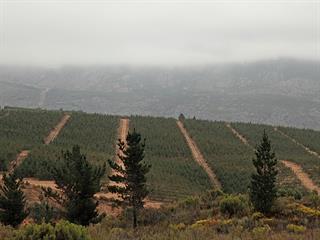 With rising input costs, especially the increase of more than 50% in the minimum wage of farm workers over the past three years, producers have been forced to find ways to improve farm efficiencies and production output. One of the areas being addressed is increasing labour productivity, which is very low in South Africa compared with Australia, Europe and the US.
To Hannes Hanekom, of Welgemeen Boerdery in the Witzenberg Valley, Western Cape, the key to achieving a balance between labour costs and worker output starts with finding the right person for the job and then creating an environment in which that person can thrive. Hanekom says he has learnt everything he knows about farm worker management from other farmers in the Witzenberg Valley. However, he regards his father Izak and his brothers Sakkie and Loutjie as his most important mentors.
"Farming is a team effort. I simply try to steer the ship in the right direction," he says.
Mixed farming
The Welgemeen farming operation consists of two units in the Witzenberg Valley and two near Clanwilliam. The Witzenberg Valley farming units have 171ha under apple trees, 35ha under pear trees, 10ha under peach trees and 85ha under onions, of which 15ha are used for bulb production while the rest are used to grow onions for the fresh market. The Clanwilliam units have 100ha under lucerne, 25ha under onion seed production and 20ha under maize. There are also 2 000 meat merino ewes.
Continuity
In recent years, the total area under fruit production in the Ceres Valley has expanded greatly, which has led to an increased demand for farm labourers. However, finding skilled labour is not easy, says Hanekom. Few people want to work on farms nowadays, and farmers compete against each other for the relatively few skilled workers who are available, he says. The situation is even more complicated for Hanekom as the Witzenberg Valley farm is about 30km from Ceres.
"It doesn't matter that our production season is about two months longer resulting in a higher earning potential on our farm than other farms near Ceres – labourers prefer to work on farms closer to their homes," he says.
Hanekom also prefers to work with the same people season by season to ensure continuity. He explains that the ongoing theoretical training provided at Welgemeen to improve labour efficiency is not sufficient; workers also need to gain experiential knowledge to fully understand the impact of their work on the business and see how everything fits together on the farm. However, this specialised knowledge is only acquired after working on the farm continuously for more than two years.
"It will take longer to learn it if you move from one farm to another each year, because different farmers use different production practices," he explains.
Most of Welgemeen's seasonal farm labourers come from Lesotho. The farm employs about 350 seasonal workers every year and these people live on the farms for the duration of the season. While new workers join every year, a core group have been working on the farms for more than eight years.
Hannes Hanekom and farm worker Anna Smit with the clock card machine used by workers.
In addition, there is a group of women who have been working in the onion production section of the farm for more than 20 years. Responsible for planting and harvesting onions, they earn up to 50% more than employees on other farms, although they are paid less per unit of work than these other workers.
Farm worker accommodation
Hanekom tries to promote people from inside the operation before appointing someone from outside. A newcomer can be very risky, he stresses, because there is a danger that the new worker may be given a house on the farm but may decide not to continue with the job after a few months. If the person then refuses to vacate his house it may lead to a shortage of housing for existing staff.
The farms have already reached their total housing capacity. "There are many retired workers on the farm but I don't want them to move off the farm," he says. Hanekom plans to build additional housing for seasonal workers at a cost of about R1 million. With so many Basotho people working on the farm, communication has become a challenge. To overcome this, Hanekom has appointed strong team leaders with good communication skills who can speak the language of their team members. He also avoids addressing large groups of farm workers together to prevent any misunderstandings from occurring.
Motivating workers
Most fruit farmers use piece work to motivate labourers to be more productive. Achieving a balance between remuneration and output is not easy, however. At Welgemeen Boerdery the minimum wage for farm workers is used as a guideline, but Hanekom also looks at historic production and wage data and talks to other farmers in the region to gauge realistic wages.
"I want to set wages that will enable our average worker to make 15% to 20% more than the minimum wage. Higher pay, however, has to be justified by greater outputs," he says.
He adds, however, that there will always be those workers who make significantly more than the minimum wage. A pitfall of piece work is that rushing one's work can have a negative impact on fruit quality. "It doesn't pay to produce the best fruit in the world that gets ruined because it has been picked carelessly," he says.
To address this issue, spot checks on quality are carried out in the orchards and before fruit is sent to the packhouse. If there is damage to the fruit, the earnings of a team of workers are adjusted accordingly. Team members will, for example, receive their full wage if less than 10% of the fruit had been damaged. Wages will be slightly lower for a team with between 10% and 15% of damaged fruit and lower still if more than 15% of the fruit has been damaged.
The scale is different for individual cultivars because certain apples such as Golden Delicious, Pink Lady and Fuji are damaged more easily than others. "It rarely happens that wages fall in the lowest scale where more than 15% of the fruit had been damaged. Workers get regular feedback during the day so they can fix problems before it affects their wages," Hanekom says.
The farms use a tag system: each worker swipes his or her tag when finishing a unit of work, such as thinning out a tree or picking a bag of fruit. This data is then used in combination with the quality monitoring results to calculate each worker's remuneration. Quality monitoring and wage data are also used to calculate production data for each orchard, so that orchards can be benchmarked against one another in terms of total production, production efficiency, the time spent in each orchard, and labour costs.
Production environment
One of the main reasons for low productivity levels in the South African fruit industry is the way in which orchards are shaped and designed, according to Hanekom. His father, Izak, became aware of this problem as far back as 1997 and started to redesign the orchards to limit them to 35m in length. Trails have also been built alongside the rows for tractors to move around on. In the past, tractors were driven inside orchards between the labourers carrying out their duties.
"The reason we made this switch is that it improved worker ease. Workers no longer have to squeeze past the tractor to deliver their fruit and this also results in less bruising of fruit," Hanekom explains. The length of rows have since been increased to 50m to accommodate production requirements. This means a labourer has to walk only 25m in each direction to carry his or her fruit to the collection point. Two separate teams can now also work on either side of the row.
Hanekom says he has found no difference in labour efficiency since the increase in row length, while it makes more economic sense in terms of irrigation.
Dwarfing rootstocks
Dwarfing rootstocks have also been introduced over the past few years to manipulate tree development. Hanekom explains that these rootstocks result in more compact trees, with larger fruit. Pruning and harvesting these trees are also easier than those with a conventional rootstock. The combination of shorter picking rows and the use of dwarfing rootstocks have increased labour productivity by up to 50% for certain cultivars, he says.
The choice of rootstock will depend on the cultivar and the soil.
"Most of our apples are planted on the old M793 rootstock. It's a very forgiving rootstock in many ways," explains Hanekom. "There are also a few cultivars on M7 and we've started planting M9 this year. While the margin for error is much smaller than for 793, the results are much better if you get it right with M7 and M9."
Row spacing also makes a difference. Trees that were spaced at 6m x 6m are now spaced between 3,5m x 1m and 4m x 1,5m. As a result, tree growth is not as dense as before, making it easier to pick fruit and prune trees.
Phone Hannes Hanekom at 082 926 4349 or email [email protected].