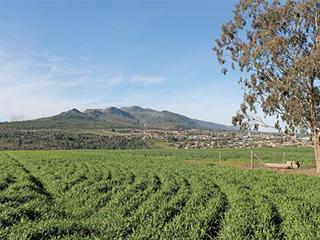 The recipient of SAB's Barley Producer of the Year award for 2012, Haasjeskop Boerdery, lies in the heart of barley country. The SAB Maltings facility in Caledon towers over this Overberg town, in an otherwise rural landscape. Willie Beukes, who grew up in Caledon, projects a quiet confidence in his knowledge of farming in this part of SA. He is growing his eighth crop as production manager of Haasjeskop Boerdery, owned by Tonie Linde.
Crop rotation
Willie explains that the success of the crop division is based on a 12-year rotation cycle – seven years of annual cash crops followed by five years of lucerne – that keeps weeds under control and prevents root diseases "In the first year, we plant wheat, in the second year barley, and in the third year lupins or canola. In the fourth year, we again plant wheat, in the fifth year barley and in the sixth year canola.
"In the seventh year, we plant wheat again. In the eighth year, we establish lucerne, a perennial pasture crop used only as grazed forage for livestock and for the control of ryegrass."This year we planted 90ha to lupins, which we harvest and mix with concentrate for sheep. We also planted 385ha canola, 572ha wheat (cultivars SST88, SST056 and SST027) and 336ha barley – 116ha Nemesia, 101ha Erica, 46ha S5 and 22ha S6. Lastly, we established 204ha lucerne."

Willie Beukes, production manager at Haasjeskop Boerdery.
Barley cultivars
"Due to the changing demand of the local malting facility, we planted less Erica in favour of the new barley varieties," says Willie. When deciding on cultivars to plant, he considers market demands, along with two other important factors: the cultivar must perform well in the area, and there must be enough seed available. "Erica has always given a relatively high yield. The performance of newer cultivars such as S5 and S6 is impressive, but it's not always possible to get enough seed of these cultivars," explains Willie.
Last year, Haasjeskop Boerdery's yield was 4,3t/ha on all barley. Due to rain damage, its yield of malting grade barley was 3,85t/ ha against the industry average of 2,5t/ha.
Pests and diseases
"The main pests and diseases that affect barley in this area are net blotch and leaf streak, which we control with a preventive spraying programme designed for us by a consultant," says Willie. The programme entails two sprayings per season, about one month apart. "The main products we use are Prosaro, a fungicide that provides broad-spectrum disease control for grain crops or a strobilurin-based fungicide. We don't really have any pests in this area that affect barley. In recent years we have had some problems with snails, but as a rule the barley requires very little, if any, intervention in terms of pest management."
Pests may not be a problem, but the same cannot be said for weeds. The farm's rotation cycle has been designed around the weed control programme. "There are no shortcuts to weed control," stresses Willie. "We use our rotation cycle to manage weeds because for ryegrass, which is probably our biggest headache, there's nothing currently available to control it effectively in wheat and barley."
After five years of lucerne, the lands are mostly free of ryegrass. And during the seven-year crop rotation, canola keeps ryegrass under control, which is one of the reasons for incorporating it into the rotation cycle. "Canola is a broadleaf crop, and wheat and barley are grass crops. So we can use different herbicides when we plant canola to prevent weeds from becoming resistant to a specific type of herbicide too soon. Planting triazine-resistant canola enables us to use atrazine against ryegrass in the canola crop. "In lucerne, we spray metribuzin or trifluralin on the ryegrass once a year before is sets seed."
Single-pass Fertilising
"This year, our fertiliser programme takes a completely new approach. We no longer top-dress, but apply all the nitrogen in one pass at planting," explains Willie. This advice came from Kobus Wessels, a well-known local farmer who has long mentored Willie and Tonie. He has used the technique successfully for many years. During the 2012 production year – the harvest for which Willie received the award – the rate was 35kg/ha N as urea and 12kg/ha P as MAP at planting. This was followed by a 45kg/ ha N top-dressing, also as urea, for a total application of 80kg/ha N.
Planting
Willie and his team use a 13,2m Equilizer no-till planter to apply fertiliser and plant barley seed at 100kg/ ha at a 300mm inter-row spacing in a single pass. "This gives barley an edge over weeds and volunteer wheat from the previous season," explains Willie. "Our approach retains plant residue in the soil, but volunteer wheat from the previous crop can be a problem in the barley crop.
"To minimise this, we plant barley last of all the grain crops. This allows volunteer wheat seed time to germinate and we can kill off the wheat plants and early emerging weeds with a glyphosate spray four to 10 days before we plant barley."
The barley is cut and swathed in late October, seven to 10 days before being harvested.
Diversification
The enterprise is diversified to spread risk. About 2 500ha arable land, of which 1 100ha is leased, is planted to crops. The livestock component comprises about 6 000 Merino and Dohne Merino ewes, as well as a 100-cow Angus beef cattle herd. But, Willie stresses, the cropping risk is also reduced by keeping up with the latest developments and technology to improve productivity. For example, the Haasjeskop team continually looks for cultivars that will perform better in their area.
"It's crucial to use the technology available to us and, when necessary, bring in consultants. The people designing our spraying and fertiliser programmes are experts and it makes sense to follow their advice," says Willie.

Phone Willie Beukes on 082 944 9194.