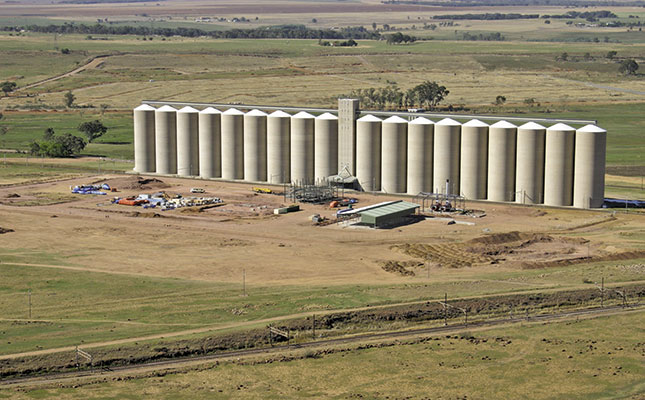 South Africa is spending an estimated R1 billion on soya bean processing plant growth with the intention of unleashing an additional 1,2 million tons/year crushing capacity within the next year.
Although soya bean production has grown tremendously, with soya bean hectarage increasing by 252% and production increasing by 376% since 2001, it will take five or six years for production to match capacity. This indicates that the window for investing in soya bean plants has closed, at least until production plays catch up and increases Soya bean processing plant growth.
READ: Supreme yield in soya
Soya bean processing growth
"The soya industry is growing dramatically and in turn we also need soya bean processing plant growth. It is extremely healthy and very exciting. When soya bean production exceeded processing capacity, there was an opportunity to invest in soya bean processing plant growth and as a result, additional capacity of about 1,2 million tons has been created.
This will take total capacity to an estimated 2 million tons by 2014," says Dr Erhard Briedenhann, chief executive of MIDS, a supplier of raw materials to the animal feed and oilseed crushing industry.
The largest of the new plants going up is Noble in Standerton, which will be by far, the biggest in SA with a crushing capacity of 620 000t. It will be completed towards the third quarter of 2013.
RussellStone Protein's 250 000t soya bean crushing facility in Bronkhorstspruit should be commissioned by July 2013, VKB's new plant in Villiers will crush 186 000t and Nedan in Mokopane is undergoing capacity expansion to 326 000t.
Willowton is converting its Isando plant to a soya bean crushing plant with an estimated capacity of 1 000t/day, and capacity already exists at Wilmar Continental in Randfontein (192 000t), Majesty in Krugersdorp (156 000t), Gauteng in Nasrec (108 000t) and Drak in Winterton (48 000t). In all, total crushing capacity in SA will amount to an estimated 2 million tons by 2014.
Support
The Industrial Development Corporation (IDC) is supporting the soya bean drive. Rian Coetzee, head of IDC's agro-industries business unit, said the outlook for soya industries appeared positive, supported by a forecasted increase in demand, increased crushing capacity and plantings.
In 2012, the IDC approved R76,4 million to fund RussellStone Protein's Bronkhorstspruit crushing facility and is in discussions with various developers to assist in the investment of new greenfield soya bean crushing capacity in SA.
"The IDC has also provided around R17 million to another soya bean crushing plant to assist with black farmer development around that plant, although we cannot disclose the name yet," Coetzee said. RussellStone Protein head Frans van den Bergh said the Bronkhorstspruit plant would crush between 700t and 800t soya beans per day, 330 days a year, to produce soya oilcake meal for animal feed purposes and edible oils for human consumption.
"Investment in processing plants is quite substantial – we estimate it to be approaching R1 billion for the capacity that is going up. "SA imports quite a lot of soya products and with new developments, advances in genetically modified varieties and investment in processing plants, the outlook is good for the industry." Briedenhann said strong demand in the animal feed industry for good quality meal had pushed up imports of soya bean meal to close on 1 million tons, sourced mainly from Argentina.
"Current demand is 1,3 million tons soya bean meal or 1,63 million tons soya beans, which is expected to lift to 1,6 million tons meal or 1,99 million tons beans by 2015 and 1,82 million tons meal or 2,3 million tons beans by 2020. SA imports 450 000t soya oil, so there is a good market for oil import displacement as well," said Briedenhann.
In 2009/10, SA imported 829 000t soya oilcake, which lifted to 989 112t in 2010/11 and 922 499t in 2011/12, according to the Animal Feed Manufacturers Association (AFMA). Prof Johann Kirsten, head of agri economics at the University of Pretoria, said SA could unlock significant value by displacing oilcake imports, which amounted to R1 billion.
Local production is already expanding, progressing from 103 520t in 2009/10 to 152 000t in 2010/11 and 227 600t in 2011/12. As local production increases, local processors can displace more imports. "If the expected soya bean processing plant growth comes on-stream as planned, it is most likely that the amount of imports will start to be significantly replaced from 2013/2014," said Coetzee.
Briedenhann said import displacement of soya bean meal was already taking place and would become more pronounced as the industry progressed. "However, one area that will take a while to displace imports is in the coastal regions like the Western Cape and Eastern Cape, where transport costs from inland production areas will be quite high," Briedenhann said.
An estimated 516 500ha is currently planted to soya beans and production is projected to reach 851 000t in 2012/13 – 31% higher than 2012 – and an anticipated 1 million tons in 2013/14. Van den Bergh said soya bean production for the current year should meet demand but would fall short of processing needs in the medium term. "The crop currently being harvested is likely to be a break-even crop but the 2014 crop will be a deficient crop. SA will most probably be back to a break-even crop in 2016/17."
The future of soya bean processing
Coetzee said the industry was optimistic that over the next few years, production would meet local crushing demand, especially if the price of beans moved to import parity pricing and more farmers realised the value of growing soya beans in crop rotation. "We also need to look at neighbouring countries to facilitate value chains across borders. As soya meal still remains a commodity and while SA continues to import soya meal, in the short term, the price of soya meal is likely to remain close to import parity pricing with producers offering discounts on quality."
Until production squares up to processing capacity, factories will not run at full capacity or will run on imported beans. "For the short term, we will have to import beans, although based on current prices and import duties, imports are not viable. It is currently cheaper to import the oilcake and oil. But at current local prices, it is viable to crush," Van den Bergh said.
Briedenhann said new productions would come from farmers who transferred maize hectares into beans as part of a crop rotation system. "Soya has a positive impact on maize when grown in rotational cropping, so while we will produce slightly fewer maize hectares, maize yields can be up to 2t/ha higher where rotational cropping is practiced. Due to the value, we can unlock by import replacement and the value that soya beans create for farmers in a crop rotation scheme, production will grow exponentially."
Appetite for expanding local crushing facilities has been satiated. "If you look at the global long-term forecast of soya demand, there appears to be encouraging signs to support further capacity building. The plans might be enough at this stage," Coetzee said.
Signs seem to point to bright future for soya bean processing plant growth.
Contact RussellStone Protein on 012 482 6600.
This article was originally published in the 10 May 2013 issue of Farmer's Weekly.