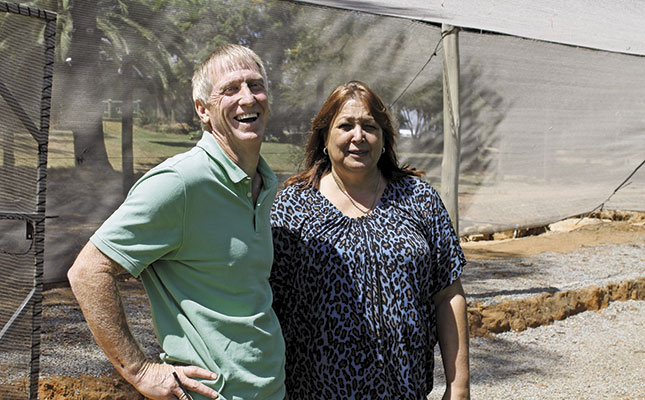 Hydroponics is an intensive system that requires virtual micro-management, and is all about turnaround time, explains Isabel. They grow celery, lettuce, leeks, spring onions, watercress, fennel, endives and mint, and the operation runs at speed, growing, harvesting and getting in a new crop on weekly cycles.
Silver Dawn is on a gently sloping north-facing site. This allows for a free-flow, gravity-driven fertigation system from the nutrient tank at the highest point through the beds to the bottom of the farm.
Gravity feed means a significant saving on energy bills and there are only three pumps that push the water back up to the tank, which has a 20m head, so that it can be recycled.
Plants grow in 4cm-deep gravel beds lined with plastic and have shallow rooting systems. With nutrients freely available, resources can go into growth above the ground.
Nutrient water stored in a 500 000l tank feeds the plants in the beds. It then flows into a holding area prior to being pumped up again.
Watercress, a semi-aquatic perennial, sells well on the local market. According to Isabel Wallace,
it has higher calcium content than milk, more vitamin C than oranges and more iron than spinach.
Benchmarking
Silver Dawn complies with Farming for the Future, the Woolworths ethical audit and GlobalGap.
GlobalGap compliance is a minimum requirement for anyone who wants to get into the market. Farmers' production methods must be in line with recognised good practices that lessen agricultural impact on the environment, conserve natural resources and safeguard worker welfare.
Hugh disagrees that the standards are too 'picky', saying they have served to temper gung-ho approaches to spraying chemicals and forced farmers to become thoroughly informed about chemical applications and biological alternatives.
The Wallaces regularly send samples for MRL (minimum residual levels) testing and have their nutrient water analysed in Holland every six weeks.
"Because we're recycling, we must get the nutrient mix right before we pump it back into the system. The analysis tells us how to do that," explains Hugh.
"There are accepted formulations for different crops and you can't treat a fruiting crop such as tomatoes the same as you would a leaf crop such as lettuce."
The water analysis shows what the plants have taken out and how to re-balance the fertiliser ratios.
Adding value
Some of Silver Dawn's crop goes to processors, who clean and chop them for the ready-to-eat market. This includes salad that can be tossed straight into the salad bowl, says Isabel.
The Wallaces add value by rinsing and packing, increasing their profit substantially. "A packhouse comes at a price, but it gives us the ability to benefit from growing and packing, and then we deliver our produce when we need to," explains Hugh.
Given a good market, the minimum size in this kind of operation is approximately 3ha, with 4ha a decent, profitable size, says Hugh.
Crop value is also important. "You can't compete on the market with the farmer whose field grows a low-value crop such as spinach."
Buyers need supply consistency and quality assurance, and to expand businesses they must grow the farming base, so it is in their interests to encourage growers.
Read more information about 'In the green zone with hydroponic vegetables' in FW, 24 October 2014.