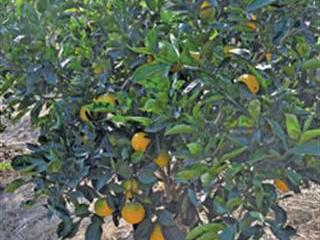 Two hours' drive south-west of Mthatha in the Eastern Cape lies the village of Hluleka. This is the home of Andile Sontlaba, whose success as a fruit and vegetable farmer and jam maker shows what can be achieved from combining science with sheer hard work. Andile, who was born and raised in Hluleka, worked on a mine in Carletonville from 1991. Returning home in 2004, he was granted a 50m x 50m (0,25ha) plot by the local chief and moved here the following year with his wife Notobile and children.
Andile admits it was tough. "When I arrived, there were six trees planted here. I wanted to leave and look for a job," he recalls. Fortunately, Andile's return coincided with the launch of a project initiated by the Agricultural Research Council's (ARC's) Institute for Tropical and Subtropical Fruit in Nelspruit and rural development non-profit organisation Is'Baya Development Trust. Targeting 52 villages in two districts in the Eastern Cape, the institute offered fruit trees at affordable prices to households.

Ripe guavas on a tree in Andile Sontlaba's orchard. He has 25 guava trees.
All the cultivars had been scientifically developed by ARC to be as hardy as possible and to deliver maximum yield.
Several people, including Andile, immediately realised there was an opportunity to profit from the offer, and bought and planted enough trees to grow produce for the community.
"I have 17 citrus trees, 30 mangos, 25 guavas, an avocado tree and five pawpaw trees," says Andile after consulting his meticulous production records. "I recently ordered banana trees too. The prices are very affordable – R12 for an orange tree, R5 for a guava tree, and R7 for a banana tree." Andile hasn't stopped at fruit trees; he also plants vegetables such as cabbage, tomatoes and peas. All of his produce is grown on a south-west-facing slope.
Local sales
Andile does not own a bakkie and Mthatha is two hours' away on a poor road, so access to markets is limited. But Andile refuses to let that put him off and sells all his produce to the local community. Realising the importance of value adding, he also processes some of his fruit into jam. "We make about 15 bottles of jam a day in season. These include marmalade and tomato jam," he explains.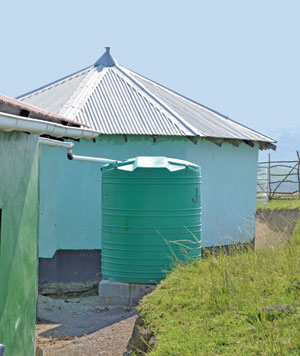 One of two tanks that Andile uses to store rainwater for irrigating his orchard and crops.
Another constraint is water supply. The village is not served by electricity or running water, so Andile depends on rain and collects rainwater from his roofs, storing it in two 5 000l tanks. Despite these challenges, Andile and other local farmers are making steady progress, epitomising the overall success of the ARC programme. Launched in 2000, the project has sold 100 000 fruit trees to no fewer than 5 000 households.
Cooking up a storm
Elliot Belem, who farms on about 4ha in Noqhekwana village close to Port St Johns, has also benefited from ARC's project to supply fruit trees to households in two Eastern Cape districts. Elliot's land stretches from the top of a steep northern slope down to a river, and he grows pineapples, oranges, naartjies, beans, carrots, spinach, cabbage, beetroot, coffee and sugar cane.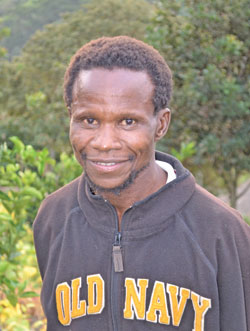 A disadvantage of the slope is that water and manure have to be carried up by hand, but he receives help with this from the village children, to whom he offers sugar cane as a way of saying thank you. "That's not the only use for sugar cane," he chuckles. "I also use it to stabilise my soil."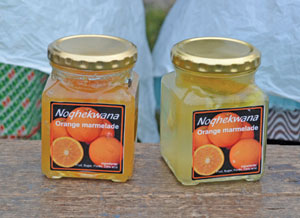 Elliot, like Andile Sontlaba of Hluleka, practises value adding and processes some of his fruit into jam. Having citrus in his orchard allows for marmalade too. Elliot is able to sell his Noqhekwana-branded jams throughout most of the year, which helps with cash flow. He sells his produce to customers in the nearby villages as well as to guesthouses and resorts in Port St Johns and the surrounding areas.

Examples of Elliot Belem's processed fruit: Noqhekwana- branded marmalade.
Jaco Visser attended the project in the Eastern Cape as a guest of the ARC.
Contact Andile Sontlaba on 079 453 3084.
Contact ARC's Institute for Tropical and Subtropical Fruit on 013 753 7000.