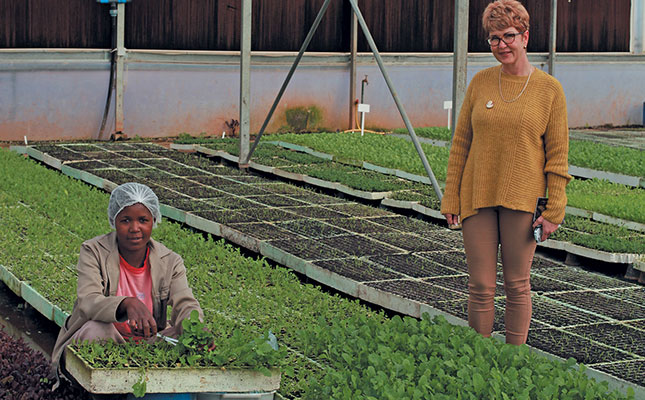 Erika Oberholzer established Pico-Gro 21 years ago. The company, situated in Midrand, Gauteng, consists of 7ha divided into three separate smallholdings, and propagates, amongst others, herbs and medicinal plants, used in the manufacture of essential oils. It also produces rooted herb cuttings and potted herbs.
Five years ago, Erika began growing culinary crops for the commercial market, and established PicoGreens, a division of Pico-Gro. PicoGreens now produces around 100 different product lines, including microgreens, edible flowers, micro-vegetables and speciality herbs and spices, which constitute the bulk of Pico-Gro's products.
PicoGreens produce is exported to the UK, Germany, Hong Kong and Dubai, and supplies restaurants and Woolworths branches across South Africa.

Business progress
Erika attended the Rand Afrikaans University, now the University of Johannesburg, and graduated with a BSc in Biochemistry and Biology. After the completion of her honours degree in Zoology in 1990, she was employed by the Agricultural Research Council (ARC) as a technician in intermediary metabolism in ruminants.
Describing the ARC as 'male-dominated' and believing that her chances for advancement were slim, Erika and her husband, Machiel, and family friend, Christo Rademan, established Pico-Gro in 1995. Using their houses as collateral, the trio purchased 1ha of land and began propagating Gypsophila.
Erika says that initiating the business with limited capital was a tremendous challenge, and the company's progress was very slow in the beginning.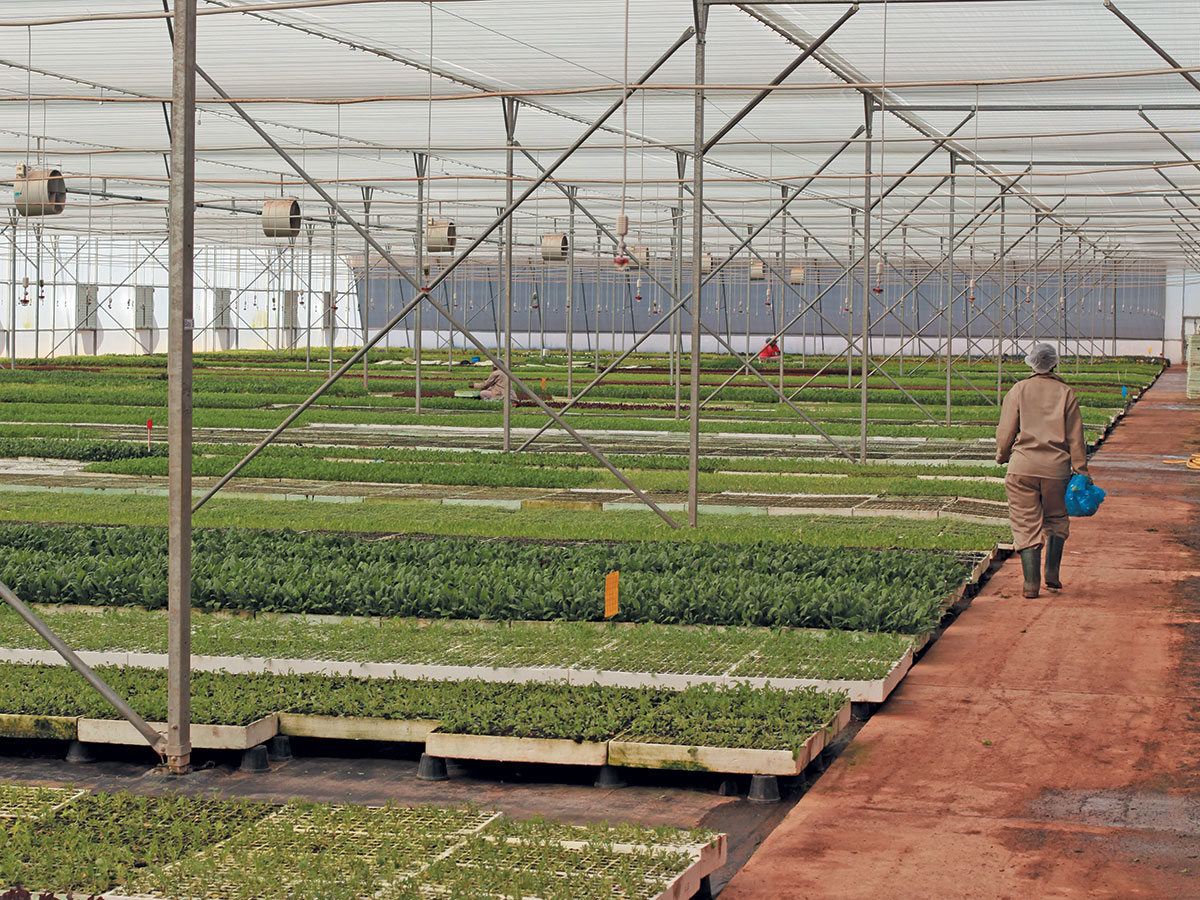 "Every cent had to be ploughed back into the business. I often felt like giving up, and frequently questioned my motives," she recalls.
During the first few years, Pico-Gro primarily produced fillers for the cut flower industry, and, as agents for Danziger, an Israeli-based filler breeder, was instrumental in introducing many new filler varieties into South Africa.
Over the next few years, Pico-Gro expanded its repertoire by propagating essential oil-producing plants for the burgeoning South African market. In 2011, Pico-Gro began producing herbs and micro-vegetables, which led to the establishment of PicoGreens.
Production
At Pico-Gro, most crops are grown on separated media, with 120m3/month composted with pine bark, acquired through Bark Enterprises, as a main ingredient.
"As far as possible, crops with similar needs are grouped to minimise the number of different treatment regimes. Given the number of different crops in production, however, it's a huge challenge to keep them all happy and to optimise growing. Crops that are not under netting or in greenhouses are treated with standard NPK [nitrogen, phosphorous and potassium], while the crops under protection is fertigated with soluble fertilisers," Erika says.
As the packing facility and offices are located on the premises, production space is limited. Therefore, every available square metre is planted, and everything grown is intended for selling.
Pico-Gro's production is labour-intensive; Erika employs 85 labourers, who do all sowing, harvesting and picking by hand.
"It's a meaningful job creation activity. The delicate work with so many different crops cannot be mechanised. Picking and packing is done differently for each crop. While this can be done by unschooled labour, on-the-job training is essential," Erika says.
Erika relies heavily on production manager, Ermanno Radiche, who joined the company two years ago, and Yolandi le Roux, who joined Pico-Gro at the end of 2015. Yolandi is an industrial engineer, and responsible for the optimisation of different processes.
Erika explains that her suppliers are integral members of the Pico-Gro team, and seed supply is possibly the most important component of the supply chain. Close to 90% of the company's seed is sourced from Stark Ayres. A representative of the company, Henico Alberts, is in daily contact with Erika and coordinates the monthly supply of seed worth about R80 000 to R90 000.
"Our seed stocklist contains more than 50 lines. We sow six days a week, and harvest and pack seven days a week," Erika says.
Daily routine
Erika says that one of their greatest challenges is packing for Woolworths 365 days a year.
"The day starts every morning between 4am and 5am, when we go onto the Woolworths portal and retrieve our purchase orders for the day. By sundown, produce has been harvested, packed, labelled and dated, and is ready to be loaded onto the truck first thing the following morning."
Herbtanical, a transport company, collects produce from Pico-Gro daily, and repacks produce into smaller units for distribution to restaurants across Gauteng and Cape Town.
Record-keeping
Erika says that record-keeping is a huge task at Pico-Gro. Woolworths requires records to be kept electronically and on paper. If there is a query, Pico-Gro has only three hours to respond with the correct documentation pertaining to the problem.
"Every single leaf of product used for Woolworths and the export market must be traceable. Where was it grown? What batch seed was used? Was it treated with agrochemicals? Who packed it? We have a storeroom filled with files and records."
Annually, Pico-Gro undergoes audits conducted by GlobalGAP, IBL Food Safety and Hygiene, and Farming for the Future (a programme that focuses on sustainability and audits agribusinesses accordingly). Pico-Gro also undergoes ethical and organic audits. GlobalGAP and organic audits are conducted by international companies, and the others by South African companies.
Location
Pico-Gro's location is essential to Erika's business model, as its premises are situated close to the airport and the Woolworths distribution centre (DC).
"Delivery charges are therefore minimised. While land here [Midrand] is expensive, our diesel bill is close to non-existent as the Woolworths DC is only 5km down the road," Erika says.
As agricultural holdings in Midrand have been broken down into smaller areas, business expansion is only possible with the acquisition of numerous holdings, and thus Pico-Gro's 7ha consists of three holdings, Pico 1, 2 and 3.
"We're not thinking of expanding to a rural area with bigger pieces of land, since the 3km between the different holdings is already a logistical nightmare," she says.
Water and pest control
Most water used on the PicoGreens premises is run-off from greenhouse roofs that are fed via V-drains into a rainwater dam. This water, and water from the two boreholes on the property, is then pumped into a dam bag situated at the highest point on the farm from where it is distributed to all the greenhouses.
"The drought was a real issue. In November and December 2015, we were making serious plans to cart water to the PicoGreens property even if that would have cost us the whole year's profit. We cannot afford to go out of production, even for a week, because that would cost us our markets," Erika says.
In late December, however, they received some rain and the crisis was averted.
"We're now very aware that this is something that could happen again. A lot of my time is currently spent on strategic planning to mitigate our water risk in future. A lack of water is the one thing that can kill our business. You can do everything else right, but if you don't have water it doesn't matter."
Erika says that diamondback moths are their greatest challenge as far as pest control is concerned.
"The biggest joy in the lives of diamondback moths are my Brassicas, and there are numerous varieties of Brassica grown at Pico-Gro," Erika laughs. "We try to minimise the use of pesticides, and mainly utilise IPC [integrated pest control] methods. But spraying for moths is still necessary." Disease control is mainly accomplished by crop rotation and minimising the reuse of growth medium.
New possibilities
Erika describes herself as a "perpetual student" and says that both her greatest weakness and strength is her hatred of repetition."This is the main reason we grow such a wide variety of crops. As soon as a new variety had been mastered, it gets moved to commercial production, and I start the research and development of the next crop. There seems to be absolutely endless possibilities for new crops, and I'm constantly chasing them."
Phone Pico-Gro on 011 314 1029, or visit pico-gro.co.za.