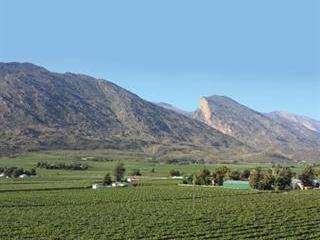 One of the most awe inspiring sights in Western Cape must be that which greets visitors at the top of the mountainous pass looking down into the Hex River Valley. Neat vineyards flank the road and fill the valley, right up to the imposing Hex River mountains. This valley, one of South Africa's prime table grape growing areas, is home to some of the world's best quality grapes.
To celebrate its grape growing tradition, the Hex Valley Table Grape Association hosts an annual Block Competition. Farmers who compete are judged on the quality of their viticulture practices and the appearance of the grapes. This year's winner was Edward Taylor, who took first place for a block of Flame Seedless grapes, a red, vigorous and heavy-bearing table grape cultivar.
Edward, an experienced grape farmer hailing from Paarl, farms for AS Viljoen & Seuns Boerdery (ASV Boerdery) on the farm Werda in De Doorns. "What makes this block so exceptional is that Edward managed to get the grape size and colour just right. The larger the grapes, the more difficult it becomes to get the colour right, so to get that balance is quite a feat," says Anton Viljoen, son of current owner and managing director of ASV Boerdery, Anton Snr.
Edward takes delight in discussing the details of this winning vineyard block of Flame Seedless grapes. "The winning 0,92ha block is planted on sandstone soil with about 2 280 vines at a spacing of 2,74m (inter row) and 1,6m (between vines)," he says. "We use mainly micro irrigation and employ irrigation scheduling, using tensiometers as well as the evapotranspiration method (a method that calculates water application based on estimates of water lost) to determine exactly how much water the plants need and when," says Edward.
Irrigation is usually done at night because this helps to cool down night temperatures in the vineyard blocks and grapes colour better in cooler night conditions. "This block was irrigated two to three times a week, mostly at night. During the course of the growing season (September to May) about 6 500m3/ha of water was applied," Edward explains.
Quality Counts
To meet the nutritional needs of the vines, Edward used granular fertiliser. The required micro-elements were applied as a foliar spray. "The block received 123kg of nitrogen (N), 5kg of phosphorus (P) and 117kg of potassium (K). This fertiliser is applied at bud break, directly after fruit set. Two to four weeks after set we apply potassium. About 40% of the nitrogen is applied during bud break and 40% of it is applied after harvest."
Edward explains that to ensure top grape quality, the block received several spray treatments for optimum berry size. About three weeks before bud break Dormex is sprayed. This stimulant promotes earlier, more uniform bud break. "Berry size can be significantly increased by heavy pruning, cluster thinning, cluster pruning and girdling. However, Flame Seedless berries can also be enlarged by applying gibberellic acid (GA)," he says. The first GA spray should be made at full bloom to reduce berry set.
Two subsequent applications increase berry size. The second application is made when the berries are pea-sized, and the third application two weeks later when the berry is roughly 8mm in diameter. "We use an ethephon spray on the grapes to improve colouring, applied when about 10% of the crop has started colouring, and again seven days later."
Chemical control of weeds and pests is kept to a minimum. To control weeds, a glyphosate based product (Roundup) is sprayed. This is a systemic, broad-spectrum herbicide, effective in controlling a wide range of weeds including grasses. "One of our biggest problems is vaalskraalhans (horseweed) which has built up a resistance to Roundup.
In some cases we have to resort to weeding it out by hand. "We follow a preventative spraying programme for pests and diseases. One of our biggest pests is mealy bug for which we treat the vines during the dormant, winter period with Confidor," says Edward.
The block is trellised with a double gable/Y trellis system and vines are pruned during winter. Edward explains that they follow a rigorous bunch management routine to ensure the uniform size of bunches and grapes and to encourage larger berry sizes. "There should be 90 to 110 grapes per bunch. When they are young we count the grapes per bunch and then trim according to a pre-determined system. We try to limit the number of bunches per vine to about 26, which gives us a yield of 30t/ha," says Edward.
A proud history
High standards, strict quality control and tight management continue the tradition set by the Viljoen family of ASV Boerdery who were the first to export grapes from the Hex River Valley in 1896. The Viljoens have farmed in the valley for five generations. Since Anton Snr took over the business in 1966, ASV Boerdery has increased its production from 19 000 cartons (4,5kg per carton) of grapes to 1,75 million cartons.
Anton, his wife Deidre, and their sons Anton Jnr and Gabriel bought farms in a number of production areas across the country to stretch their harvest season. "We have farms in Northern and Western Cape which means we can market grapes for six months a year," explains Anton Snr. The total area under vines on the 13 production units (five farms in the Orange River district, one farm in the Berg River Valley and seven farms in the Hex River Valley) is roughly 500ha.
Marketing right
Anton says that part of their philosophy is to exceed market expectation by continually improving their business. Son, Anton Jnr says, "The industry changes constantly. We have to keep improving the quality of our product by upgrading cold chain procedures and finding new, improved cultivars to meet the needs of consumers," says his son, Anton Jnr.
ASV Boerdery manages about 50% of its own exports, working with only a few exporters who specialise in specific markets. "We try to deal directly with overseas service providers and supermarkets where possible by not working through local exporters. This helps us build a personal relationship with our buyers to improve customer service," adds Anton Jnr.
His father explains that ASV Boerdery is the largest privately owned grape exporting company in South Africa. About 95% of its total crop is exported to destinations that include the UK, several countries in the EU, Scandinavia, Russia, the Middle East and the Far East.
The future
"We constantly aim to reduce chemical use in the production of our grapes and focus on including biological production practices," says Anton Jnr. "We looking at our carbon footprint and will implement practices to reduce our carbon emissions," he adds. According to Anton Jnr, the ethical and environmental aspects of grape production are becoming increasingly important. It is a way in which farmers can remain competitive in an 'over stocked' market space.
Contact ASV Boerdery on 023 354 8713 or email [email protected]