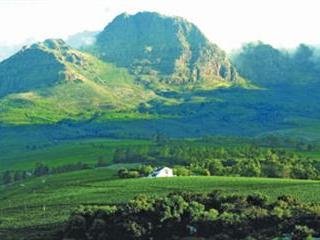 "Biodynamic farming is not a topic that gets much attention around the braai," says Wikus Pretorius, general manager and viticulturist of Haskell Vineyards in Stellenbosch. He is stirring valerian flowers into a bucket of water by creating vortexes in alternate directions. This will later be poured over the biodynamic compost heap. "You shouldn't expect miracles overnight, it's a long process and you need to trust and believe in the forces of nature that are around us every day!"
Curiosity and passion
Wikus is a down-to-earth, Afrikaans-speaking guy who grew up on a farm in KwaZulu-Natal and the type of guy you would not be surprised to see browsing around the Agrimark on a Saturday morning for a new pair of gumboots. But he can convince sceptical onlookers that it is not such an outlandish idea to add dried chamomile blossoms, which have been stuffed into small intestines from cattle, buried in humus-rich soil in autumn and retrieved in spring, to a heap of compost.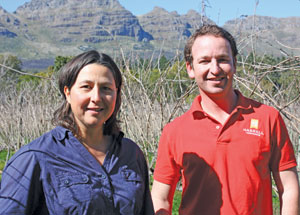 Haskell Vineyards winemaker, Rianie Strydom (left) and Wikus Pretorius, general manager and viticulturist.
He believes that this will help make trace elements in the compost more available to the plant. Driven by his passion for minimal intervention farming, he is leading Haskell's award-winning wine making team down a road less travelled. "It is an experimental trial pitting organic and biodynamic viticulture against each other. In the trial, 50% of the estate's pillars vineyard (the eastern rows) will be dedicated to an organic regimen, whilst the other 50% (the western rows) will be farmed biodynamically," he explains.
Minimal intervention
"It's an idea that we've been tossing around for some time," Wikus says. "We've been moving towards an organic approach every year; all our winery and vineyard waste is composted and returned to the vineyards. Our natural predator programme to control insects has been an effective way for us to minimise chemical influences whilst still being able to maintain the high standards we demand regarding grape and wine quality.
The natural predator programme to control insects was introduced on the farm about four years ago. Natural predators of the mealy bug are bred in large quantities in laboratories and then released in the vineyard at different times of the year, mainly during spring and summer when the mealy bug is most active. Parasitic wasps eliminate mealy bug populations by laying their eggs in the host and predatory beetles eat mealy bug in various stages of their life cycles.
Composting, says Wikus, is usually done by stacking all leftover organic material produced on the farm such as grape stems, pressings, vine cuttings that are chipped, garden waste and stable bedding from neighbouring stables in wind rows. As for the new biodynamic compost, biodynamic preparations are added to the compost that will enrich it and help produce an end product that would benefit the soil and vines in a specific manner, says Wikus.
"By running this trial we can observe any changes in grape and wine quality first-hand rather than relying on anecdotal evidence from others." The vineyard management practices have been increasingly non-interventional as the years have passed, so there isn't going to be a massive difference in the way the vineyard is managed other than to apply the unique preparations and compost to the biodynamic half of the vineyard, and to observe, he adds.
Organic vs Biodynamic
Biodynamic farming has been called an advanced organic farming system and Wikus is guarded in explaining his take on the differences between organic and biodynamic farming. "This is a can of worms, but if I have to distill the differences down to something digestible for everyone, then biodynamics is a form of organic farming that follows a philosophy towards farming established in the 1920s by an Austrian, Rudolf Steiner.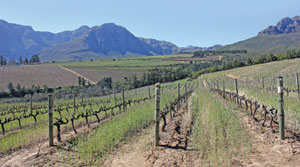 The inaugural Haskell Pillars Syrah 2007 became the first South African wine in 16 years to win the annual Tri-Nations Trophy. Here the best wines of Australia, New Zealand and South Africa compete against each other. Courtesy of Haskell Vineyards
"Steiner's recommendations include the use of special preparations for the soil and the compost and the observance of the lunar cycle as a part of the management programme." The principles are based on a series of lectures given by Steiner on the spiritual foundations for the renewal of agriculture. Wikus admits that there is a lot of debate about some of the 'peripheral elements' of biodynamic farming and of whether they can legitimately influence agricultural outcomes.
"Hopefully this trial will provide us with answers to some of these mysteries and we'll make our results and observations available to anyone who is interested, but we are not trying to change the world one way or another.''
The Pillars vineyard
"The pillars vineyard is the ideal site for a trial like this. It is small, only 0,85ha (the total size of the Haskell Vineyards estate is 23ha, with 15ha under vine) and isolated from the rest of the vineyards on the estate," he says. "It offers the opportunity to micro-manage the project and to analyse the effects of the differing approaches at close quarters. "Most of all, we want to determine if there is a corresponding increase in quality as a result of going down this path, and our findings in this respect will play a significant role in dictating our future methodology for the rest of the estate."
Results
"Will the quality of the wine we produce form this vineyard be affected by the experiment? That is the 64 000-dollar question, and the main reason for running this trial. "The pillars vineyard has already developed a reputation as one of South Africa's most significant single vineyard sites – the wine produced from this vineyard has received five stars in the John Platter Guide (SA's wine chronicle) each year it has been released.
"Our task is to find ways of maximising the potential of the site, and to find out if we can make an even better wine. "We don't know if there will be a huge difference, but the proof will be in the pudding, as they say," Wikus concludes.
Contact Haskell Vineyards on 021 881 3895 or email [email protected]