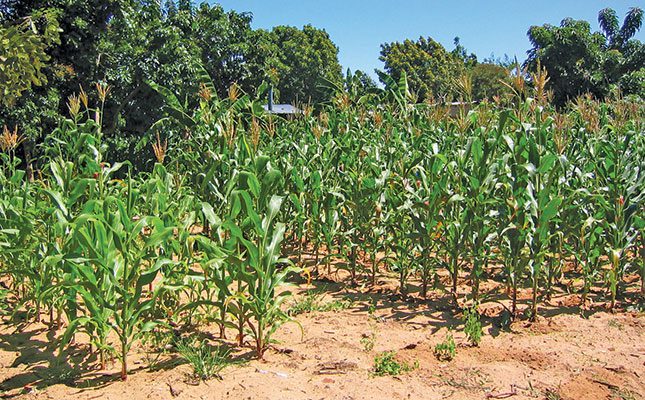 Maize originated in Mexico thousands of years ago and has since spread throughout the world. Today, it is one of the most widely grown grain crops in the world, with global production reaching over 1,2 billion tons in 2021.
According to the United States Department of Agriculture (USDA), world production is expected to be marginally down in 2022/23 at 1,16 billion tons, around 6,52 million tons less year-on-year.
Importance of maize
Maize is a vital staple food for millions of people. It is particularly important for food security in developing countries, where it is a dietary staple and a critical source of calories, protein, and micronutrients for millions of people.
Maize is a versatile crop that can grow in a variety of climates and soils, making it an ideal crop for small-scale farmers in developing countries. It is a source of food for both humans and animals, and can also be used for industrial purposes such as the production of biofuels, starch and oil.
In many countries, maize is the primary staple food, and it provides a significant portion of people's daily calorie intake. For example, in sub-Saharan Africa, maize accounts for more than 30% of the daily calorie intake, and in some countries, accounts for up to 50% of the total calorie intake.
Maize is also an important source of essential nutrients such as carbohydrates, fibre, vitamins and minerals, which are vital for human health. In addition, maize is a low-cost food source that is easily accessible to low-income households.
Given its importance in global food security, the production and distribution of maize are critical to ensuring food security in developing countries. Governments, international organisations, and other stakeholders are working together to improve maize production, increase yields, and promote the adoption of more sustainable and climate-resilient farming practices to ensure that maize remains a reliable and accessible source of food for millions of people around the world.
World trade
The US is the world's biggest producer and exporter of maize. In 2022/23, the USDA
expects the country to produce 13,7 billion bushels (approximately 500 million tons). This is almost 200 million bushels down on the previous season, but still puts the US in first position as the world's largest producer of the crop. Major markets for US maize include Mexico, Japan and South Korea.
China is the world's second-largest producer of maize, and in 2021/22 it produced 277,2 million tons of the commodity. Most of this, however, is consumed locally. It remains a major importer of maize, too, importing the grain largely from the US, Ukraine and Brazil.
Brazil is the world's third-largest producer of maize, followed by Argentina. Brazil is expected to produce 127 million tons, and Argentina 40 million tons in the 2022/23 season.
The severe drought in Argentina is largely to blame for the production estimate being lowered from the initial 44 million tons predicted.
In terms of imports, Mexico takes first place. Most of the country's imports are from the US. Mexico recently issued a decree banning genetically modified (GMO) maize for human consumption. This has brought US maize imports into question, as around 90% of all US maize is GM. Japan is the second-largest importer of maize, with most of its imports coming from the US. The country uses maize for animal feed and industrial purposes.
South Korea is the third-largest importer of maize, with most of its imports coming from the US and Brazil. The country uses maize for animal feed and industrial purposes.
In addition to these countries, other important maize producers, exporters and importers include Ukraine, India, South Africa, and the EU. The global maize trade is influenced by many factors, including weather conditions, trade policies, and demand from different industries.
History of maize production
The history of global maize production can be divided into several distinct periods:
Pre-Columbian era (before 1492): Maize was first domesticated in Mesoamerica (present-day Mexico and Central America) over 8 000 years ago. Maize was a critical crop for the indigenous peoples of the region, who developed a wide variety of maize cultivars adapted to different climates, soils and growing conditions.
Colonial era (1492-1800s): After the arrival of Europeans in the Americas, maize was introduced to other parts of the world, including Europe, Africa and Asia. It quickly became a popular crop in many parts of the world, particularly in regions with tropical and subtropical climates.
Industrialisation era (1800s-1900s): The industrialisation of agriculture in the late 19th and early 20th centuries led to significant increases in maize production. New technologies such as hybrid maize varieties, synthetic fertilisers, and mechanised farming equipment enabled farmers to increase yields and produce maize more efficiently.
Green Revolution (1950s-1970s): This was a period of rapid agricultural development that focused on increasing crop yields through the use of high-yielding varieties, synthetic fertilisers, and pesticides. Maize was one of the key crops targeted by the Green Revolution, and as a result, maize production increased dramatically in many parts of the world.
Modern era (1980s-present): Today, maize is grown in almost every country in the world. Production has continued to increase over the past few decades, driven by growing demand for maize as a food and feed crop, as well as the use of maize in industrial applications such as biofuels. However, production also faces significant challenges, including climate change, soil degradation, and the need to improve the sustainability of maize farming practices.
Production in Africa
Maize is a staple food crop in many African countries. However, it is not native to the continent and was introduced by European explorers and settlers during the colonial period.
Maize was first introduced to Africa in the 16th century by Portuguese traders, who brought it to the east coast of the continent. From there, it spread throughout Africa, becoming a popular crop in many countries.
During the colonial period, maize production increased significantly as European settlers encouraged the cultivation of the crop to feed their growing populations. In the 20th century, the use of hybrid seeds and modern farming techniques further boosted maize production.
Today, the crop is grown in many African countries, with the highest production levels found in countries such as South Africa, Nigeria and Tanzania. It is an important food crop for many people in Africa, providing a source of carbohydrates, protein and other essential nutrients.
However, there are also challenges associated with maize production in Africa, including drought, pests and disease. In addition, there are concerns about the environmental impact of large-scale maize cultivation and the use of chemical fertilisers and pesticides.
As a result, many farmers in Africa are exploring sustainable farming practices and alternative crops to reduce their environmental impact and ensure long-term food security.