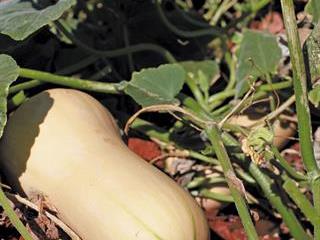 Brothers Francois and Danie Drotskie run a mixed farming operation between Lephalale and Grobler's Bridge border post in Limpopo. Approximately 60ha on their farm, Speculatie, are planted to butternut, tomatoes, watermelons, green pepper and onions. They also have a 50 breeding cow Brahman x Simmentaler herd, as well as an exotic game concern.
Francois heads up the crop and cattle operations, while Danie takes care of the gaming enterprise and the farm's 30 beehives, which are used for pollinating their vegetables. They are also dependent on wild bees that frequent the area due to its proximity to the Limpopo river.
Although the Drotskies rely on multiple income streams, it is the butternut that, according to Francois, is the most reliable.
"If you do what you need to do, you can harvest 30t/ ha to 35t/ ha," he says.
Starting from scratch
After high school, Danie studied game farm management at what was then Pretoria Technikon. Thereafter he worked for game farmer Woempa Fouché, game farmer Mike Boon, and later, veterinarian Alex Lewis.
Francois studied electrical engineering, but after a year realised it was not the course he wanted to pursue. He enrolled at Pretoria Technikon to study agricultural management and subsequently completed a pasture management course and a crop protection course through the Association of Veterinary and Crop Associations of South Africa (Avcasa).
His studies behind him, Danie farmed for Stoffel Uys for two years, during which time the pair supplied pumpkins to exporter, David Epstein, who sold them in Europe.
Following this, Danie spent time in Baltimore, US, working with his brother-in-law. His introduction to seed varieties came when he joined Hygrotech and Seedcor as a seed representative under David Durandt. While there, he was approached by Petri Gouws from How-do-you-do Growers and Packers and the two ended up farming 350ha of gem squash and butternut for Pick n Pay and Freshmark.
During this period, the brothers also began working on their own farm, which had belonged to their grandfather, Soois Bouwer, a cattleman. Because the farm had always carried livestock, the Drotskies had no choice but to develop their crop lands from scratch.
"We had a long-term goal but didn't have the funds to start on our own immediately," Francois says. "We're lucky because we had our own land, but it took a long time to get this far – we began at the bottom and we're now self-sustaining."
Growing butternut
Butternut is rotated with onions, cabbage or teff on a three-year rotation. The soil in the area consists of 10% to 20% clay, in which most cucurbits perform well, according to Francois.
"The starting point for butternut is soil analysis – corrections are made according to the results, and pH levels and phosphate ratios are adjusted. From there, a standard nitrogen (N), phosphorous (P) and potassium (K) approach is followed. The total NKP macro-element requirement of butternut is around 120kg/ ha N, 80kg/ha to 90kg/ha P, and 140kg/ha K a year."
Seedlings are cultured at Hishtil Nursery in Mooketsi and WD Saailinge in Tzaneen. The brothers use seedlings, as mice and francolin on the farm eat seed. To control the former, they have encouraged owls to the farm by installing owl boxes. Francolin are simply chased away by a worker permanently employed for this task. Butternut is not planted year-round.
"Our lands are in a dip and are 3°C to 5°C colder than surrounding farms," explains Francois. "We therefore plant butternut under pivot from November to February, and plant drip irrigation lands from May to the middle of June." The growing process is long, with May plantings harvested only in about September.
"There's usually frost, then the plant has to recover and be nursed to life again. They're susceptible to cold, but tough. We have an ideal climate for butternuts. They have good keeping quality, but leaving them outside in the frost shortens their shelf life. If there isn't severe frost and they're planted at the correct time, they enter the market when there's a scarcity. In general, the market is good from September to November."
Harvesting and packing
Growing butternut is labour-intensive: the crop is harvested by hand. Average yield varies from 25t/ ha to 28t/ ha on open pollinated plants, but new varieties planted in winter to be harvested in summer can yield 50t/ ha to 60t/ ha.
"A team of 12 to 15 harvesters can pack 4 500 bags a day, which is enough to transport to market," explains Francois. "At this stage, we get between R3/ kg and R4,50/ kg. A while ago it was R1,50/ kg to R2/ kg. "There are certain quality requirements regarding how butternut has to be cut and packaged. Our name appears on our labels, and quality is important. This is why we train our workers."
The brothers also regrow butternut. After a September or October harvest, plants are sprayed with pesticide and fertiliser, and regrown and harvested again at a later stage.
Between 17 000 and 18 000 plants/ha of their F1 crosses are planted, but in winter this number drops to about 11 000 plants/ha as water is scarce and Francois does not want plants to compete unnecessarily.
Cultivars
Danie currently works as a seed representative for Sakata, and the brothers benefit from his knowledge."There are three varieties we'd recommend," says Francois. "Pilgrim is a fast-growing seed, and gives you a week or two advantage. Pilgrim doesn't yield as much, but early season prices are higher and we benefit from that. Our bank account is the scoreboard: even if you harvest 2 000 bags of Pilgrim at R65/bag, you still win."
In addition to the three varieties mentioned above, the Drotskies plant the tropical varieties Quantum and Pluto. "Although they are susceptible to virus, rust, and local insects, they are also aggressive and hardy. One can harvest 50t/ ha to 60t/ ha if you regrow."
The Drotskies use market agents, and butternut is delivered to Pretoria, Johannesburg and Vereeniging. Although the markets do not yet require traceability, all aspects of spraying and fertilising are recorded, and all inputs on Speculatie can be tracked.
Danie and Francois previously used a broker for transport. However, with one trip costing up to R12 500, they recently made the decision to buy a truck. This has definitely cut their overall costs, they say.

Challenges
Controlling nematodes on butternut is important as the pest can lead to large economic loss. However, Francois explains that they take a gentle approach with pesticides, as they need their bees for their vegetables. Coke cans cut in half and painted yellow – a colour that draws insects – are filled with pesticide and placed in the lands.
The cans are monitored and the types of- and number of pests trapped are taken note of. This method is required for European Good Agricultural Practices (EuroGAP) and integrated pest management (IPM) accreditation. This approach has also proven to be effective in substantially decreasing insect populations.
The farmers in the area use the Limpopo river for irrigation, but due to the large number of vegetable farmers in the area, it will be pumped dry this season. "As long as the river is running, we try to irrigate 90% of what we use from it, but once it stands still we'll use boreholes," Francois explains.
The brothers currently use less water than they are legally entitled to do, as their lands are relatively small.
"We also farm game and don't want to clear too much bush," Francois explains.
Theft is one of the greatest challenges on Speculatie. "Hawkers buy, say, five bags of butternut, but then take labourers' cellphone numbers and place an order for more, which they collect at night," Francois explains. The Drotskies have also lost some of their game animals to snares.
"This week alone, we found 20 snares. Even some of our golden wildebeest were killed in snares," says Danie.
They now employ people to look for snares and tracks, and use guards for personal safety.
The future
"I believe in butternut; it's what I started with and my challenge is now to harvest more bags with less input cost. We have a goal and want to reach it," Francois says. "As far as the future of the country goes, we're positive but unsure. We don't fall asleep easily at night, we don't stagnate either and still invest in the farm."
Phone Francois Drotskie on 082 371 7339 or email [email protected].