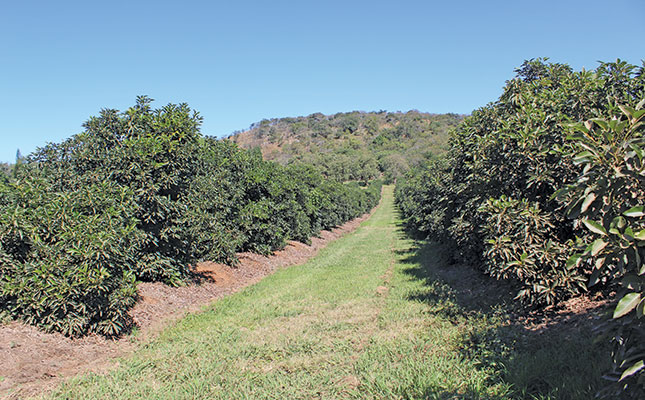 With rising input costs and increasingly limited resources, many fruit producers are constantly looking for ways to increase yield in their orchards.
Simon Dunshea, the farm manager of Twycross farm in Schagen, Mpumalanga, had this in mind when the first dwarf variety of avocados were planted on the farm.
"My ultimate goal is to have a high-production orchard, with smaller trees planted at a higher density and giving higher tonnage per hectare," he says.
Dunshea cultivates 125ha of avocados on the family farm, of which 50ha are planted to Hass, 15ha to the dwarf Gem variety, and 60ha to green-skin varieties such as Fuerte and Pinkerton. But Twycross will eventually replace all of the green-skin varieties with Gem due to the benefits of dwarf trees.
The black-skinned Hass is the most popular avocado variety globally, making up 90% of exports worldwide. However, this also results in a glut in the market during peak season, when both South Africa and Peru send fruit simultaneously to Europe, South Africa's largest export market. Local producers then see prices reduce drastically while they are marketing the bulk of their harvest.
It was with this in mind that the Gem variety was brought to South Africa by Westfalia Fruit, as it is a black-skin variety that can compete with Hass, but comes into production later in the year, bypassing the glut in the market.
It also has the added advantage of being a dwarf tree, which is a more manageable size and costs less to prune, harvest and spray.
Smaller trees, fewer problems
According to Dunshea, the main drawback of the popular Hass variety is its voracious growth.
"Keeping big trees pruned back requires a huge amount of labour. Dwarf varieties, on the other hand, are slow growers and hardly need to be pruned, only necessitating the removal of small branches that can be left in the orchard to mulch. Other varieties require bigger machinery to prune and a chipper to turn the branches into mulch."
The dwarf size also makes the harvest shorter in duration, as well as easier to carry out.
"Because the Hass trees reach up to 6m, workers need a ladder to get to the top branches, making the whole harvesting process so much longer. With the dwarf trees, the workers just stretch into the tree and can harvest 20t of avocados in four hours. It takes a day-and-a-half to harvest the same quantity of Hass or green-skin avocados."
Spraying the trees for pests or diseases is also simpler and more cost-effective with the dwarf trees.
Dunshea uses one spray rig for the entire dwarf orchard, while other varieties require four tractors, four spray rigs and eight workers with handheld spray guns.
Equally, the dwarf orchards require just two applications of copper a year, in contrast with the rest of the farm that requires four; the result is less chemical usage, less labour and lower costs.
Production
The growing requirements for the large and dwarf trees are much the same: both prefer loamy, well-drained soils.
Dunshea has moved towards planting new trees on ridges to ensure a larger layer of topsoil and more aeration to prevent the roots from becoming waterlogged and being affected by phytophthora. Both cultivars are grafted onto a Dusa clonal rootstock.
The dwarf trees are planted at a density of 550 trees/ ha, compared with 300 trees/ ha for regular varieties.
The Gem variety, specifically, prefers a high altitude, with the higher-lying areas of KwaZulu-Natal, Tzaneen in Limpopo, and Schagen being ideal. Twycross is at an altitude of 1 100m, compared with the average of 600m for other avocado production areas. The average annual rainfall in Schagen is 1 000mm.
Dunshea points out that Schagen is a late-production area, and planting the dwarf Gem variety that comes into production later extends their season further still.
Gem starts flowering in September and October, carrying the crop for 12 months before harvest the following October. Hass flowers at the same time, but harvest takes place from May to September.
Dunshea says that while Gem does not require additional fertiliser, it demands a different regime.
"Because the tree carries the crop for so long, it requires more energy to keep going. We have a fertiliser programme that feeds the trees continually, but in smaller doses."
Twycross's Gems delivered a crop of 7t/ha in the first production year, going up to 20t/ha last year. On average, the cultivar should produce 20t/ ha when the trees have reached maturity, which is approximately 20% more than any other cultivar, making the smaller trees more productive than larger trees.
to Dunshea, Gem produces a more consistent crop, with smaller variations in crop size between alternate years. The fruit size is also larger, averaging 300g each, compared with Hass's 200g.
Another advantage of Gem is the tendency of the tree to bear fruit on the inner branches, which shields it from the elements.
"We get less hail damage, sunburn and damage from extreme cold. This leads to high packouts of about 90% of fruit harvested, compared with a 75% average for other varieties.
"I've also found that Gem provides a consistently sized fruit with very few that are too small to pack. If the orchard produces 20t/ha, only 4t will end up in the lower-grade market. This is due to the smaller size of the tree, which means that nutrients don't have to travel as far up the branches to reach the tips, as is the case with Hass, which has a higher percentage of undersized fruit.
"Other cultivars also bear more towards the outside of the tree, leaving the fruit exposed to the elements."
Getting the timing right 
While South Africa's harsher climate is better suited to green-skin avocados, the market demand for black-skin varieties is overwhelming.
"Hass has always been the most popular variety, but considering the marketing problems during peak season when we're competing with Peru, there has been a race to find an alternative to Hass that is harvested later in the season," explains Dunshea. "Gem gets you out of that glut market and helps extend your season.
"Gems are picked in October and harvest can continue up until January, which is our peak market in South Africa. It's also when there aren't really any other avocados on the world market, so we can get a premium. Even though Europe is entering its winter, the demand for avocados remains constant, as it has become part of the everyday diet, regardless of the season."
He explains that having a combination of Gem, Hass and green-skin varieties provides wider marketing opportunities and lowers risk.
"Green skins are still popular in South Africa alongside the black skins. With Hass, I'm on the market for three months of the year, but if [the price] is down for two of those months, my profitability is eroded. The price can go from €14 (R226) per 4kg box during the lower season to €8 (R129) in peak production. This results in on-farm prices of R40 or R20 per box, respectively.
"So it's understandable why we need to get out of the peak production market. By adding Gems, I'm on the market for at least another three months, mostly not during the world's peak production season."
Dunshea explains that when buying fresh produce, supermarkets first look at the appearance of fruit and then shelf life, resulting in a higher demand for black-skin avocados than for green-skin ones.
"The problem with green-skin avocados is that once they are ripe, they need to be consumed. A black-skin avocado can stay on the shelf for a few days after it ripens. The market is moving towards ripe-and-ready fruit, and although they cost twice as much, they outsell unripe avocados."
Good prospects
He adds that the future of the avocado industry is promising, with prices continuing to climb. "Prices have been phenomenal for the past five years. The local market is definitely growing and is becoming more lucrative."
The Gems are packed at Twycross's packhouse and marketed through Westfalia as a cultivar on its own.
"Because it's a closed cultivar with a growers' club, the hectares will be limited to ensure there is not an oversupply on the market."
Email Simon Dunshea at [email protected].