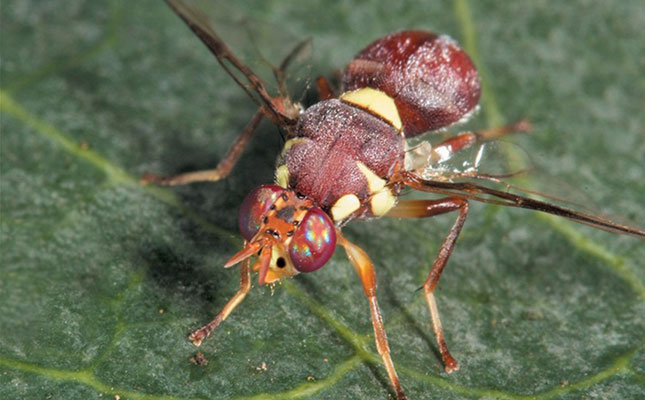 Their brown markings make them difficult to spot, and the first indication of their presence is usually puncture marks on the fruit.
The fly's life cycle can be as short as three weeks, enabling the population to increase rapidly.
The female inserts her ovipositor into the fruit to lay eggs, damaging the developing fruit in the process. Baby marrows become bent and distorted even before the maggots hatch.
The maggots usually destroy the fruit. The flies prefer to lay eggs in younger fruit, but when these become scarce, they will also 'sting' more mature fruit. This gives the fruit a lesion, causing it to be downgraded. Rotting may also commence at the site.
In cold areas, a few flies emerge from their pupae in spring and search for a host crop.
In some cases, especially after a severe winter, the flies may come in from a warmer site and infestation will start much later.
You can either apply control measures right from the start, or look out for any stung fruit as soon as the first crop starts to form.
Breaking the breeding cycle of the over-wintering flies will make a huge difference.
When harvesting baby marrows, be careful not to leave stung fruit in the land; the maggots can develop rapidly.
Instead, place the affected marrows in a clear plastic bag and leave it in the sun to cook the maggots. Do the same with all damaged marrows in the packhouse.
In my experience, most farmers start control measures too late. It's important to take action at the first sign of activity. One effective method is to use pheromone traps; these can detect flies before they or their damage are observed.
You can also spray bait to attract the flies; they will feed on it and die. An effective bait consists of 150g mercaptothion with 4kg sugar in 20ℓ of water. If you prefer, you can use a protein attractant instead of sugar.
Apply the bait at 40ℓ/ha. I use a knapsack and a nozzle consisting of a hole in a disc; this produces a long stream under pressure. Make passes down the rows in the cool of the day, spraying on the left and right alternately on each pass.
Coarse droplets of the bait will be left on the leaves. You can also spray into any bushes or foliage on the land verges.
Systemic option
Another option is to use a systemic product with the active ingredient fenthion. If you choose this, you will need to wet the fruit thoroughly beforehand.
This pesticide will even control the flies stinging the fruit, as well as kill newly deposited eggs and young maggots in the fruit. Take note, however, of the withholding period when spraying.
Contact insecticides, such as pyrethroids, can also be used to control the flies.
Bill Kerr is a vegetable specialist and a breeder of a range of vegetables.