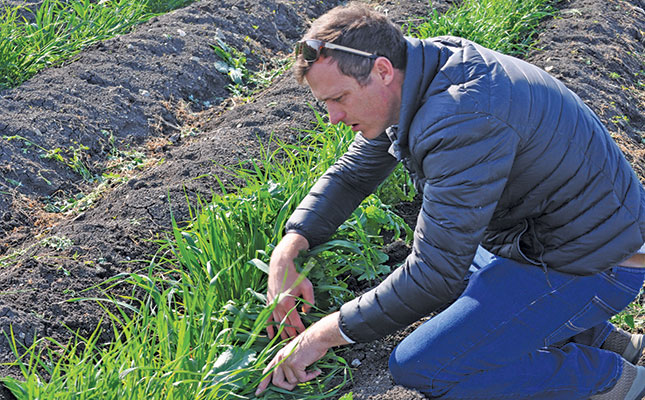 Gert Janse van Rensburg is the co-managing director, along with his twin brother Peet, of Langplaas Boerdery, situated near Brits in North West. Third-generation farmers, the pair grew up on the farm, and today produce a variety of vegetables on 1 000ha under irrigation, following regenerative farming principles.
Janse van Rensburg's passion for regenerative agriculture was sparked by the work of pioneers of the method, such as Allan Savory, Gabe Brown, Gary Zimmer, John Kempf and Ray Archuleta, and he has followed this approach ever since joining the family farming operation in 2006.
He stresses that a functional and vibrant ecosystem is important for soil fertility, and farmers need to understand how this system works.
When the brothers switched from traditional farming practices (chemical fertilisers, herbicides, pesticides and excessive tillage) to regenerative agriculture, they didn't fully understand the processes involved, but they could see a change for the better.
Janse van Rensburg defines regenerative farming as "the farmer tenderly managing the soil and working synergistically with nature to increase fertility year after year". This means caring for soil organisms and plants, which is achieved by growing diverse plant species, with minimum disturbance and no chemicals or high-salt fertilisers.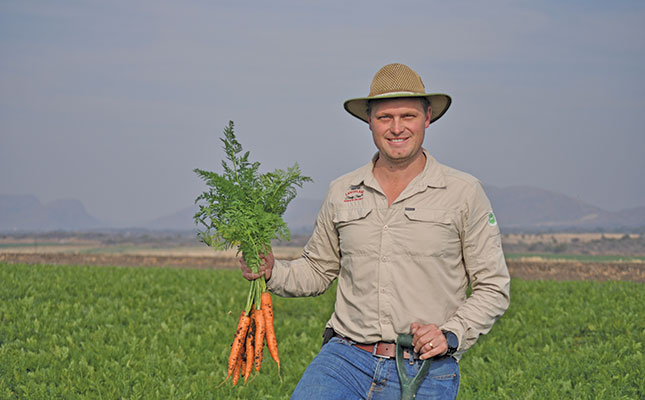 "If you kill the plants and soil organisms, you inherit their work, which you can't perform," he says.
He adds that farmers need to manage their plants effectively to rebuild the soil ecosystem, and minimise the application of nitrogen and other chemical fertilisers.
Carefully chosen crops
Langplaas Boerdery produces sweet potatoes, carrots, beetroot and a variety of cover crop species, with all these crops being suited to the farm's soil conditions. Approximately 400ha are planted to the crops each year, and between 50 000t and 55 000t are harvested annually.
Janse van Rensburg says they produced a greater variety of crops in the past, but now focus on a select few that perform well in the area. Carrots are grown all year round, and the beetroot and sweet potatoes for about eight months of the year.
In addition to the farming operation, they own a washing and packing facility, as well as a logistics company through which they transport their produce.
The brothers used soil analysis map technology to correct specific parts of the land, which helps ensure that the soil achieves a homologous state.
"We constantly strive to increase the carbon content of our soil, which forms part of our conservation practices. Currently, it's between 3% and 4%, which is above the South African average, and we do our best to increase it, as it's an indication of a functioning ecosystem as well as the presence of earthworms," explains Janse van Rensburg.
He adds that carbon is a critical substrate for micro-organisms, as it provides them with a stable home. It is also vital for the stability of the entire soil system because it buffers many of the chemical interactions in the soil. Tilling and over-fertilising, amongst other traditional practices, reduce the carbon content in the soil.
Getting the soil ready
Soil preparation always starts with cover crops, says Janse van Rensburg. He plants a number of different species, such as oats, herbs, legumes and brassicas, on the same land, and ploughs these into the soil when the time comes to plant the cash crop.
This is usually done at a depth of 20cm to 30cm, and the soil is then irrigated so that the process of breaking down the plant material can begin.
The lands are then ripped twice to ensure that the soil is loose enough to ensure good drainage, which prevents the crops rotting during the wet season.
"Although ripping is a destructive process for soil health, we do more for the soil by countering the effects using cover crops and organic fertilisers," says Janse van Rensburg.
He adds that they try to avoid breaking down the aggregates that oxidise the soil, as this would result in micronutrients, such as zinc, manganese, copper and iron, becoming biologically inactive in the plants. This in turn would lead to a reduction in yield and an increase in pest pressure.
Once the soil has been prepared, the seed is planted. The brothers use around one million seeds/ha for carrots and 500 000 seeds/ ha for beetroot, and usually plant them 3cm to 5cm apart at a depth of 1cm. Inter-row spacing is 1,8m, which enables tractors and other implements to move between the rows. Yields average between 50t/ha and 70t/ha.
The mean annual rainfall for the area is 300mm in dry years and up to 1 000mm in wet years. The crops are irrigated via centre pivots, and the entire area receives water from the Hartbeespoort Dam.
Healthy plants, nutrient-rich veggies
The main advantage of following a regenerative agriculture system and successfully implementing it in a commercial farming set-up is that it results in healthier plants, explains Janse van Rensburg. In addition, the need for insecticides and pesticides is reduced, which often leads to a return of important soil organisms such as earthworms.
He adds that because Langplaas has reduced its fertiliser dependency by 40% to 70%, its profitability has increased.
"Not only do regenerative farming practices provide food security by putting food on the
table, but they do so in a sustainable manner, as these systems can better withstand droughts and floods. Also, crops grown in this way have a higher nutrient value, making them healthier for consumers."
Janse van Rensburg advises prospective farmers who are keen to start with regenerative agriculture to thoroughly educate themselves on the fundamentals of the system and speak to other growers who have walked the path for years. Only then should they begin their own journey to regenerative agriculture.
He adds that one of the biggest mistakes he and his brother made was to move to regenerative farming 'cold turkey' without understanding how soil and plant ecosystems worked.
"Having been on this road for more than a decade now, we've learnt a lot, but we still make our fair share of mistakes every year. Thankfully, we learnt much of what we know from the leaders in regenerative agriculture!"
Email Gert Janse van Rensburg at [email protected].