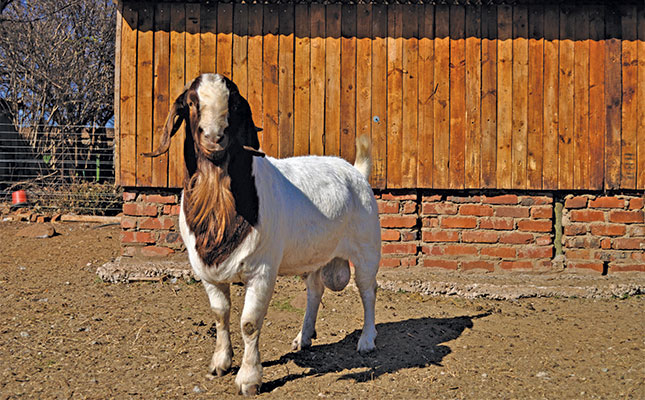 If you are passionate about farming, no farm is too small to make a start on, says Jonathan Carlson. With a smaller property, you simply need to plan the layout so that you can maximise its potential.
Carlson adds that his 10ha smallholding Langverwaght in the Hartbeespoort area of North West is perfectly suited to intensive farming with a Boer goat stud.
Cattle, however, were Carlson's initial choice. Using money he had saved from making and selling neck clamps for cattle, he bought a herd of five Bonsmaras (one bull and five cows).
He then went on to buy calves, background them and sell them to purchase more cattle. The herd now consists of 50 cows.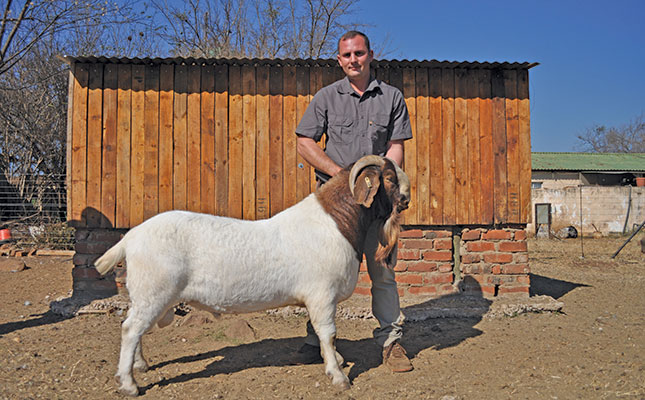 Due to the size of his land, however, Carlson realised that he could not expand his herd appreciably, so he decided to focus on Boer goats. Even in this case, the size of his farm was a limiting factor, and it triggered his next decision: to pursue quality over quantity by starting a Boer goat stud.
READ Kalahari Red goats: A solid reputation built on great genetics
"One of the advantages of Boer goats is that most of the ewes produce twins, which means the flock grows quickly," says Carlson.
He has one ram, which he uses for most of the breeding, and 60 ewes.
Approximately 2ha of planted grazing is under irrigation. This is split into four camps for effective grazing management. Each camp receives a rest period of four weeks to allow it enough time for grazing to grow again.
Carlson started planting lucerne about three years ago, as it has high nutritional value and helps to improve milk production in ewes. This, in turn, improves the growth rate of the kids.
Genetics and breeding
The goats graze for an hour in the morning and an hour in the afternoon. From about six weeks before kidding, the ewes receive additional feed. All of the animals are provided with a calcium lick throughout the year.
"I buy the best genetics I can afford," says Carlson, who buys ewes and rams from some of the top breeders in the country.
"If I look at the offspring the stud is producing, I can see it's worth buying good genetics. A stud will improve a lot more with 10 high-quality animals than with 20 poor-quality ones."
READ Bull breeding and selection for profitable beef production
While he is still building his flock, Carlson's main aim is to breed functional animals able to win championships at shows.
"I want to provide animals to the commercial market that give peace of mind to my clients to use in their own herds," he notes.
His breeding seasons are split into three-month periods and four groups to ensure year-round kidding. Ewes are put with the rams for the first time at around 11 months or when they weigh at least 45kg.
The staggered breeding season makes the management of kids easier, says Carlson. For example, if there is a disease outbreak, the kids can easily be separated from the rest of the herd.
As soon as one group of kids is weaned, the next group of ewes will start to kid. After one group of kids has been weaned, those ewes are put with the ram for 28 days.
Six weeks later they are scanned for pregnancy.
Carlson stresses that it is very important for animals to stay in production. Ewes that fail to conceive are removed from the herd.
Birthweights can differ considerably, ranging from about 3kg to 6kg, but Carlson says he prefers kids to be born at weights of between 3kg and 3,5kg, as fewer birthing complications occur with smaller newborns.
The kids are weaned at 90 days when they weigh about 25kg.
Selection and genetics
Carlson currently uses natural breeding methods, but plans to use artificial insemination (AI) in future to bring more top genetics into the stud.
"AI has many benefits," he says. "Buying excellent rams is very expensive; buying semen is cheaper, and you still get the good genetics in the herd."
However, investing in one's own breeding animals is also important, adds Carlson.
His current breeding ram is the son of a former world champion Boer goat ram.
"There are many aspects to look at when purchasing a ram. You always want the best ram you can afford," notes Carlson.
His selection criteria include looking at the masculinity of the animal, such as good conformation of the head and neck, and a big frame that can carry more meat.
The main diseases in the area are heartwater and pulpy kidney. All animals are vaccinated against these. They are also closely monitored for internal parasites. As soon as any infestation is observed, the entire flock is dosed against the parasites.
Carlson sells most of his goats out of hand, as his clients prefer to see the animal and its parents before buying. "It gives them peace of mind if they can choose the animals themselves," he notes.
Learning from errors
Carlson admits that one of his biggest mistakes was to assume that all of his animals were healthy simply because they appeared to be. As a result, he let his guard down.
A farmer needs to be hands-on, every day, he says, adding that it is important to know "everything that's happening on the farm, inside and out".
He also stresses the importance of having a good relationship with one's farmworkers and looking after them well.
"They're part of the team and they have to be able to rely on you as much as you rely on them," he says.
"It's important for you and your team to respect one another and work together. The workers are just as much a part of the success of the operation as the owner."
His goal is to make sure that in 10 years' time, the Jonathan Carlson Boer Goat Stud will be well known in the industry for delivering top-quality genetics.
"Each year that goes by, we see that the stud is improving and performing better at shows," says Carlson.
Email Jonathan Carlson at [email protected].