It's less than delightful news for those with savings though, who will see a much lower return.
Expat SA entrepreneur Arran Kerkvliet runs One Touch Property Investment brokerage which sources retirement property.
"Retirement properties," he says, "are a stable and lucrative investment because there is an aging UK population with 23% over 65."
According to research in 2017 conducted by AgeUK, 31,4% of those aged 65+ have said that their main company is the television, and 8,5% 'often or always' feel lonely. In sunny South Arica there certainly are more opportunities to enjoy the outdoors.
However, no one wants to do that on their own – wine tastings, country walks and weekly visiting entertainers could fill the days no matter which country you are in.
Residents at retirement villages, based in the south-west part of England, enjoy gourmet meals created by a top chef who has worked at Michelin-starred Castle Hotel and alongside celebrity chef Antony Worrall Thompson.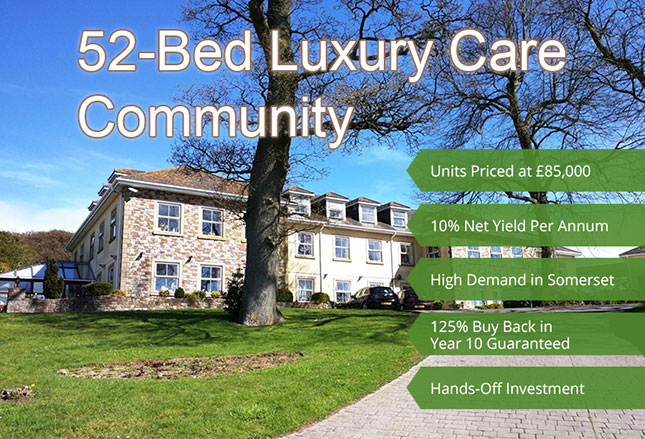 The beauty of the idyllic English countryside is not the only advantage; all the produce is locally sourced and residents can cultivate the gardens where the ingredients are grown.
Unlike South Africa, there's a limited availability of land due to greenbelt protection and restrictive planning permission in the UK.
The resulting outcome tends to be positive on two accounts: the types of properties that are acquired for retirement property investments are conversions of stately homes which have an enchanting character and charm.
Understandably, there's a shortage of these types of homes and the obvious appeal drives demand far in excess of supply.
Weekly rents, including meals and entertainment, are R21 450. Elderly guests that require an element of nursing care will pay extra for the additional services.
The caring communities were designed for self-paying guests over 65 years of age who want to enjoy the company of like-minded people and also have access to care if required.
Couples that have one sickly partner in need of 24-hour nursing care can still live together.
For more information on how these later living communities can work as an investment generating ten (10%) net income per annum, please download the free guide or seek UK property investment advice from consultants who visit SA each quarter.