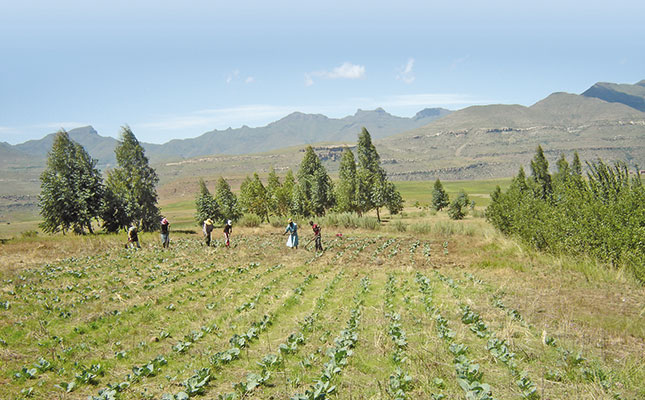 "The bottom line is that our soils are degrading at a very rapid rate. [One-third] of the world's soils are degraded and most of these are in Africa. The main culprit is soil erosion."
So says Phalesa Motaung, a soil scientist working for Asset Research, an NGO focused
on environmental and resource economics.
Motaung, who specialises in regenerative agricultural practices, was speaking during a Stellenbosch-based virtual research symposium held on 14 March. In addition to the problem of soil erosion, yields are declining drastically, especially amongst subsistence farmers.
READ The role of conservation agriculture in reducing soil erosion
"It's said there are yield gaps of [up to] 90% between smallholder farmers and commercial farmers."
Motaung emphasises the duel nature of South Africa's agriculture sector: a group of large commercial, highly mechanised producers, and hundreds of thousands of smallholder and subsistence farmers who are resource-poor and lack support.
"Both, [however], are dealing with declining soil quality, and part of the reason is that both [groups] are using poor soil management practices [such as tillage and monoculture]."
Motaung stresses that farmers are "the custodians of the land" and "the heroes in our fight against climate change and food insecurity".
"We need to help them by [giving] them the best armour to go into battle."
Conservation agriculture (CA), she goes on to argue, should be part of this armour.
Regenerative soil practices at work
With this thought in mind, Motaung undertook a study with the Conservation Agriculture Smallholder Farmer Innovation project in October 2020. This was part of a project launched by the Mahlatini Development Foundation (MDF), and funded by the Maize Trust and the Water Research Commission.
Her aim was to find out what effect CA, such as intercropping, would have on soil quality, as well as what changes would occur to the soil's biology and physical structure.
"Bergville's commercial maize farmers have adapted to CA very well and the MDF was working to introduce it amongst small-scale farmers as well," she recalls.
READ Regenerative agriculture: "We learn from pioneers and our own mistakes"
As part of her study, Motaung worked with five small-scale farmers, one of whom managed to achieve maize yields of between 4t/ha and 6t/ ha on dryland on her land near Bergville.
Each of these five farmers' land had been divided into three separate plots. The first plot was planted to maize, which was grown using CA practices. The second plot was planted to maize intercropped with beans, and the third plot was left fallow for comparison purposes.
All of the farmers' land had previously been planted to other crops. Motaung used both quantitative and qualitative soil health assessment tools in her research.
The two quantitative assessment tools were developed by the University of Cornell in the US and the US Department of Agriculture respectively. Both relied on soil samples tested in laboratories.
The qualitative side of the study relied on Motaung's observations of the soil, and for this she used a visual assessment tool developed by the MDF. This test uses touch and visual observation of soil colour and structure, amongst others, to assess the quality of soil.
Test results
The two quantitative tools rated the soil in the majority of the lands as good to very good. The qualitative test showed some variation and rated the soil as moderate.
"The qualitative tests place a high premium on the presence of earthworms. However, Bergville's soils are a little acidic, which aren't ideal for earthworms. It's unfair to say that healthy soil will contain earthworms if it's unlikely that an area will have many earthworms in the first place," explains Motaung.
The level of organic matter is the most sensitive indicator of soil health. It was found that the intercropped plots did not show higher soil quality than the plots planted only to maize. However, Motaung explains that one season of intercropping is not enough to improve soil quality.
READ Healthy soil helps ensure 98% packout rate of broccoli on KZN farm
Significantly, however, the study showed that virgin and uncultivated soils had the highest quality.
"The bottom line of the study is that the moment you start cultivating land, the soil will never [again] be of the same quality as virgin soil," says Motaung.
Farmers therefore have a responsibility to keep the soil as healthy as possible.
A study on farming networks
"The COVID-19 pandemic has highlighted [not only] how fragile our food systems are, [but] how humans bind together during times of crisis," says Themakholo Mathebula, a field officer working for the MDF.
Mathebula says this became obvious when her research team interviewed smallholder farmers in Mpumalanga and KwaZulu-Natal's Midlands to obtain greater understanding of their needs, especially those of women farmers.
The researchers soon realised the importance of solidarity networks. Thirty women, aged between 40 and 80, took part in the study. They farmed on fertile, well-drained soil and their business models were all based on a mixed-farming model. Activites included growing crops such sugar cane, sweet potatoes, amadumbe beans and maize, and running livestock.
"More than 95% of the participants were unemployed and dependent on some form of government grant," says Mathebula. "They also depended a lot on their farming enterprises."
Mathebula says they discovered that the solidarity networks could be formal or informal. They functioned on the basis of mutually beneficial co-operation and were formed due to harsh realities, whether climate change, COVID-19 or poverty alleviation.
Many of these solidarity networks were formed as a basis to pull together resources for better land management practices.
Inevitably, challenges to the study arose due to the COVID- 19 pandemic, as many participants became ill. Unfortunately, some participants even died.
Many participants also experienced a severe loss of income as they were unable to harvest and market their crops due to the lockdowns.
Crops ended up drying out or rotting on the land. Many farmers' children lost their jobs, forcing them to return home; this put more pressure on the food supply at home.
Combined, these factors led to more farmers becoming inactive and no longer participating in their networks, explains Mathebula.
Having uncovered these harsh realities, Mathebula and her research team decided to focus on the practices that would assist the farmers the most. It was soon clear which of these topped the list: CA. This is not only because CA contributes to climate, soil and water conservation, but because it has a positive effect in terms of unifying the community.
"This study opened our eyes [to this factor], because researchers are often so busy looking at the physical facts that we don't see the social impact it has on people," says Mathebula.
Other practices that have proved their worth are participation in stockvels and involvement in church groups.
"These help to save money, create a sense of solidarity and preserve religious beliefs."
The researchers also found a direct link between savings groups and networked farming activities.
Improvement
The farmers were placed in groups of eight to 10, where they would help each other with planting and learning. "Many of the older farmers can't do all of the physical labour themselves. This is where ubuntu comes in, because others help them," says Mathebula.
The farmers then studied the different CA trials planted at the various homesteads, and soon acknowledged the importance of CA, as they were able to see the results first hand.
"They saw a reduction of soil erosion and an increase in soil health. Experience has also taught them over the years that the monocrop model has a detrimental effect on the soil, especially as the climate is changing."
As an added benefit, farmers found that they could save money with CA. One of its most important tenets is no-till farming, and the farmers have cut costs significantly as they no longer have to hire tractors to plough their lands. They also save money on agro-chemicals, as they apply fertiliser by micro-dosing.
CA has also led to the farmers having a renewed appreciation of their traditional methods, says Mathebula.
"They grew up with a knowledge of intercropping, but they abandoned this years ago for monocropping. Switching back has shown them that they shouldn't have changed, as the old ways worked."
Modern CA, however, had introduced two notable improvements to this technique: the planting of cover crops and the use of advanced equipment to improve crops.
"Some farmers have even started their own experiments on the side. For example, they're experimenting to see how different crops, such as maize and amadumbe beans, interact with each other."
One of the most eloquent testimonies to the effectiveness of CA took place on 23 December, when a severe hailstorm hit the KwaZulu-Natal Midlands. Some farmers said it was the worst their farms had experienced in a century, and many lost their entire crop.
However, a farmer interviewed by Mathebula said that in November 2021, her group
had planted maize intercropped with beans. They had also planted a cover crop. Checking their land after the storm, they found that the only casualty amongst these crops was the beans.
The maize was still standing and the cover crop remained in place. And this was despite the land being on a slope.
Visit assetresearch.co.za.