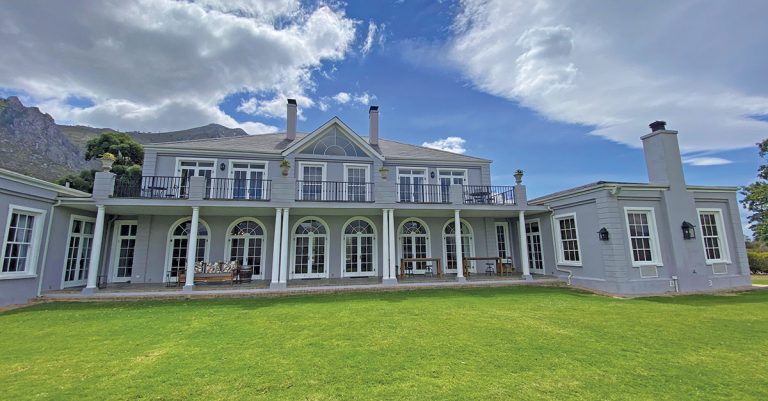 If you've ever taken the R43 from Villiersdorp you will probably have noticed Faraway Estate, a commanding manor house high on the Stettynsberg.
What makes the home so impressive is its glazing; there are French-style doors and Georgian-style windows on the facade and sash windows throughout the property. Lit up at night it looks like a jewel box.
It can accommodate up to 20 people and is a popular choice for weddings and other milestone celebrations. As a holiday home for family and friends travelling together it cannot be beat.
Faraway is designed with comfort in mind. The public rooms are connected to each other, and most open on to the lawns and patio.
With five fireplaces, you will be cosy in winter. In summer, open all of the doors or enjoy the large pool, about 50m up the mountain above the main house. It's enclosed by walls with windows, meaning you will be protected from the wind, but still be able to enjoy the view.
The main house has three upstairs bedrooms. The largest comes with a king-sized bed, fireplace, two comfy chairs and verandah with table and chairs. It has a light-filled dressing-room thanks to a skylight and window and a full-length antique mirror.
The main bedroom has two full bathrooms (shower and bath) off the shared dressing room. The other two bedrooms have queen-sized beds and their own en-suite bathrooms.
An amazing kitchen
There is also a loft accessed from the kitchen. Additional accommodation for five people is in a courtyard cottage with two en-suite bedrooms. Given the size of the place, coffee stations upstairs in the main house and in the cottage are convenient.
But the prize here is the kitchen. If you can imagine the kind of kitchen a top chef might design for themselves, you're on the way to getting the idea. With windows on both sides, the kitchen is filled with natural light during the day.
Standout features include an ice machine, two Siemens fridges, a walk-in pantry and cold room, two ovens, two warming drawers, and every other mod con you can dream of, including a dishwasher and washing machine.
And, as you'd expect in a dream farm-style kitchen, there's a table for six, two high-back comfy chairs and a fireplace!
"The main house was built in the late 1980s by Michael and Beverly Hughes. Shortly after completion it was sold to David Hood," says Leon Lucas, who owns Faraway Estate together with Sonja Serfontein.
"David returned home to the UK in 2017. During the time he owned the estate, he planted olive, pomegranate and fig trees.
"Excellent produce comes from the orchards planted on the slopes of Faraway Estate at altitudes up to 650m."
Working farm
"We are in the process of establishing apple and pear orchards to complement our current farming activities on Ratelfontein 3km down in the Breede Valley," continues Lucas.
"Len van der Merwe manages the farms. Current orchards are made up of pome as well as stone fruit. Cultivars in production include Forelle pears, the Afri-range of blush apples, Packham's Triumph pears, apricots and prunes.
"We're also investing in Bingo, an improved cherry-red blush Gala apple ideal for the warmer apple-growing areas."
Lucas explains the hospitality business is very important to him and Serfontein.
"It complements the farming operation and offers employment to the community," he says.
"We believe agritourism offers huge opportunities. Our focus is breakaway weekends for groups of friends from Cape Town, Pretoria and Johannesburg.
"Prior to the COVID-19 pandemic, ex-pat South Africans from all over the world would use Faraway Estate as a place to get together for family gatherings and other functions."
There is also plenty to do on the farm: you can play tennis, lawn croquet and billiards, and even taste wine in the cellar. A hexagonal sunroom is a perfect vantage point from which to watch the abundant bird life.
Optional services such as beauty treatments and a private chef can be arranged, along with horse riding and canoeing in the Breede River.
Enchanted spaces
The property offers enchanted spaces wherever you look: a gnarly, overgrown rose garden, tall trees and verdant ferns, olive groves and fruit orchards on the slopes.
As luxuriously as the home is furnished, Lucas and Serfontein have chosen hard-working fabrics and surfaces, such as black-slate tiles, throughout the public areas, and rugs and wall-to-wall carpeting in bedrooms and lounges.
There are two large barrel braais outside and built-in braais in the 'braai room' adjacent to the kitchen.
All of this can be had for about R6 000 per night for exclusive use of the main house.
Visit FarawayEstate.com.