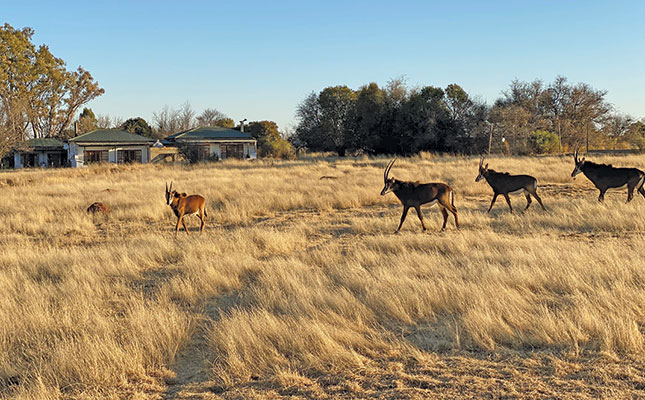 De Oude Kraal is a sixth-generation Free State Merino sheep farm, located about 35km from Bloemfontein, owned by Gerhard and Marie Lombard. The farm has 3 000 sheep on as many hectares, but today is far better known for its luxurious country accommodation, spa, conference and wedding facilities, and award-winning dining experience.
A family affair
Gerhard, who hails from Bedford in the Eastern Cape, sold his game farm there to move with wife Marie to De Oude Kraal and develop the hospitality side of the business. They made this decision after noting the success that businesses in the KwaZulu-Natal Midlands and areas adjacent to the Kruger National Park had had with farm-based hospitality.
Today, the Lombards' passion for hospitality, and their exacting standards, are everywhere to be seen at De Oude Kraal.
Marie was born on the farm, and her daughter, Marie-Louise Nel, a qualified attorney, joined the business in 2016. Marie-Louise learned her culinary skills from an early age by helping her mother cook and has taken the farm's cuisine from strength to strength. With 15 consecutive fine-dining awards by American Express, De Oude Kraal's five-course dinners are not only superb, but good value for money.
Luxury accommodation
The farm's Garden rooms look out over an area favoured by sable and springbok. When I opened the double French doors of the luxurious Suite 11, some springbok nibbling the grass were so close that they sprang away.
The stacked and ready fireplace in the room, which quickly made the chilly early August morning cosy, was a welcome touch of luxury, along with the heaters and heated towel rails in the bathroom, which also features a spa bath for two. Suite 11 even has an enclosed outside shower and a private area to work on your all-over tan.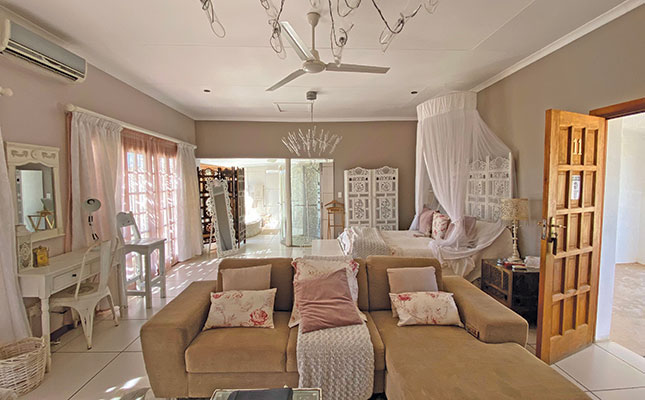 While the two Garden suites, 11 and 12, are the most luxurious, there are 10 more Garden rooms and 12 self-catering Merino Farm rooms that offer all the home comforts and are more affordable. Four family units include a mezzanine with an additional bed.
game drives and spa
Each afternoon, after generous afternoon tea and cake served to overnight guests on the wide, covered stoep, there is a tractor-hauled game drive followed by sundowners in the veld.
Nyala, sable, springbok, black wildebeest, eland, blesbok and gemsbok can all be seen. No hunting is permitted, and culling is done only at night and supervised by nature conservation officials.
Day visitors can book the game viewing excursion at an additional fee of R50.
The stand-alone spa, set amongst waterways and lush vegetation, offers a number of treatment rooms, an infrared sauna and a steam room. Some packages include meals and the opportunity to unwind in a beautiful setting.
You can watch peacocks preening on the wide lawns, or get lost in thought while gazing at the koi ponds or observing a team of cheeky meerkats trying to steal crumbs from your scone.
Fine dining
De Oude Kraal Restaurant, with its 4m-high ceilings, is set in the original farmhouse. I cannot think when last I dined at a restaurant with floor-length damask tablecloths and tall, elegant candleholders.
The restaurant's decor and ambience are reminiscent of bygone elegance, but the cuisine is entirely contemporary. However, if you are expecting fussy and minuscule portions, you are in for a pleasant surprise. Every aspect of De Oude Kraal's hospitality is generous and thoughtful, so it should come as no surprise that the dining is equally so.
The five-course set menu is at the chef's pleasure, but with all your dining restrictions accounted for. My elaborate meal started with nettle soup, enhanced by butter, anchovy, truffle and rosemary. Next was a melt-in-the-mouth red-onion tartlet, and the seafood course of hake, salmon and mussels that followed was sensational.
The lamb two-ways (tail meat rolled between crispy phyllo pastry and tender pieces of fillet) stole the show, until the cheese cake with poached pear arrived.
De Oude Kraal has an acclaimed cellar, and wine-list awards to prove it.
A second, more casual, à la carte restaurant, Feast, is open on Wednesdays to Sundays from 10am to 4pm, and is ideal for a relaxed lunch.
Conferencing and other activities
De Oude Kraal boasts a flexible, and popular, conference facility. The Waenhuis conference room accommodates up to 24 people with direct garden access, while the multi-purpose venue can accommodate up to 150 people seated.
There is a range of farm-related and outdoor activities aimed at the whole family. The deli sells prepared meals such as sweet and sour lamb ribs, pulled spit lamb, and its famous lamb patties with mozzarella and Parmesan cheeses. There is also a kitchen garden producing spinach and carrots, an extensive herb garden, and even food demonstrations.
Activities include mountain bike trails, horse riding, birdwatching, clay-pigeon shooting, hunting rifle practice, and more.
Best practice and social responsibility
As an agricultural business, De Oude Kraal seeks to add value to its products.
"We slaughter a lamb or two per week for use in our restaurant and deli," says Gerhard, while moving things around in the wedding venue, which is to become a shearing shed the next day.
On the wool side, they earn a 5% premium because of their Responsible Wool Standard (RWS) accreditation, which also ensures that facilities and farmworkers' accommodation meet best-practice standards.
"The RWS accreditation is important for us," Gerhard says. "Traceability and good on-farm conditions are increasingly important to consumers."
The farm shop, for example, sells items such as woollen scarves and slippers made by the beneficiaries of a local job-creation project. Hides and leather goods from culled animals are also for sale.
Is De Oude Kraal a farm with a hospitality offering?
"Definitely the other way around," says Gerhard. "We earn only about 10% of our income from the farming operation. The hospitality side is the mainstay of our business today."
Phone De Oude Kraal on 051 564 0733, or visit deoudekraal.com.