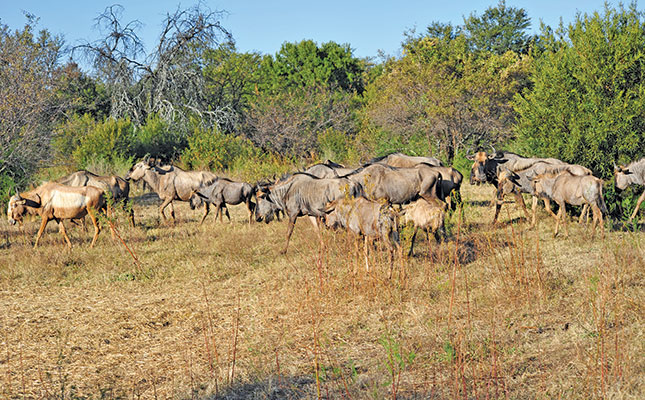 Kareekloof Game Farm lies less than 140km from Johannesburg, close to the small town of Derby in North West.
According to the owners, Leon and Annalize Prinsloo, they fell in love with the farm at first sight in 2001, and signed the offer to purchase on the spot.
"We expanded the property a few times since then and it now covers 1 400ha of this rugged, mountainous terrain on the southern slopes of the Magaliesberg," says Leon.
"We extended and fixed the small and dilapidated house we found here when we bought the farm, and added several buildings so that we could accommodate hunters and their families," adds Annalize.
"We opened our doors for overnight guests in 2007."
Leon says that they began breeding game from the moment the game fences were up. "In the current economic climate, one has to diversify, and it is without a doubt that agritourism, and game breeding and hunting are in a comfortable 'marriage'," he says.
Game breeding and hunting
"We breed a variety of game, such as sable antelope, but our niche is the more exotic species, for example white blesbok, golden wildebeest and black impala," says Leon.
"We keep some game for breeding, some for trophy hunting, some for meat hunting, and the rest we sell. Because of the terrain and thick bush, bow hunting from hides works best for us. We have eight hides in total, comprising towers and pits, spread over the farm.
"A typical day of hunting would start with me dropping the hunters off at the hides. They are not allowed to leave the hides until they have either shot an animal or called it a day. When they shoot something, they call it in and I go out with my fox terrier Penny, whom I have trained to track wounded animals. Once we have found the animal, we take it back to the abattoir and meat-processing facilities on our farm, where the hunters can choose to process it themselves, or have Annalize do it on their behalf," he explains.
Not only does Annalize process meat for hunters who hunted game on Kareekloof, but she also processes meat from game hunted on other farms.
There are many health benefits to eating venison, and the Prinsloos have been advocates of this type of diet for several years.
"We also keep a herd of cattle, and we primarily use them for parasite control.
"The Nguni and Boran breeds are resistant to ticks and are easy to treat. During the summer months we let the cattle into our game camps where they attract ticks, lessening the burden on our game. Offspring of these cattle are also utilised for consumption, and the rest are sold," says Leon.
Comfortable lodgings
Kareekloof provides several types of accommodation (chalets, lodge rooms and an entire farmhouse), and these are not only fit for hunters, but also couples and families in search of a weekend getaway.
"We receive many guests over weekends who find themselves completely awestruck when we take them out on a game drive. For some adults who are visiting us from the city, this is their first experience of getting up close and personal with wildlife such as giraffe, kudu and sable. Few ever want to leave after a weekend here, and all of our visitors arrive as clients and depart as friends," expresses Annalize.
"There is a TV in the communal lounge, but none in the rooms and chalets. Cell phone reception here is also limited. We want visitors to disconnect from technology and connect instead with nature when they visit us," she adds.
The accommodation can sleep between two and 10 guests per unit, and all but the two smallest units, which only have coffee stations, are self-catering.
Kareekloof also has a venue that can be used for weddings and reunions with a maximum of 50 guests, and conferences and workshops with up to 80 attendees. In total, 39 guests can be accommodated in the units when occupied by families, and 26 for conferences.
"A camping site is also available during the summer months, but we limit the number of campers to ensure peace and quiet. In addition, two log cabins at the campsite can also be booked, each with accommodation for up to 10 people," says Annalize.
"The log cabins are only fitted with beds and mattresses. Electricity is available at the campsite, but only for lights. Water for drinking and cooking is boiled over a fire, warm water for showers is solar-heated, and there is a donkey water heater as backup."
Lodging prices start from R750/night for two people in a budget room without a kitchen, and from R800/night for two people and R2 000/night for up to 10 guests in the self-catering units.
Activities and sights
Hunting is not a prerequisite at Kareekloof Game Farm. Guests can also relax next to the pool, and game drives can be arranged.
It is also situated on a site of interest to history buffs: during the Anglo-Boer War, many battles were fought in the area, and a multitude of artefacts from that era have been found on the farm.
"I often invite guests to accompany me on regular farm-work outings all over the farm. Now and then, some kids don't take up the opportunity while their siblings do, only to regret it once the latter return and they hear how much fun they had," laughs Leon.
Visitors should bring their MTBs, as they can explore the farm on foot or by bike.
Leon explains that they have counted over 17 species of mammals on the farm, including predators like the brown hyena and caracal. "From my experience, these predators, including leopard, will rather make way for you than try to attack."
Guests also explore the surrounding areas. Both Sun City and the Maropeng Visitor Centre are about 75km away from the farm, while the Pilanesberg National Park is roughly 90km away. Fuel, meat and groceries can be bought in Derby, just 8km away.
Visit kareekloofgamefarm.co.za, or phone Annalize Prinsloo on 083 654 8139.