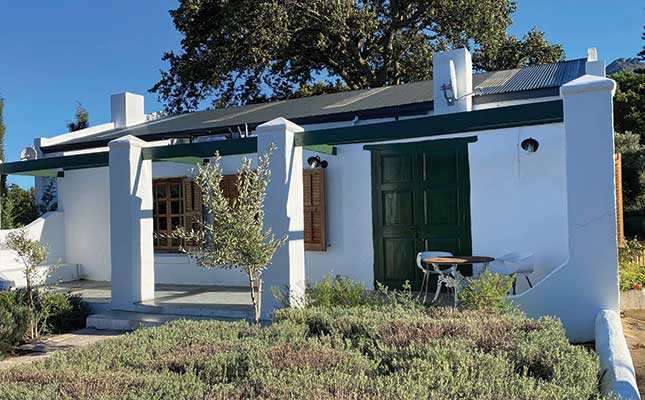 Farm Sanctuary SA, near Franschhoek in the Western Cape, offers a country stay like no other: it's a peaceful rural getaway, a working farm, and the home of a pig that paints!
The owners put their animal welfare credentials front and centre, beginning with a request to visitors not to bring meat or animal products onto the farm. A former professional golfer and zoologist by training, Farm Sanctuary director Joanne Lefson has made a global impact on improving the lives of animals (dogs and donkeys in particular) through her visionary
work with her travel dog, Oscar.
She established Oscar's Arc in his memory, to find homes for shelter dogs, and while in India she set up a donkey sanctuary. Closer to home, she turned a rescued pig with a penchant for paint into a global brand.
Pigcasso paints with Lefson's help. This year, the pig's unique digital artworks will be traded in cryptocurrency, with painting exhibitions in Europe.
All these efforts are to raise funds, upwards of the R3 million already secured, for Farm Sanctuary SA.
Revenue from the farm's seven accommodation options further contributes to the coffers.
Accommodation
Farmer's Weekly stayed in the stylish and supremely comfortable Farm Retreat, which accommodates two in a large iron-forged bed. There are artworks by Pigcasso on the walls and central divider, and mirrors above the black double basins set into a reclaimed timber and iron unit.
There is a large soaking tub and, behind timber doors, a shower and toilet. Don't waste time, as Farmer's Weekly did, searching for the lights for the shower room and loo; they are motion-triggered.
Amenities include a kettle, a microwave oven and an indoor fireplace, but no kitchen facilities, so all meals need to be taken in Franschhoek, a town with a stellar reputation as a culinary capital.
The front porch of the Farm Retreat has two comfy chairs and a table, which look directly onto a Forelle pear orchard. Large timber windows next to the open-plan tub and in front of the bed also provide charming views.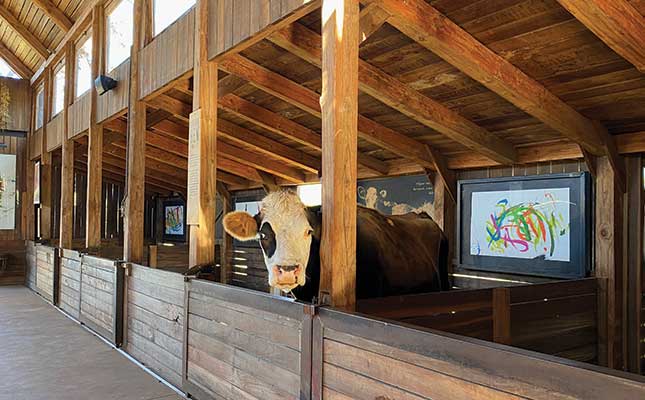 A few paces from the Farm Retreat are other accommodation units and a large shared library, a well-equipped gym and a long lap pool with sun loungers. Inside the library is a bean-to-cup coffee maker for use by guests.
Two accommodation options can be found across the road in the Main Barn unit. Donkeys and cows roam around a converted container in the centre of the kraal. Pigcasso and other rescued animals live in the Main Barn, and there is even the opportunity to spend the night above the animal pens on a glamorous mezzanine reached by a circular iron staircase.
Lefson's great talent is identifying and packaging a concept easily into talking points. This has successfully garnered global publicity for her efforts. Pigcasso collaborations have ranged from designs on a Swatch watch strap to wine labels (the grapes are grown on the farm), as well as brand spin-offs that include posters and T-shirts.
The Franschhoek main road is a couple of minutes away by car. Farm Sanctuary SA provides pet-friendly accommodation, and finding restaurants that allowed dogs was surprisingly easy.
All-day breakfasts and delicious coffees are served at Terbodore Café, which has a Great Dane as its logo. Seating under the trees, next to the river, is charming. Almost directly opposite is Tapasco, which has an outside dining area with red-and-white-checked cloths and casual seating, and offers breakfast, brunch, lunch and tapas.
The Elephant & Barrel is a gastro pub that is within a wind-protected courtyard just off the main street. The spare-rib dish, cut into individual ribs for ease of eating, is highly recommended, as is the battered hake and chips that comes with a tower of crispy onion rings.
Pricing
There are two important caveats to bear in mind if travelling to Farm Sanctuary SA with a pet: guest dogs must be kept on a leash at all times, and a barking dog is likely to stress the other animals.
While pricing via Airbnb at first seems highly competitive at R1 350/ night, obligatory charges increase this to R1 700/ night which, given what is offered and the opportunity to contribute to saving the lives of animals at risk, is still good value for money.
Farmer's Weekly asked Lefson via email if she was artistic before discovering Pigcasso.
"I have a creative and marketing background, thanks to my two artistic grandmothers, and it's the passion for animal welfare that drives the creative marketing to inspire greater compassion for their plight," she replied.
Pigcasso's artworks are due to be shown later this year in Hann Münden in Germany, at the Amsterdam International Art Fair, and in Mallorca, Spain. A book about Pigcasso, with a foreword by Dr Jane Goodall, will be out in the UK in 2023.
Visit farmsanctuarysa.org or pigcasso.org.