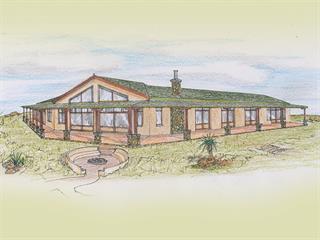 I received a call from Stephanus and family, who own a farm in North West. He wanted a family home that could also provide self-catering accommodation for hunters. After a chat and a follow-up conversation with a rough sketch of what he had in mind, I drew up the following.
The house, while being a family home, has a self-catering section for hunters in season and casual visitors out of hunting season. The room arrangement provides essential privacy for the family and guests.Roofing, because of the basic layout of the regular shape of the house, would be plain and 'shed-like'. I've created a slightly raised roof area over the central living area. This roof would also be open beam, with a glazed gable frontage giving some aesthetic appeal.
Opening French and sliding glazed doors to all rooms on the veranda side complement the freedom of movement to enjoy the outdoors.