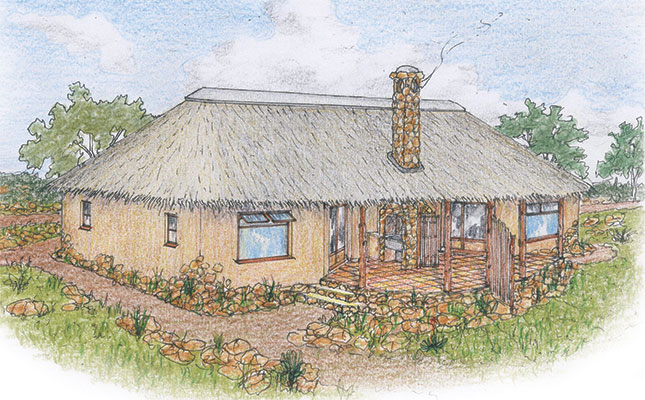 Accommodation will comprise rustic 5-star units. Also proposed are a wedding facility/conference venue, together with all the supporting infrastructure and service buildings.
Dual-purpose units
Shown here is a sketch of one of the dual-purpose units, which allow for private accommodation for two or more visitors on either side, being units 1 and 2.
The rooms are spacious and will allow for additional beds to be included. By reducing the length and breadth a metre each way, the unit size would be reduced from 39m² to 29m².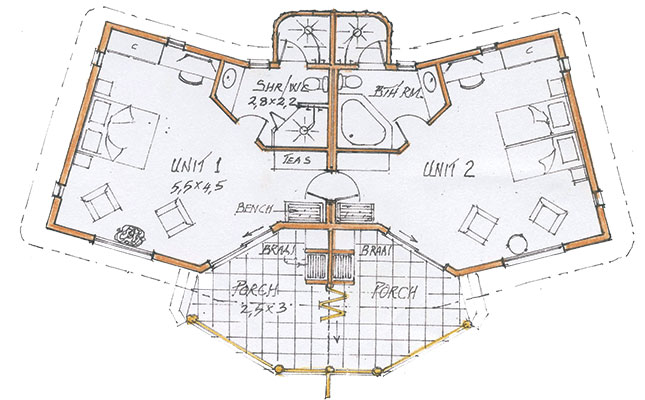 That 10m² reduction would only be a saving on the superstructure, which is usually 40% of the total building cost, that is, 40% saving on 10m² reduced floor area.
Shown too are optional bathroom layouts, including outside showers, which are becoming a favourite with many people. The inside shower in Unit 1 could be substituted for a bath, as depicted in Unit 2.
This could have a shower over it as an alternative to the outside shower.
Combined/separate living areas
The two doors between the units can be opened to allow a combined living space, with, for example, parents and children on each side respectively, or two separate couples on holiday together.
Similarly, a folding screen separating the two braai porches can be opened to link the two areas.
The development will also offer entirely separate units for those wanting a quiet break and complete privacy.
The rock on-site does not lend itself to construction use, but can be loosely placed around the buildings and planted primarily with succulents and aloes for minimal watering.
It certainly paid me to have a site visit to consider and incorporate all the options.