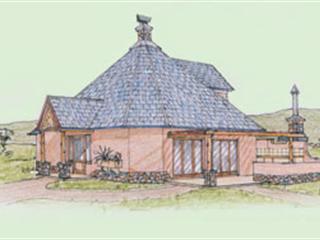 It was an open-plan 8m² x 8m² footprint cottage with a thatched roof. She and her hubby loved the look of the cottage, but, as with so many enquiries, the fire hazard with thatching, as well as the upkeep, were of concern.
After several phone calls and options to consider, they decided on a metal roof, but wanted to still retain the same roof styling. Those cut-off corners that are so conducive to thatching would actually add character to a very ordinary pyramid type roof. The roof timbers could still be the conventional gum poles, with open ceilings of either a thatch grass, reed or composition timber board.
The walls were to be a shuttering formed in situ with a mortar-mix, with added pieces of small rocks, broken bricks, concrete pieces or even Styrofoam pieces that will limit thermal transmission through the walls. The further alterations required were to increase the overall size of the cottage to 9m² x 9m², and include an attic room over the kitchen area. If need be, a further attic room can be located over the bedroom below.
Jonno