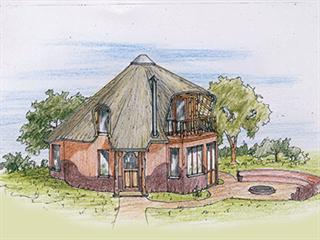 Dear Jonno
I would like to build the home featured in your column of 10 January 2003. We own a campsite and this building is exactly what we're looking for. (We plan to build six eventually.) I would, however, like some adjustments:
The walls need not be load-bearing as I intend building with cob. I therefore require details of the pole-work.
I would like to have a door leading to the kitchen.
I want to add an alcove onto the bathroom – similar to the one in the bedroom – with a shower and bath.
The upstairs area must have a balcony with doors above the lounge and not the bedroom, as we don't need a double-volume ceiling. The entire space should be open-plan.
Can you help me? I'd like to build it by December.
Kind regards
Robyn

Attic floor plan                                                                              Floor Plan 45m2
Dear Robyn
After going back and forth a bit, I think we finally have it all worked out. As mentioned on the phone, there are excellent silicone additives that can be added to the plaster-cement mix for the outer wall rendering. This, together with the added colourant, will give a waterproofed surface that should last almost forever, while preserving the cob wall's aesthetics. You said that you wanted the cottages to be rustic and earthy in appearance. Here is the envisaged rendition, which I'm sure will serve as a unique getaway.
Jonno