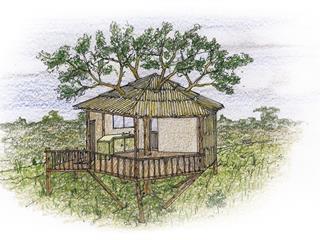 Dear Jonno
My husband and I open our Farmer's Weekly to your 'Hillbilly Homes' column before paging to any of the other interesting topics. We have been watching the TV programme 'Treehouse Masters', and can't believe how many different and beautiful designs of tree houses people come up with.
So we decided to ask you, Jonno, if you could come up with something to suit our needs. We have a beautiful half-acre size dam close to our house. Sadly, this is only half full due to the drought, though the local wild game and birdlife frequent the dam all day long. They need water and insect life to survive.
Attached is a photo of the site on the sloping terrain overlooking the dam, with views of the Drakensberg to the west. The tree on the slope is a huge paper-bark thorn tree. This is where we would like you to design us a tree house getaway. We don't want anything too big, as it will serve as an entertainment area, with views overlooking the dam and the frequenting wildlife. It could also serve as a sleeper unit for my son's friends, who often come hiking and rock climbing in the berg.
Question: how would we keep rats, snakes and other uninvited creatures out?
We look forward to your creative ideas, Jonno.
Angela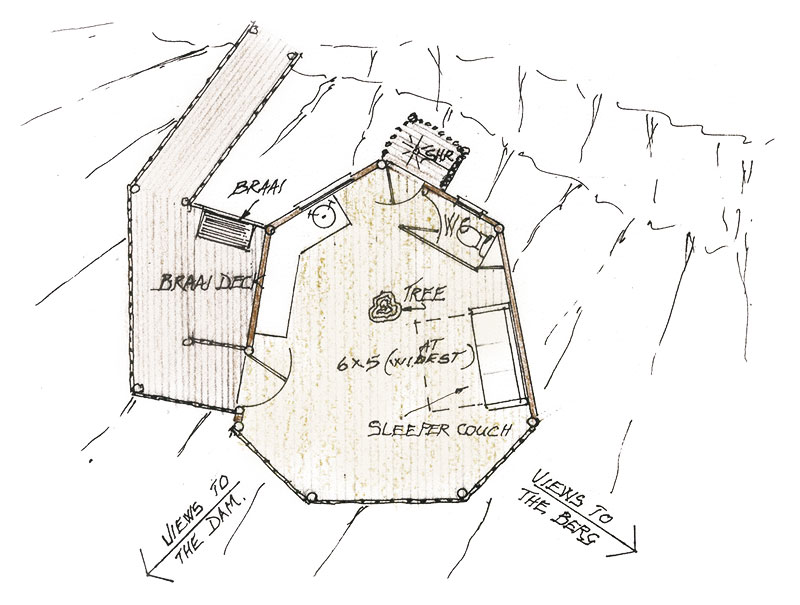 Greetings Angela

Thanks so much for the interesting request and the photo of the site and tree. This helps tremendously.

As per the sketch shown here, I've designed an open-plan layout that can accommodate a group of people. The configuration is such that the toilet and kitchenette are at the rear of the unit, with the social area overlooking the dam and with a view of the mountains.

There could be many layout configurations that can serve multiple purposes, including even a getaway for town folk – hence the toilet and shower close at hand.

Regarding your concerns about rats and snakes and other uninvited guests getting into the unit – this can definitively be negated. In your final drawings, I will include the preventive measures, one of which will be let-down, transparent blinds to the lookout sections on three sides.

There is also electronic surveillance gadgetry on the market that can render a safe surround. I look forward to receiving your further comments.

Kind regards
Jonno