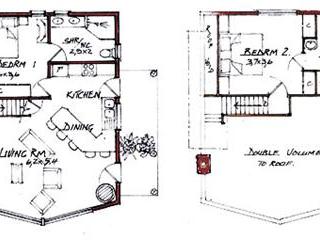 Hi Jonno
I have looked at your plan 'Africa meets West' (Farmer's Weekly 15 April 2005), which I like very much. Would it be possible to design a slightly bigger version of the same house? I would also like it to blend in with the natural environment. I want to buy a property on the KZN South Coast and would like to develop it accordingly. I will be manufacturing my own blocks for building. All help would be appreciated.
Regards Andre
Hallo Andre
Herewith the 'A' frame home you explained to me on the phone and by email. While maintaining the 'A' frame appearance, the windows on the sides make it far more user-friendly. This is achieved simply by tilting the central sections of the roof to a lesser pitch and building the outer walls up, giving more usable space than normal.
The roof cladding can be almost any other material, from thatch to metal sheeting. In the sketch I've shown it with natural cut slate. The ceilings can be any claddings of thatch, wood boards or gypsum board. That full glass front should give an uninterrupted sea view, and the upstairs bedroom can have one-way, half-wall glass.
Regards Jonno