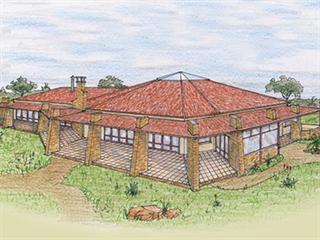 Dear Socrates
Greetings to you in distant Angola. Many thanks for the visit down our way, and a fruitful meeting. After seeing my column entitled 'A dream farmhouse in Zambia' in the issue of 17 January 2014, you asked for a copycat rendition of the stone columns featured, but with a local slate available to you.
The design on this page, together with your new bush lodge, will cater for 16 five-star sleeper units as well as day visitors from Luanda and overseas. Whilst seating inside may be a bit skimpy, there is always the option of screening off part of the open veranda with roll-up blinds to accommodate guests.
All this is to keep the lodge development within budget. It's all pretty close to what we discussed, but feel free to make any adjustments.
All the best for the year ahead,
Jonno