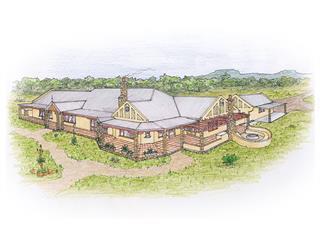 A call from Farmer's Weekly readers:
Barry and Carol called in to see me. They have a newly-acquired game farm in the Thabazimbi area, and require a new homestead there.
They require a three-bedroom house that would compliment their lifestyle and the sometimes extreme temperatures from very cold in winter up to 45ºC in summer. Paging through my sketches, a specific styling caught Carol's attention. It was a typical farmhouse.
We then went about plotting the layout, according to accommodation requirements and affordability. The net result of the hour-long interview was this exciting farm-style home.
It's what almost all of us would want – three spacious bedrooms on the east end and a multipurpose living area on the west end. The living space is open plan with a semi-separate lounge (on the quiet side) and a high-activity area around the kitchen. The fly-screened area was a specific requirement. "There is a certain insect there, – not a mosquito – that is very bothersome and stings like a bee", said Barry.
Let-down blinds and a corrugated roof cover over the pergola section would keep them out. Barry and Carol seemed very pleased with their sketch. "I'm going to start making blocks the minute we arrive home," said Barry. He has a block-making machine and all the necessary primary materials on the farm.
Jonno