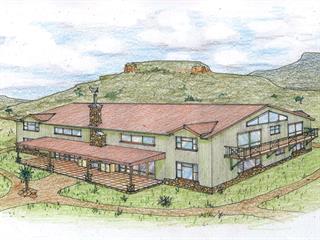 Dear Jonno
I want to convert a 12m x 25m x 4,5m steel shed into a house for myself. Each pitched side has a mezzanine floor 5m wide. The idea is to have three bedrooms on the mezzanine level: a main bedroom en suite on one side and two bedrooms with a shared bathroom on the other. There will be a small steel grid balcony at each end, built with steel rails to create a contemporary industrial look. Steel staircases will connect the bedrooms to the ground floor.
The latter should have a garage and en suite bedroom on one side and an art room, scullery and pantry on the other. The kitchen should be located in the centre at the rear. An open-plan lounge with large sliding doors leading onto a veranda covered with IBR will be situated in the front.
I also need a large fireplace which could be used both from the inside and outside.
I would like to use corrugated iron for the walls with good insulation and OBS board and fibrecrete on the inside. The materials used would be the steel structure, corrugated iron walls, a stone finish, glass and aluminium checkerboard, and concrete. We plan to do water harvesting and use solar power.
Regards, Gavin
Dear Gavin
Thanks for the sketches of your new home development in the Gordon's Bay area and the phone call to discuss the proposed materials for this structure.
It's not every day that I get a request to design a home within the superstructure of a steel-framed farm shed, especially one that is 12m wide by 25m long. As such, this will be a very spacious home, so I've modified the room arrangements, especially on the ground floor level.
The internal furnishings are shown to scale, which will give you a better idea of the internal functionality. I've also added some small roofing features to add aesthetic appeal to what will be a very long shed-like roof. The added balconies on the gable ends and the attic windows will also add essential character.
You wanted the external walls to have vertical corrugated cladding with thermal resistant wall cladding internally. Do send me some product descriptions of these materials to incorporate into the working drawings. As you are planning to go completely 'off-grid', I would like to tell other Farmer's Weekly readers about your systems.
Let me have your further thoughts on the sketch.
Kind regards
Jonno