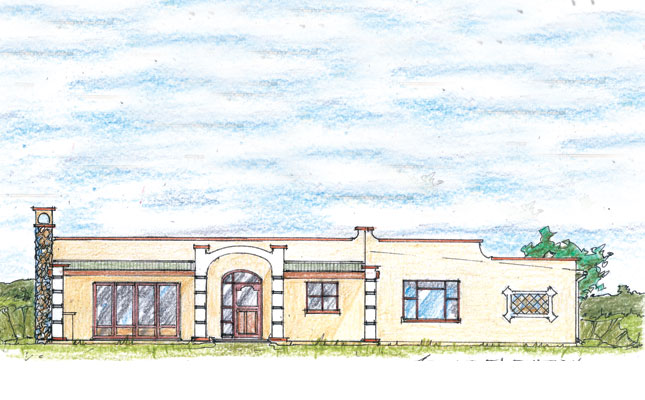 Dear Jonno
I would like your assistance with a plan for a house I intend building in a rural setting in the Western Cape. The site is north-facing with a 15° slope, and has a great view of the mountains.
The internal dimensions should be about 200m2, and it should have a mono-pitched IBR sheeting roof.
I would like the house to have two king-sized bedrooms, both en suite with showers and toilets (no baths). It should also have a farmhouse kitchen with separate larder and scullery, and open up into a spacious dining room.
A large, separate lounge with a fireplace is a requirement, as well as a guest bathroom, a medium-sized study/sewing room, three garages on the same level as the house, and an enclosed veranda with built-in braai.
Kind regards
David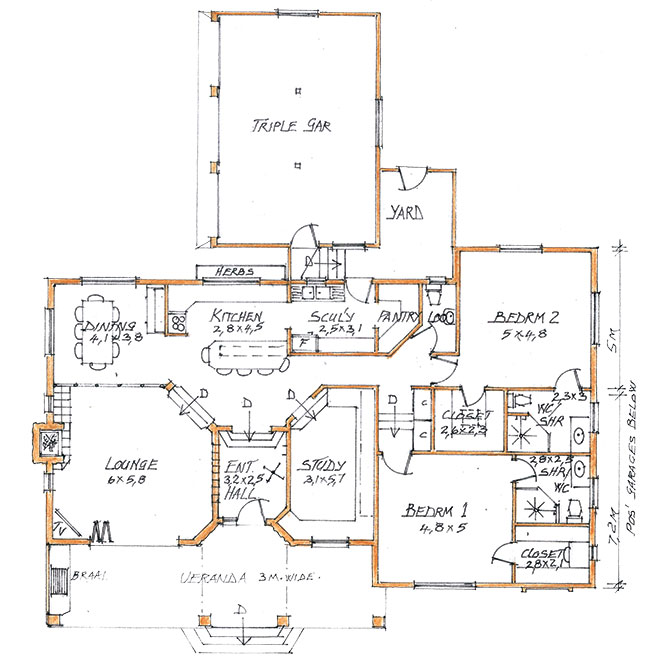 Dear David
Thanks for the very descriptive requirements for your new home in Sunningdale. I've given you a layout which could be one of many, but is highly functional and within the 220m² floor area requested.
The 15° slope of the land has to be taken into consideration; I'm attaching a rough cross-section sketch showing the outbuildings and split-level house designed according to the fall of the land.
As can be seen, the cut and fill embankments are still extreme.  Also shown is the ground level, which has a 3m fall from back to front. It will be a better option to relocate the garage from the rear of the house and place it at the front under bedroom one and the bathrooms.
This will be a critical aspect of the completed design.
Shown here is the facade of the house with parapet walls that extend above the regular ceiling height. The mono-pitched roof will run from front to back over the living area, and from left to right over the bedroom section. More aesthetic features can be added.
Please give me a call so that we can discuss any further requirements.
Kind regards, Jonno
Jonno Smith is a registered architect. He can be contacted at Hillbilly Homes: tel 036 352 3178, fax 088 036 352 3178, cell 082 412 4459 or email [email protected]. Please provide details of the proposed development. Visit hillbillyhomes.co.za.